It's time that we open the conversation of what has been silent for so long: maternal health. We are in a nationwide maternal health crisis among black women and visionary, artist and activist, Michelle Browder, is now a solution and change agent with all roads leading to Montgomery for the A Day of Reckoning conference held February 27 – March 1, 2022.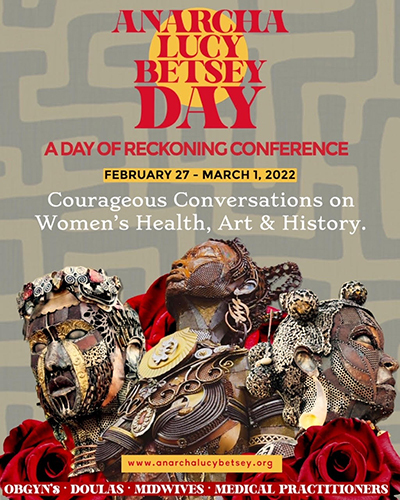 ABOUT THE MESSAGE:
All are invited to attend. The inaugural conference will provide an opportunity for doulas, midwives, and medical practitioners to learn about the ways to change the narrative in race in healthcare disparities.
The conference will include a discussion of the history of gynecology, a tour of Anarcha's life in Montgomery, new perspectives on destroying medical bondage in healthcare today and a grand opening celebration of The Mothers of Gynecology Monument Park at The More Up Campus. Register TODAY. Early Bird Tickets: $135.00 and $165.00 after January 1, 2022. The conference dates are February 27 – March 1st. Fully included in each registration is Access to all Speaker Events, Dinner Sunday Evening, Breakfast & Lunch on Monday & Tuesday, Hotel Transportation to the Venue and a 2-hour Historical Tour of Montgomery. There will be a host of elite speakers such as Dr. Deirdre Cooper Owens, Dr. Veronica Pimentel, Professor Deleso Alford, Congresswoman Terri Sewell and more.
ABOUT THE MONUMENT:
Browder created a 15-foot monument to honor enslaved women and challenge the maternal health crisis. The monument has been erected to feature three enslaved African women: Anarcha, Lucy and Betsey, who were experimented on without consent or anesthesia by Dr. J. Marion a Sims in his office in Montgomery. Celebrated as the "Father" of Modern Gynecology but every woman in the world has benefited from the "Mothers'" enslavement and sacrifice. The monument reclaims this narrative to honor the Mothers of Gynecology instead. The country will open its first Mothers of Gynecology Monument Park on The More Up Campus in Montgomery, Alabama on February 27-March 1.
Additionally, the monument honors a range of Black women throughout history including those from the Civil Rights Movement, The Mother of the Blues, Big Momma Thornton. Mothers of The Movement; Congresswoman Lucy McBath, Sybrina Fulton, and modern-day freedom abolitionists, Nikole Hannah Jones, Serena Williams and many more.
ABOUT THE MISSION:
Anarcha embodies pain and suffering of over 30 surgeries and speaks to maternal health crisis and Lucy challenges us to look closely at hair discrimination and the objectification of black women. The monument will be located at the center of the forthcoming More Up Campus, one block from Equal Justice Initiative's The National Memorial for Peace and Justice, west of the Westcott Plantation where Anarcha was enslaved and five blocks from The Negro Hospital where J. Marion Sims built his first hospital in 1840. This monument creates a conversation around Black Maternal Health crisis, the Crown Act and Environmental Injustice. A statue of Sims currently stands at the Alabama State House, while another was removed in New York City following a successful campaign led by community activists. Browder, the artist and visionary behind the sculpture and campus, has enlisted Burning Man artists, and local consultants together, they will spend 2 days in Montgomery bringing Anarcha, Lucy, and Betsey's story to life. The findings and innovations that resulted from the atrocious crimes on Black women's bodies resulted in models of care that women around the world benefit from today. Yet, the Mothers have been conveniently erased by history. As a result, Black people throughout the world, and in the US, face deadly disparities in healthcare. Covid-19 has magnified many of these generations-old inequities. The experiments on Anarcha, Lucy, and Betsey, as well as the Tuskegee syphilis experiments, and mass sterilization of Black women from 1933-73 are critical moments in history that point to the systemic issues that produce the disparities that remain. Today, the US faces a maternal health crisis: The CDC estimates Black and Indigenous women are two to three times likely to die in childbirth compared to their white counterparts. Amid the largest national racial reckoning since the Civil Rights movement, Browder has created a radically new type of monument, enshrining the contributions and sacrifices of Black women. Today, misinformation is on the rise. The age-old battle to erase our history is a familiar and insidious tool of white supremacy.
Like the many movement leaders before her, Browder believes that the first step towards healing our country and culture lies in acknowledging our true history. The More Up Campus and Mothers of Gynecology Monument will be a catalyst for reckoning with our history and envisioning a brighter, more equitable future for generations to come. In partnership with local mutual aid nonprofit, Faith Crusades, The Mothers of Gynecology Monument is the first of 3 phases of The More Up Campus. About The More Up Campus • Phase 1: Unveiling of The Mothers of Gynecology September 24-25, 2021 • Phase 2: The More Up Travel Center will accommodate (32-beds) and educate travelers and activists visiting the Montgomery area through an established curriculum of art, true historical exploration, and critical thinking inspiring participants to engage in social justice activism when returning to their own communities. • Phase 3: The Creative Change-makers Museum is an innovative experience of art and history. Expression and innovation are key to fostering the minds of the next generation.
The museum will explore the unknown history of how Anarcha, Lucy, and Betsey, and the City of Montgomery, played a crucial role in the history of medicine. That history is changing lives even today in Africa. Art, music, and conversation changes narratives and heals wounds of indifference.
ABOUT MICHELLE BROWDER:
Michelle Browder is an activist, organizer, artist, and the founder of I Am More Than, an arts-based social enterprise company for local youth in Montgomery, Alabama. Through I Am More Than, Browder runs More Than Tours, which provides educational and interactive tours to students and tourists exposing the rich and haunting history of Montgomery. Browder has been awarded with The Montgomery Advertiser's Community Hero Award, as well as a Rising Star in Tourism Award. Browder and More Than Tours have been featured on/in the PBS NewsHour, The Today Show, National Geographic, The New York Times, and The Washington Post, among many other outlets. Her paintings have been commissioned by the likes of Tyler Perry and Denzel Washington, and are featured at the Rosa Parks Museum.
In Montgomery, Alabama, one mile from the State Capitol, and a block from Equal Justice Initiative's National Memorial for Peace and Justice, Michelle Browder's The Mothers Of Gynecology monument stands as a new beacon of truth telling and historical acknowledgement. Dedicated in September 2021, the fifteen-foot-tall, metal ensemble sculpture honors three Black women – Anarcha, Betsey, and Lucy – who were enslaved and brutally experimented upon without consent by Dr. J. Marion Sims, dubbed the "father of gynecology" despite his horrific and inhumane practices. In New York City (where Sims is buried), following a grassroots campaign from groups including Black Youth Project 100, a statue to Sims was removed by the city in 2018. However, in Montgomery, the city where Sims conducted his heinous experiments, a statue remains on the grounds of the state capitol, and is prohibited to be altered under state law designed to protect Lost Cause Confederate monuments. Artist Browder first learned about Anarcha, Betsey, and Lucy as a student at the Art Institute of Atlanta over two decades ago. As she recalled to the Washington Post, she has long pondered, "What am I going to do to change the narrative?" Browder, who also founded and operates More Than Tours through a fire engine-red trolley with "1619" emblazoned on one side of the front hood, has shifted the practice of storytelling in a city that that claims status as both the "Cradle of the Confederacy" and "Birthplace of the Civil Rights Movement." Over the last several years, in consultation with metal artists including several who produce projects for Burning Man, Browder took up welding and installed a fabrication lab in the back of a massive family-owned warehouse that also became her studio. There, she fashioned The Mothers Of Gynecology monument with collected common metal objects including discarded medical tools and surgical implements. The resulting sculptures are intricate and layered, as they mark presence and absence in place. Since its dedication in September, Browder's The Mothers of Gynecology has emerged as another meaningful site of reckoning and reimagining monuments in Montgomery and beyond. The sculpture sits on a circular base lined by bricks, on the corner of Mildred and Sayre Streets where Browder, family members, and several colleagues have also inaugurated the More Up Campus – a featured project of Monument Lab's Re:Generation2022 nationwide public art and history exhibition – as a holistic space where art, history, and health come together and conversations take place around the legacy of slavery, maternal health, and reproductive justice.
For more information, please visit www.anarchalucybetsey.org. michelle@anarchalucybetsey.org Phone: 334-296-3024 IG: @anarchalucybetsey Twitter: @mothersofgyno Facebook: @anarchalucybetsey
Content sourced from official press release*)
All images provided by Michelle Browder