With a thriving career that has spanned over 20 years, the timeless actress proves her longevity, and is crowned THE new Queen of Media
FOR IMMEDIATE RELEASE
2020 has been a whirlwind year. So much has transpired that one cannot deny that this year has been a great year of adversities and REFLECTION. Despite all that is going on all around us, SHEEN Magazine pays homage to tapping into the true essence of life and finding your joy! Developing a positive mindset is your personal VHS that you can rewind back to those influential moments in your life. You can either grow from them or have to replay the same portion over and over, until you get it right. Now that we've approached the end of the year, that's exactly what we're doing – so get ready because this issue is bursting with holiday looks and beauty trends to make your future bright! The Ultimate Beauty Guide is ready to help you press rewind as we reflect on the year that was 2020!
We could not commemorate our Reflection issue without our classic cover girl, the magnificent Actress, Model, & TV Personality, Garcelle Beauvais. Garcelle's career has spanned over 20 years and she is fancy and faithful to her career, constantly refining her skills, creating new avenues, and exploring different roles that specifically speak to her. As the newest co-host added to The Real, Garcelle sparks as the new queen of media and gives us insight into Coming 2 America.
 "I think 2020 has proven that the little things matter and to not take anything for granted. Say, 'I love you,' to people you love and reach out to people that you haven't spoken to. It has shown us that life is fleeting."—Garcelle Beauvais.
#BlackAF Actress, Madison Shamoun gives us insight on her curly mane and how she balances her dewy skin in an exclusive Beauty Spotlight. Professional Makeup Artist, Olivia Song, shares the makeup trends that will highlight your best features this holiday season. The beautiful Aderonke "Ronke" Raji helps us get on board with her travel skincare routine for The Foundation, while International Celebrity Hairstylist, Nafisah Carter, gives us the tips we need for protective styling this winter! Are you ready for our Beauty Tour, The Holiday Edition? Imagine an oasis of calming scalp massages, towel warmers, and more… you won't remember if you are at the spa or home? Dive into these faves to keep yourself refreshed this winter!
Our featured Stylist Spotlight, Celebrity wardrobe stylist, Darris Rushing shares his philosophies on style, and burgeoning Fashion Designer, Tizita Balemlay of Plugged NYC, gives us the gems of creating each new work of art. And when it comes to current fashion trends, we've got you covered – Pair your outfits with a comfy, oversized sweater, a cute mask and be ready to brave the world!
Brazilian artist, Alexandre Keto, showcases African heritage through his eyes in our Artist Spotlight. And if you are looking for the right workout partner, fitness trainer Melvin Harden is ready to help you put the work in to make it through the holiday season while maintaining healthy eating habits!  End of Life Doula, Ashley Johnson prepares us all by giving us the tools for transition. On the Rise actress, Gabrielle Nevaeh, shares how being Unfiltered has completely changed her mindset, while our featured Mandate, Devvon Terrell, serenades his date nights in his charm, romance, and cooking! If you are in need of a daily dosage of inspiration, Supernatural Life Coach, Dr. Clarice Fluitt has you covered with positive affirmations to overcome any of life's adversities! In the spirit of the holiday, we've got a plethora of fun ideas that you can dive into to celebrate with your family near and far; and as always, we've got an array of holiday recipe traditions that have your name on it waiting for you to try!
SHEEN Magazine's November/December 2020 Reflection issue hits stands on Tuesday, October 27th.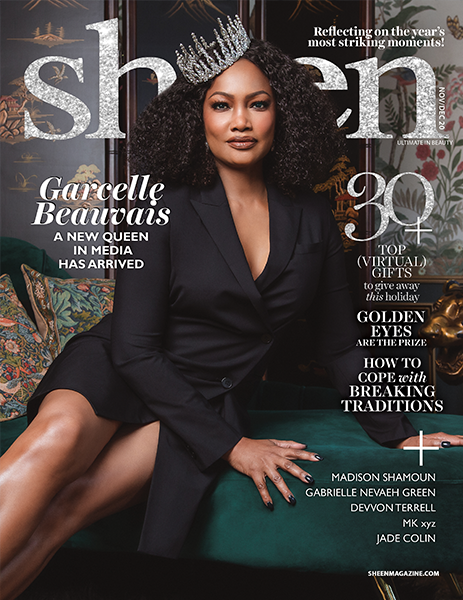 Photo by Ted Sun
About SHEEN Magazine
Sheen Magazine is The Ultimate Beauty Guide for the modern day woman. The lifestyle and beauty publication is the preeminent voice on new trends, techniques, and products. Sheen Magazine is a national and international distributed publication. Published bi-monthly, Sheen Magazine maintains its influence by always remaining current on the trends of beauty, fashion, hair, and entertainment. The publication seeks to cultivate, educate, and motivate, encouraging the full potential of their readers. The Ultimate Beauty Guide and can be purchased nationally at Target, Walmart, Walgreens, Books-A-Million, and Barnes & Noble. Visit us online at SheenMagazine.com and follow us on Facebook, Twitter, and Instagram @sheenmagazine.