The new live action short film, Two Distant Strangers was recently released on Netflix last week and people cannot quit raving over the special project. The film was written and filmed last summer in midst of the Black Lives Matter protests. Among the many talented stars featured in the film, actress Zaria shines bright in the meaningful project. In addition to that, she can also be seen on Netflix's series, Dad Stop Embarrassing Me. We wanted to sit down with the star to discuss her role in both projects, her book of poetry titled, We Got A Lot To Be Mad About, and much more!
Tell us about your role in the film, Two Distant Strangers.

Perri is the Black female lead in the film. She takes on a supportive role of Carter's experience unbeknownst to her. She really does a good job of figuring out how to be the strength of the film and also the vulnerability and honest of the film. She is kind of a strange take on the voice of reason (laughs).
How was your overall experience working on Dad Stop Embarrassing Me?

Dad Stop Embarrassing Me was an experience of a lifetime. I got to work on set with Jamie Foxx one on one. It was a great learning experience to see a veteran of the game who is someone I've always looked up to. He is someone who is so willing to relax and have fun at the job. Something that stood out to me was when we were doing a scene, where we were kind of improving, having room with the lines. I was pitched a line to say by my uncle, who ended up being a show runner on the show. He had no idea that I was going to say the line and it threw him for such a loop. We all burst out laughing and it really felt like the moments that you dream of when being on set with your idol. I get chills just thinking about that moment.
Can you give us insight the book you released last year titled, "We Got A Lot To Be Mad About"?

We Got A Lot To Be Mad About was released during the civil unrest of 2020; after the killing of Ahmaud Arbery and it started off with just seeing an outlet for me. I write poetry as a way to express myself, kind of like a diary. I began posting them on Instagram and my friend suggested publishing them. I did it and it became this beautiful story of what it feels like to be a young Black woman ingesting all of this injustice while grappling what the world sees me as. It grapples the reality of who I am and who I am because of the circumstances of the world. It is a journey of what I was going through as a Black woman witnessing these deaths as they broke a piece of me. It's a collection of poems, trying to make sense of what just doesn't make sense in our current society.
What are you currently working on and what can we expect to see from you in 2021?
(Laughs), I actually can't disclose all of that quite yet. But I do have exciting projects that are in the works. Right now, you can watch me on Two Distant Strangers on Netflix as well as Dad Stop Embarrassing Me and of course, there is more to come.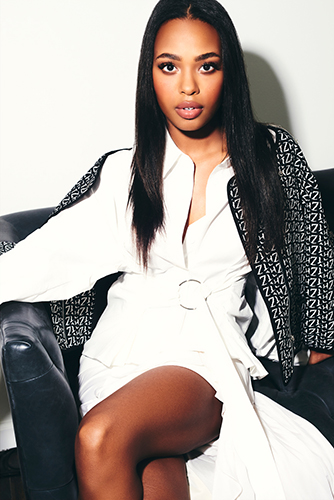 For more on Zaria, follow her on Instagram today.
All images by Stephanie Girard