Kudos are the first and only disposable diapers to have earned the cotton natural seal from Cotton Inc. for having 100% clean cotton touching baby's bum all day instead of plastic. Founder Amrita Saigal spent 2.5 years developing this diaper free of harmful ingredients and made with 4x more plant-based materials than the leading disposable diaper. Before Kudos, Amrita designed an elegantly sustainable sanitary pad for thousands of women in India.
Can you tell us more about this amazing company, KUDOS?  
Kudos is the first and only disposable baby diaper to earn the cotton natural seal from Cotton Inc. for having 100% breathable cotton touching baby's skin instead of plastic. Kudos diapers are free of harmful ingredients and made with 4x more plant-based materials than the leading disposable diaper. With Kudos, we offer the best of all worlds:
Better for baby's sensitive skin: Babies' sensitive skin is more prone to irritation and rash than adult skin. In fact, more than 50% of all children experience diaper rash. With traditional diapers, even the most natural ones, a baby is sitting in plastic all day which has been proven to contain harmful phthalates and VOCs that can absorb into the skin. Kudos is the only disposable diaper where the baby's skin touches 100% soft, breathable, hypoallergenic, doctor-recommended cotton. Kudos is also OEKO-TEXTM Standard 100 certified to be free of the 100 most harmful substances.
Better for momma earth: Kudos are made with 4x more plant-based components than traditional disposable diapers, sourced from renewable resources like cotton (cotton is actually carbon negative), sugarcane, corn, and sustainably harvested trees. Furthermore, the TruCutton used in Kudos diapers is made with a unique process that involves zero water, chemicals, or process heat.
Better for the couch: Our team of MIT and former Pampers' engineers developed our patent-pending DoubleDryTM tech with two moisture-trapping layers instead of the traditional one to funnel moisture away from the baby's bottom as quickly as possible, leaving your baby's bum feeling dry and preventing leaks.
What was the motivation to launch the line?
Before Kudos, when it came to choosing the "right" diaper, parents were forced to compromise. Cloth diapering doesn't fit into parents' busy schedules. Natural diapers tout "non-toxic" benefits but aren't as natural as they appear. With the majority of diapers, even though the material feels very soft, your baby's skin is actually touching 100% plastic all day. Additionally, many natural diapers on the market tend to have worse performance against leaks.
As I entered my thirties, many of my friends started having kids, and they wanted a diaper that was as convenient and reliable to use as the industry standard disposable diaper, but that was as sustainable as a cloth diaper. I knew that through innovative engineering we could do better. Out of this realization, Kudos was born.
As a WOC (woman of color), do you feel the need to work twice as hard to be seen in this industry?
I feel fortunate to live in an era in which there are more women of color founders than ever. As the fraction of women of color increases in this industry, there is a non-linear improvement in their success, due to the network effect among these women. We have built a community in which we can share our experiences and provide support.
Tell us about your background and the first company you worked for where they turned banana leaves into sanitary pads?
Partway through studying mechanical engineering at MIT, I landed an internship working as a manufacturing engineer for Always Pads. That internship got me excited about absorbent products that were both functional and cleverly branded. Being one of the few females engineering a product women use daily led me to have some interesting conversations. Most memorably, I asked my grandmother what she did during her periods growing up in India during the 1940s. Turns out she used old rags, had to sleep in a separate part of the house while on her period, and was not allowed to go to school. Woah. I remember feeling shocked, at first thinking that this was something purely historical – but no, many women in India, especially in rural areas, are still experiencing this today.
The method of using rags was certainly sustainable, but it clearly was not elegantly sustainable. It didn't enable women to go about their lives as they would on any day, they weren't having their period. For my senior project as an undergrad at MIT, I developed a sanitary pad made of sustainable banana tree fiber, one which had all the functions of a sanitary pad you could pick up at CVS, but that was made from a renewable resource. This project then turned into a company called Saathi, which is now one of the leading eco-friendly sanitary pad companies in India.
What is Double Dry Tech?
We developed a two-layer absorption system that we call our Double Dry tech that sits right underneath the cotton, which is touching the baby's skin. This two-layer system effectively removes liquid from the cotton layer and traps it beneath the cotton. The first layer is a bio-based polyethylene film, which is sustainably made from a resin derived from sugar cane. This film is perforated, with thousands of small holes that work like funnels to direct moisture out of the cotton layer touching the baby's skin. The funnel-like design also prevents moisture from re-entering the cotton. The second layer of our Double Dry tech is a plant-based, compostable PLA material designed to move liquid down the length of the diaper and into the absorbent core. These two layers together allow moisture to move both "vertically" into the core as well as "horizontally" along the length of the diaper, meaning more absorption and fewer leaks.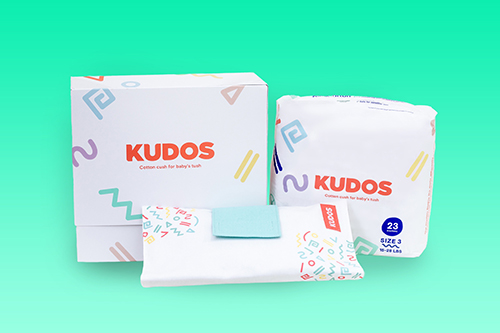 What are two pieces of advice for new business owners?
Talk to anyone and everyone you can about your idea especially in the early stages. You never know what kind of advice you will receive. Even if the person you are speaking to isn't in your industry, they may know someone that can help you. All feedback is helpful (whether positive or negative) and can help shape your business in the early days. I took this advice to heart. I met someone in a pizza line once and told him all about my sustainable baby diapers idea – 6 months later I ended up hiring him as our materials consultant!
Surround yourself with a group of 3-4 other founders that are at a similar stage in their startup journey as you. There are so many ups and downs in the startup journey and having a support system of people that fully understand what you are going through and you can get advice from has been super helpful for me.
What can we expect from KUDOS in the future?
Before Kudos, sustainable products have often come with a compromise in performance – that means more work for busy parents, who are already stretched thin. Kudos' promise of elegant sustainability means that we are committed to delivering sustainable products that exceed the function of their non-sustainable counterparts. This is done by leveraging new about by the use of sustainable materials. Our first diaper has done this, by making a diaper that is better for the planet through sustainable material use, and better for the baby, by preventing diaper rash. Kudos will continue to deliver on this promise of elegant sustainability as we expand our product offerings in the future.
How can people connect with you to learn more, as well as continue to follow KUDOS?
To follow the Kudos journey, please follow us on Instagram. You can also email me directly at amrita@mykudos.comor find me on LinkedIn.
All images provided by Kudos