What Candace "Supa Star C" Wakefield wants people to feel more than anything is love — through her music, character, and life. And after one encounter with the five-time Grammy Award-winning vocalist, it's clear that she is the epitome of kindheartedness.
In the days leading up to the release of her new single "Anything" — which debuted on Wednesday — Wakefield spent BET Awards week gracing some of Hollywood's biggest events, including the Culture Creators Innovators and Leaders Awards Brunch and the Motown Universal BET Awards Afterparty, where she rubbed shoulders with her longtime industry friend Larrance "Rance" Dobson, of Jay-Z's band 1500 or Nothing, and Motown CEO Ethiopia Habtemariam.
Having worked with stars including Kendrick Lamar, Fantasia, Ciara, and all-time famous TLC, Wakefield continues to embrace every aspect of her musical gift. The singer-songwriter, composer, and arranger continuously soars as an independent artist.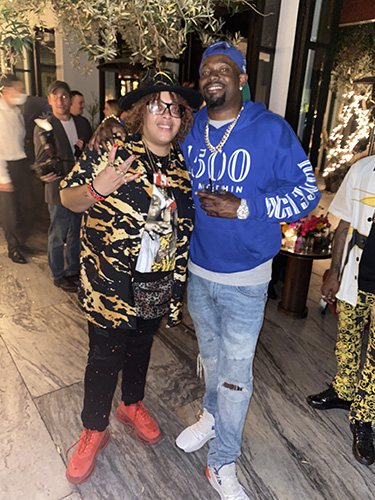 Wakefield returns with her single "Anything," after releasing her tracks "Can't Be Without You," "I Want You, and "What Are We?" The sexy new tune unveils a new layer of her authenticity. "I've always been known as the inspirational artist and the uplifting artist, but I'm also a songwriter and we tell stories," She explains. "We tell our own stories. We tell other people's stories and we make up stories that don't exist yet. We do all kinds of things. For me as a creator, I didn't want to limit myself as to what I was talking about." 
The hitmaker tells Sheen she's deservedly proud that she had the courage to step outside of her comfort zone to release this record, "I'm now reaching more of the sexier side and I'm getting vulnerable now as far as my love life." 
Wakefield also reveals the inspiration behind "Anything," "I wanted to share my own story and talk about my experiences and what makes me happy, sad or angry. I'm proud that I'm vulnerable enough to finally do that. It's one of those songs where I took a chance and was like 'Hey! I'm dating this girl, she's amazing and this is how she makes me feel.' I just started writing different songs expressing my feelings for her. 'Anything' came about because she's constantly grinding with work but she still comes home and makes sure I'm eating. She's loving on me. That's what inspired the song."
"A lot of times, the songs are just outlets for me," she continues. "But now I'm being vulnerable enough to put them out there because there are so many people just like me going through the same things or worse. A lot of times, your songs can be healing for people so I'm just being vulnerable in my love life and sex life. I'm doing more fun and upbeat songs and talking about things like love and everyday life. That's the angle I'm at now."
For Wakefield, authenticity has helped her career in more ways than one. She recalls auditioning for Ciara and being told that she would have to wear tights, hoops, and black boots — the opposite of her style. "I was like 'Okay, well, I'm ready to do what I have to do for the job.' I used to dress like that, wear heels and all of the above."
"But thankfully, by me sticking to who I was and showing who I am from the beginning by coming to the auditions the way that I dressed, I didn't have to do that anymore," Wakefield says proudly. "I could just be myself. I think if I wasn't true to myself from the beginning and listened to those people about wearing tights, heels, and earrings for the audition, maybe I wouldn't have even gotten the job because I would've walked in there looking like a fool."
Wakefield's new single "Anything" is available on all music platforms. The music video is available on YouTube, Vevo, Apple Music, and Tidal. For more information on Candace "Supa Star C" Wakefield, visit her Instagram and website.
This article was written by Jessica L. Dupree and edited by Darlene Aedroju 
All images by Chasity Rogers