Today Juneteenth has become a national holiday in America.  The historical holiday honors the freedom of enslaved African Americans when federal troops declared the end of slavery in Galveston, Texas in 1865.  This longest standing African American holiday is celebrated in various ways throughout the U.S.  In North Charleston, SC there will be the Lowcountry Juneteenth Week to commemorate this holiday.  A weeklong array of virtual and in-person events have occurred from June 14-18th.  All events offered opportunities for enrichment and empowerment to uplift the Lowcountry community in honor to celebrate our freedom from Juneteenth.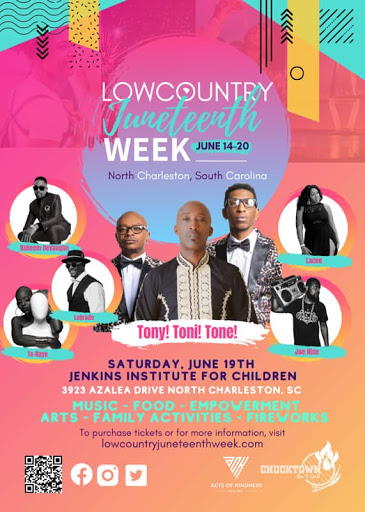 The weeklong celebration ends this Saturday, June 19th, with the Music Festival held at the Jenkins Institute for Children.  Festival goers will enjoy music, food, empowerment, family activities, fireworks, arts and more.  The headlining musical acts are Tony! Toni! Tone! and Raheem DeVaughn.  The Love King, Raheem DeVaughn, also has new music available with his "Lovesick" album.  
The soulful crooner will highlight his musical hits while also gracing the audience with his new music.  Raheem DeVaughn is known for inciting social action with his music.  So of course he would grace the stage for this year's Lowcountry Juneteenth festival.  He has remained true to his craft, his love for Black women and his love for social change throughout his acclaimed career.  The Grammy Nominated singer and songwriter challenges himself to strive for social conscious music that brings about social change on all levels.  
"I use my gift to make music that speaks to social action for those at ground zero doing the work and for those before us that used their same gift in that manner," Raheem expresses.  "Juneteenth is a time of celebration and reminder to the world of what we have been through.  It's our adversity, endurance and perseverance.  I'm into celebrating 'us' and Black women, day in and day out," he stated of the importance of Juneteenth.  
"Music was something that I aspired to do and was also inspired to do," Raheem explains.  His musical inspirations range from Prince to Tupac; and he has stayed true to his soulful art.  Our modern day Marvin Gaye has gifted us with music that has truly transcended overtime.  He has grown as a vocalist, songwriter and vocal arrangement.  "You can hear the poetic depth lyrically," he explains in reference to his music today.  
Juneteenth is a celebration of legacy.  Raheem DeVaughn has a gift that will stand the test of time on and off the stage.  "My music will outlive me.  It will be around until the end of time," he speaks of his archival music.  "My legacy will aspire to inspire.  My legacy will build.  It will promote the celebration of Black love and also universal love," he continues.  Catch Raheem DeVaughn on stage at this Saturday's Lowcountry Juneteenth Week in North Charleston, SC.  Vibe with his hits while also experiencing his new music from the "Lovesick" album.  Follow him on social media here and catch our full interview here.
Writer, C. Scott, is a mompreneur, author, social worker, early literacy advocate and more.  Follow her on Instagram and Clubhouse as @curls_coils. Visit www.curlscoils.net and mention "Juneteenth" for a special on our writing services. 
Featured Image by JeanMarc