Cardi B says, "There's nothing in the world that I like more than checks." While some of us might not believe that it's the most important thing in our world view, it certainly holds weight.
For women, our checks don't always match those of our male counterparts, even if we have the same level of education, the same position, or even the same ethnicity. There is still a massive wage gap that plagues us from the executive level down.
Chandra Thomas Whitfield, an award winning journalist, host, producer, identified the financial disparities of African American women in the US and couldn't hold her peace. She partnered with In These Times Magazine and started a special 12-part podcast series "In the Gap" that chronicles personal stories and facts surrounding the issue. Each episode has a different guest who's had their own direct experience with financial disparity.
Sheen Magazine sat down with the podcaster to learn more.
With all your years in journalism, what was the reason behind starting your podcast?
In many ways, I have dedicated my career to telling the stories that are often overlooked and underreported by mainstream media outlets, particularly as it relates to the Black community. I see my podcast "In The Gap With Journalist Chandra Thomas Whitfield" as an extension of the same commitment. When I went poking around online, honestly I was shocked at the statistics out there document the pay disparities that Black women face in the workplace.
The research shows that in 2020 Black women in the United States are typically paid just 62 cents for every dollar paid to white, non-Hispanic men. Some research suggests that those losses add up to an estimated $946,000 in earnings that Black women lose over the course of a 35 or 40-year career compared to their white male counterparts. The research finds that this pay gap persists, regardless of education, location and age, and in both low- and high-paying positions. When you factor in that more than 80 percent of Black women are considered breadwinners for their households, it confirms that this issue not only affects the lives of Black women but also their families too. It makes it harder to get out of debt or to build wealth and we wonder why so many economic disparities exist.
I don't know about you, but I want and need my $946,000! So, creating this podcast, in many ways, provides a sense of validation for Black women; that many of the challenges we're experiencing in our careers are also happening to other Black women. "In The Gap" validates Black women and provide a space for us to share our stories, but I also weave in some of the longstanding research on this issue of pay discrimination and ill-treatment on the job. The message I wanted to send to my sisters is that "you are not alone" these are longstanding, systemic issues that will take a systemic change to undo, We deserve better. Of course, we've all heard the saying that "Black lives matter." Well, my podcast is a message to the world that Black women's'livelihoods matter too. Black women deserve equal pay!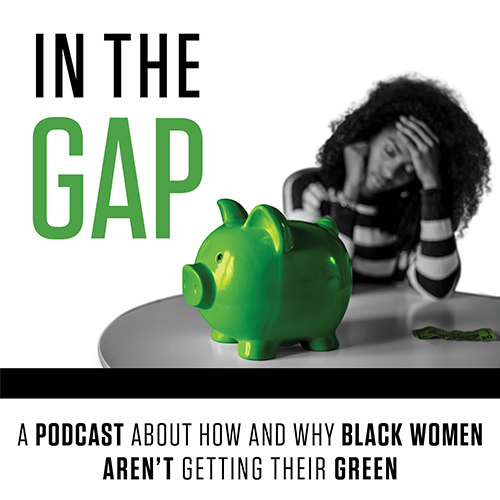 Why was it important to center your podcast around women and the wage gap?
Black women in recent years have been faceted for making the biggest gains in terms of educational attainment in this country. A study came out a few years ago noting that Black women are also the fastest-growing group of entrepreneurs in the country. And, as we continue to see in recent political cycles, Black women are helping to win elections nationwide.
The question is, where is the gratitude, honor, and acknowledgment of all of those contributions? The answer is that it's not there. This issue of "the gender pay gap," the fact that women still make less money than men for comparable work, is an extension of the disrespect and disregard that many Black women say they feel in their workplaces. It's a value issue, or should I say lack of value issue in society. As the country faces this turning point, reckoning if you will on race and racism in society, this issue should be a part of that.
What can listeners expect from your podcast that they can't get from any other show?
The "In The Gap" podcast provides a space for Black women to share their pain but also laugh, learn, and receive tips, share stories, and get advice. We look at the pay gap through a historic lens all the way down to the present-day and show how it's all connected. Personal stories and personal experiences are a huge part of this podcast, but because I am a Black woman who also happens to be a journalist, it was extremely important that I drop in little tidbits about the research and data — and there is plenty out there on this topic — too.
In many ways, my podcast is about validating the experiences of Black women, letting them know that what you're experiencing negatively on the job isn't all in your head — you are not alone. Whether you work at the local grocery store or you're a partner in a big law firm downtown, many of your fellow sisters are facing the same issues and challenges.
Another thing that makes "In The Gap" unique is that my guests make a point to also talk about the emotional toll that this pay gap, being overlooked for advancement opportunities and, many times, working in a hostile, unwelcoming environment often takes a toll on our minds and our bodies. For example, you hear stories like Aja describing the pain and discouragement she felt after learning that her white male co-worker made an entire salary more than her for doing the exact same job and she'd been there longer. The amount is going to blow your mind.
I also talk to the single mother, a retail worker, who trained a brand new employee, a white guy, only for her boss to offer him a management job directly in front of her. Then there's the pregnant Black woman who had just been released from the hospital due to complications, yet her co-workers never inquired about how she and the baby were doing, but they passed around a card for her boss, when her boss' dog died. The list goes on and on. This podcast also provides hands-on advice about negotiating salaries, how to decide whether to take legal action, and other major solutions being proposed on this issue. You will definitely learn a lot. I did!
All images courtesy of In The Gap