We know and love Chef Chef Shay Atkins from Bravo's hit show, To Rome For Love but now we're finally getting the chance to see her in a new light. Just recently, Shay launched her Santa Claus Initiative just in time for the holidays to assist those that may be affected by COVID-19.  Shay, popularly known for her infamous motto, "Taste the Passion" has continuously served her community and those around her, especially in time of need. We wanted to catch up with her to discuss the holiday initiative and discover what all she has planned in the upcoming months.
Tell us about your Santa Claus initiative this year.
Oh my gosh! I'm excited about it. We're basically considering everything that's going on in the world. With the pandemic being so crazy, I am super passionate about giving back. Since I've relocated to Houston from Chicago, I haven't really partnered with any companies. I do my own personal stuff when it comes to feeding the homeless. I always meal prep and give out food. I don't believe in wasting food. I just wanted to make sure we could feed some families. So many people are being affected by this pandemic. Next month, there will be so many people that are out of money. I know that there is always a need to have a good meal. If we can do that for folks to help out families, that is really dear to my heart. I love feeding people (laughs). I never thought I would do it for a living but it's really passionate to me.
You can adopt a family, it's a small investment of $100. That investment feeds a family of four. It includes a nice dinner that a lot of folks may not be able to afford. We want to give back to people that are less fortunate or may be losing money because of unemployment. Next month things will change from a stimulus standpoint.
Every single order that comes in for dinners, regardless if they sponsor a family; we will be donating that to the homeless. We will be giving it to our partner organization to help those that are less fortunate.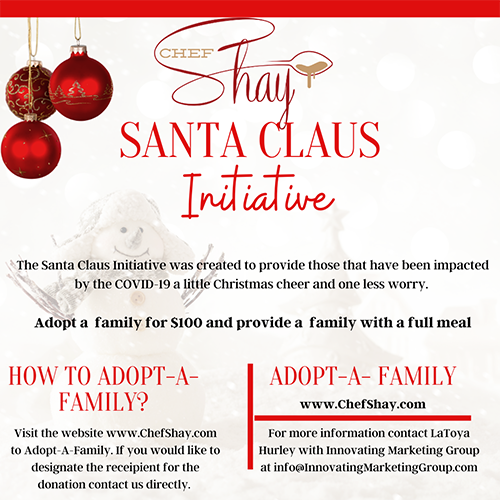 How has life been as a chef and single mother during the global pandemic?
My daughter is an adult now, so she is not someone I have to take care of. She lives in Chicago but being a single woman during the pandemic has been a challenge. Getting to know people is a lot different now. The hours, capacity, and safety measures at restaurants are all different now. It's just different. You don't even know how people look now a days because people constantly have masks on (laughs). It's all different and something to adapt to. It's not fun, that's for sure (laughs).
Your motto is "Taste the Passion." What inspired that?
Well, I've always been told that I am super passionate about what I do. Whether it's something I'm doing, cooking food, or talking about something. They always talk about my passion. I am a passionate person so when I cook my meals, I'm always thinking about how I want people to respond. I like to make them with real love, really going deep as far as flavor profile and making it different or unique. I'm putting in the things that I know are good for people. The passion for whatever it is or whoever it is I'm cooking for comes out in the food. It comes full circle; it means a lot to me. That's why I do what I do.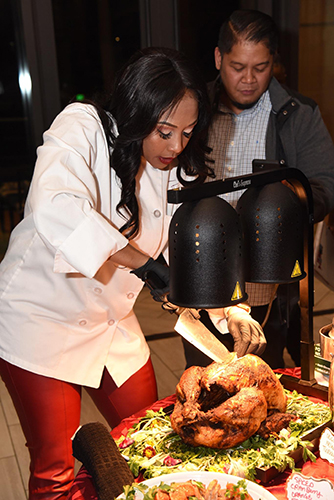 What are you currently working on and what can we expect to see from you in the future?
Well, currently I'm super excited about The Cookbook Calendar. The seasonings are going really well. I have been selling out. There are literally more orders than bottles. It's getting great reviews. It contains a great blend of great flavor, seasonings, and spices. It's taking that basic taste experience to a real culinary experience. I want to take it to a whole different level with the seasonings. The calendar that I am working on is coming out. We'll be starting pre-orders to secure your calendars for next year. It will be a 2021 calendar with 12 different recipes. I am excited because each of the months will be something personal that I will share in the calendar about myself, my journey, what inspired each recipe, and more. Next year, I'm looking to do a small cookbook that will include my favorite recipes. I'd love to have my own cooking show. I've been doing my Instagram Live series, so I'm hoping for that to matriculate into some opportunities on national networks so I can share my cooking passion with the world. I'm excited and blessed. I believe God has His hand in everything that I am doing.
For more on Chef Shay Atkins, follow her on Facebook, Instagram, & Twitter.
All images by Mann Photography