Actor, Christian J. Simon is many things. Bright, funny, talented, and making his mark in Hollywood! The young star earned his self two Emmy nominations for his role in Disney Channel's Sydney to the Max, and now we get to see him in his new role on the network's remake of the popular 1997 film Under Wraps. We had the chance to sit down with him to discuss the details of his new role, filming during the ongoing pandemic, and more!
Tell us about your role in Under Wraps.
My character is Gilbert. He is a loyal, smart, and an honest 12-year-old and the total opposite of his friends, Marshall & Amy. He does not like scary movies and he's not ashamed to admit it. Gilbert is the voice of reason in the group. In the film, meeting Harold the mummy was one of the scariest moments of his life. The viewers go on an awesome journey with him as he tries to overcome his fears and help to save a mummy with his friends.
What can we expect to see on the show?
Viewers can expect to see a really cool dynamic between Gilbert, Marshall, & Amy along with Harold, the mummy. They can expect to see lots of action, a little bit of music & dancing and tons of funny and heartfelt moments. In this remake, you can also expect the mummy to have a lot more personality and emotions.                                                                                                                         
Did you film this project during the pandemic? If so, how was that experience?
Yes. Filming during the pandemic was definitely an adjustment. Some things I was familiar with from shooting Sydney to the Max and other protocols were brand new. We shot the film in Vancouver Canada, and we had to do a two-week quarantine when we initially arrived to Canada which was tougher than I thought. The crew did a great job of keeping us safe and making us feel comfortable.
What are you currently working on and what can we expect to see from you in the rest of 2021?
I'm enjoying promoting the film right now. I just finished up the third season of Disney Jr's T.O.T.S where I voice Freddy the Flamingo. Our remaining episodes of Sydney to the Max Season 3 will also be airing at the end of the year on Disney Channel.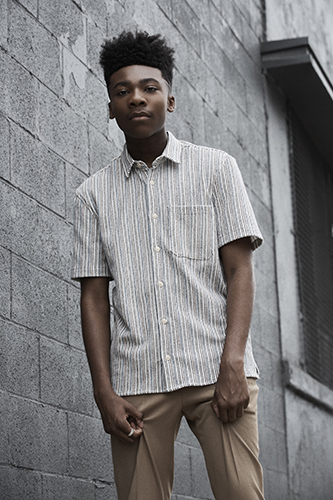 Follow him on Facebook, Instagram, & Twitter today.
PHOTO CREDIT: Ben Cope 
Stylist: Patrick Lynere
Grooming: Eliven Quiros