When it comes to unique and powerful voices, nineteen-year-old singing sensation, Rileyy Lanez has a voice so captivating, that it granted her access right into a signed deal with Columbia Records. To shed some light into just how magnetic she is, the video for the hit single she released in 2019, "I'm Leaving," has reached 7.7 million views on YouTube and that number grows daily. 
Admired for her unique vocals and powerful lyrics, she brings us something new with the release of her debut EP, "Beautiful Mistakes." She is an artist that knows exactly how to captivate an audience from the very first note she sings until the last. Listening to her is like listening to an angel serenading the world with love. She has a special and effortless way of conveying a multitude of feelings through her music and is able to evoke a sustained emotional response from her listeners. She describes how meaningful her lyrics are by saying, "Some of my songs connect with me on a personal level and are based on things that have gone on in my life. Other things are based on what I've seen with people around me, like my parents and their marriage."
One of the first indications of how amazing her voice is, came in the form of a reaction from her father many years ago. While on a family outing, in the car with the radio blaring Adelle's song, "Someone Like You," Lanez automatically did what she does best. Being that Adelle is one of Lanez's favorite singers, she naturally began to sing along hitting every note and every word, to the point where her own father could not distinguish between his daughter's voice and Adelle's. From that point on, Lanez began to take more interest in establishing a professional singing career. To do that, she began taking voice lessons and touring the live circuit from Mount Vernon to Times Square. With the power of social media and the strength of her natural giftedness, Lanez started dropping covers of some very popular songs. Her efforts went viral, as people continuously shared and tagged her in their posts and stories. It was completely evident then and now that she has star-power and talent for days. The rest is history.
In a recent interview with the popular singing powerhouse, we sat down to discuss the release of her debut EP, "Beautiful Mistakes," her inspiration, the current state of the world and more.
Wow, you are a powerhouse of melody, depth and realness—you are so inspiring. Congratulations to you on signing a deal with Columbia Records! Tell us a little bit about your experience with the A&R executive who was highly impressed with your work on social media. What did that moment feel like when they reached out to you?
Honestly, I was really shocked, and I was just trying to get my career started. I was shocked and honored. When I tell you that I was in that meeting shaking! (laughter) But I really wanted to get signed though.
Let's go back in time some. I read that you were in the car singing your heart out to one of Adelle's songs, when your father was like, hold up, wait a minute, is that Adelle or Rileyy! Tell us about that moment of epiphany when you knew you had something special to share with the world. 
I always used to sing, but my parents didn't really know that I had a really good voice until I started growing up and stuff like that. So, when I was nine, we were all in the car and Adelle was playing, I'll never forget, it was "Someone Like You." I was singing and my father turned around, turned the radio off and asked me if that was me that was singing! They were shocked because they didn't even know I could sing like that. Ever since then, I have just been trying to start off with my career by taking vocal classes, I have done a lot of stuff, so I'm glad they heard that I could sing.
At just 19, you have taken the world by storm and you're still wowing us all. What serves as the inspiration for your song writing? Everything you put out is deeply captivating and seems self-reflective. 
Yes, some of my songs connect with me on a personal level and are based on things that have gone on in my life. Other things are based on what I've seen with people around me, like my parents and their marriage. I have a song on my EP talking about love, I've got that from my parents or my friends who have went through heartbreaks, so that's where some of my songs come from as well, so there's a lot of inspiration. 
You have some new music out right now and its hot! You also have your latest single, "Foul Play" that came out on April 24th and then your EP, "Beautiful Mistakes" releases on May 1st. What can we all expect from that?
Well I expect good things, I hope it really takes off, you know? I really try to write songs that really speak to people and my generation, so I hope my songs really help people and whatever through they're going through. So, I really hope my EP that's dropping this month takes off. 
So many people dream of getting to the Apollo and it happened for you. What was that whole process and experience like?
Honestly, like you said, I was so nervous. I really didn't know what to expect. People were telling me how they boo people off the stage, and I was thinking to myself, like, umm, I'm fourteen and I hope they don't boo me off the stage! (laughter) It was good, I met a lot of people and the crowd loved it, so it was a good experience.
I'm always interested in who an artist would like to work with. If you could hand pick 3 incredible artists to collaborate with in the future, who would you choose?
Alicia Keys, Jhené Aiko, Daniel Caesar. Alicia keys really makes songs for people who have a broken heart, you know what I'm saying. Have you ever heard of the album, the "Diary of Alicia Keys?" The songs on that album, I love that. Daniel Caesar's sound is so different. The type of music that he makes is like a vibe it's so soothing, so I really want to work with artists that are really diverse and different from each other.
How do you deal with your new-found fame, especially with you being from the Bronx, the place where hip-hop was born? Do people approach you a lot and want you to sing or take pictures? 
When I walk outside and go out to the mall or something or the store, people are like, "Oh my God, you're Riley! Can I take a picture, or can I sing for you?" And I'm like, "Girl, you better sing!" 
Speaking of New York, the city has been hit very hard with the Corona virus. What words of encouragement can you share with the public and with your fans?
Well I can say that the virus is going around and people are in the house. People are kind of losing their minds because they haven't seen outside in a very long time, but I'm telling you, staying home is the best option right now, the longer you stay home the faster this whole thing will be lifted and the faster we can go on with our lives. Everybody be patient, were gonna be good, I'm telling you this is going to be over before we know it. 
Music is life for so many of us…it's everywhere, it moves us and is capable of making us feel a whole gamut of emotions. How are you personally moved by the music Rileyy?
How am I moved by music, that's a good question. Honestly, it's gotta be the words. The words really catch me in any song, it's gotta be the words. I love different types of wordplay that people use in their music. So, when I listen to a song, I not only listen to the beat, but I listen to the words that they're writing out for everyone to hear.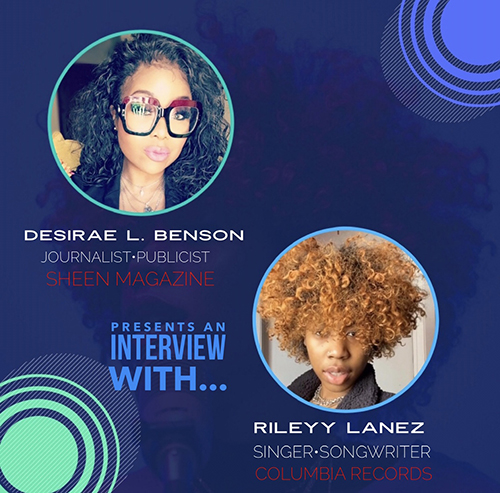 To learn more about Rileyy, visit her on Instagram. To listen to the full audio portion of this interview, subscribe to this YouTube channel and turn on notifications to be notified when it's available.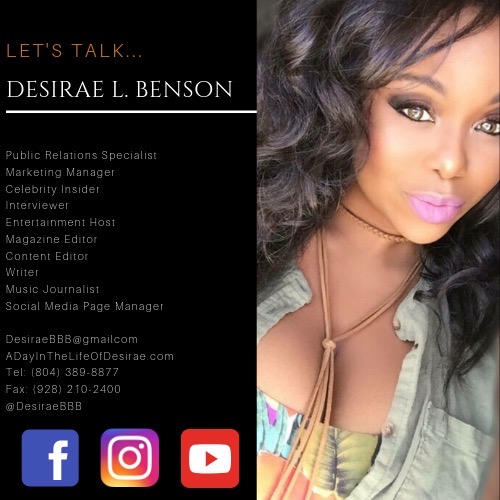 Desirae L. Benson is a writer, content editor, publicist and entertainment media host, residing on the west coast. She hosts her own show featuring four different segments with celebrities, musicians, and people of prominence. To find out more, visit her page on Facebook and IG by using @DesiraeBBB or the hashtags:  #DesiraeBBB • #MovedByTheMusic •#AdayInTheLifeOfDesirae• For media inquiries, Email:DesiraeBBB@gmail.com 
Featured Image by Columbia Records