Greenleaf star, Deborah Joy Winans has just released an exciting new project today! Her brand new single, "I Won't Stop Breathing" gives us a bit of peace and tranquility amidst all that our world is going through right now. This new project, released just a couple weeks before the series finale premiere of the hit show, Greenleaf. We caught up with Deborah Joy Winans to discuss her brand new single, what we can expect from the finale, and much more!
Tell us about the single, "I Won't Stop Breathing."
It is a heart break song with hope and light at the end of the tunnel. It was a song that my brother wrote a while ago. I loved it the moment I heard the demo. Singing was never anything that I set out to do. With Greenleaf, it has just because a platform for me. I decided to give in and pursue music in a way that it speaks to me. I finally gave in. The song just came to my mind. I asked him if I could record the song. Shortly after I did the demo, the pandemic hit. Everything shut down. The murder of George Floyd just wrecked me as it did for many people around the world. After about a week of non-stop crying and lack of hope and understanding of what is going on in this world, it was a God idea. It just hit me and the light turns on. I just got out of the shower and I told my husband, this song is for right now. I believed that this song could give people hope and the feeling of being heartbroken. There is light at the end of the tunnel. I think it's important right now. I released the visual and people asked for the song (laughs). So now, the song has just released. 
What can we expect to see in the series finale of Greenleaf coming up August 11th?
Ooh girl! I think what we saw recently is a summary of how the rest of the season will play out. Finally for the first time since it started, the family is all one one accord. The parents and the siblings are coming together, not out of spite or anger but truly out of the love that they have for one another and God. It's a beautiful thing, I think it's something that will allow us to close the show in a way that feels satisfying yet hopeful!
How do you believe your character has evolved over the years in the series?
Oh my good lord! When we met Charity, she was just young and naive. She was a child that needed to grow up. I learned at a younger age that nobody owes me anything. Whatever I want in life, I have to work hard for it. I think that Charity kind of missed that boat. She felt like she was owed something that she wasn't. She had to work for it. Once she realized that she had to work for it, she did what she had to do. You see her going through being a child, throwing tantrums, going through heartbreak, being pregnant with twins when her husband revealed that he is interested in men. I don't know what that would do to a woman's self-confidence. It hurt her so bad that she lost the child. She had a child, lost her husband, and she is trying to figure out who she is and what she wants. She always gets a raw deal in the men department. She moved onto a music producer that was able to walk away from her the moment she couldn't be on the road because of her child. She's dealt with a lot. She never dealt with the childhood that they all endured. Now, you see a stronger Charity, a Charity that has been through some things and consequences. Now she is ready to take on responsibility and to move forward. When she does do that, she feels like her family is not for her. She feels as if they are not in her corner. They don't see her the way she wants to be seen. Everything is about Grace and Charity is done putting her life on hold for Grace. Granted, she doesn't do it the proper way but I wasn't mad at her for making a decision that would allow her to move forward. She is now recognized although she didn't do it the right way but she's fixing that. I love the fact that you can't hold her down. She won't be held down for her choices, her past mistakes, she lifts her head up and she keeps moving on. She's evolved, accepted her mistakes, and now she is able to really see her family and they're able to see her. It took something great for them to actually see her. Now they're getting on one accord, which is something the family has never done in all five seasons.
What's next for you?
I am working on a film now that I am very excited about. I think the cast is phenomenal, the director is phenomenal. Once I am able to fully discuss this project, I would love to share with you all. I'm also working on an EP that will follow up my new single that was just released today.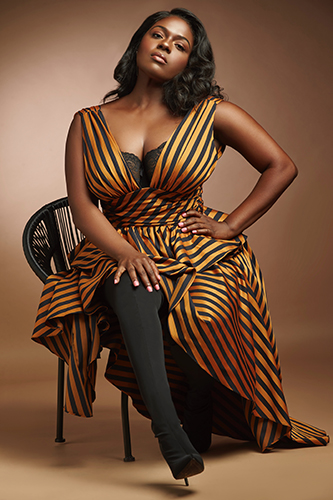 For more on Deborah Joy Winans, follow her on Facebook, Instagram, & Twitter.
All images by Kuawane Burton