Dr. Harrison Jones IV is someone who had the dream and internal desire to improve the educational system through a method that allows students to excel and succeed far beyond the confines of the classroom. The latitude and scope of his vision sparked a transformation in attitude not only for students, but for teachers as well. As a professor, musician, athlete, coach, teacher, principal, activist, speaker, and author, he has dedicated his life to helping others improve their quality of life. Through education, Dr. Jones actively conveys a "whatever it takes" attitude in every field of service by promoting positivity, resilience, and high achievement. 
In being a community leader, many young people look to him as a father-like figure because of his fun-loving and caring personality. He explains, "I think one of the key things in schools, working with young people or in anything is, if you want your class, company, your team or anyone to excel, you have to set the bar high. You have to set it high and express boldly that, "We're going to reach that bar", "We're going to excel above that bar." Nobody rises to low expectations." It is this type of motivation that has positively impacted and inspired so many people to get out of their comfort zone and sustain a winning attitude as they surpass their goals.  
Dr. Jones has always been drawn to the power of success and making a difference as he travels along his life path. With compassion in his heart and positive change as a goal, he began his career serving as a high school math teacher and later advanced to be a principal at several high schools and one middle school. He helped initiate the Early College High School from the ground up and his achievements include graduating 100% of his seniors with a 100% percent college acceptance rate. 
His hunger to make an impact in the world of education continued to propel him forward to achieve even more excellence. Dr. Jones went on to complete his dissertation on "Campus wide Positive Behavior Supports and its influence on the African American Male" and earned his Doctorate degree in Education Leadership from Lamar University. He is currently a professor at Grambling State University College of Education in the Curriculum and Instruction Department. 
Dr. Jones has specialized experience in turnaround schools, inspiring at-risk students, restorative practices, and positive behavior interventions and supports. His primary mission is to build teams that work together to transform organizations. He believes Nelson Mandela was right on the money when he said, "Education is the Most Powerful Weapon which you can use to change the world."
Dr. Jones and I sat down and discussed his track record of success, along with the creative ways that he utilizes technology, social media, and his platform to spread the word about life, education, spirituality and the well-being of humankind.
I know education is important to you being that you're a professor at Grambling State University. Did education choose you or did you choose education?
Well, one of the biggest things I always talked about when I went to college was, I wasn't going to be a math teacher or a soldier. And I ended up doing both right after college because my mother. She was a math teacher for, I want to say 20 years, and my dad served in the military for 38 years and is now a retired Major. I saw myself getting into some field and after I graduated from college, I was trying to decide whether I wanted to go to law school, or would I go into law enforcement. Was I going to go into computer technology or something else? I had questions because when you graduate college, nobody really gives you a direction of where you could go with your degree. 
I was a mathematics major in college, so I was like, "Well, let me go teach math", because I wanted to kind of get a foot in the door to see if I could get some financial backing to possibly take the law school exam or do something else. And once I got into the classroom as a math teacher, I fell in love with it.  I remember my second year of teaching I dedicated myself to education, and that was around 2007. Just the interactions with the students, how I would watch a student grow from start to finish. I even saw my first graduation of my first freshman class in 2012. And just watching those kids grow up in four years and graduate from high school, I said, "I want to be able to be the man on the stage that gives away those diplomas", you know what I mean?
Absolutely! You found it rewarding. You have been a principal in a few different locations. Tell us about that. 
I went on to earn my master's degree, went on to being assistant principal, and moved up to be a principal after three years as an assistant principal in Killeen. I went to principal in Corpus Christi, Texas for about two years, and I went on to be principal in the Middle East for a while. Then I came back to the United States, because obviously, after receiving my PhD in education, a lot of the issues that I was studying during my time were the school-to-prison pipeline and how that's increasing. The mass incarceration rate in the United States of America disproportionally affects African American students.
What can be done to lessen the mass incarceration rate for young black students?
One of the things I studied, and I wanted to key into, was the things I could do as an educator to help end the school-to-prison pipeline? And the things that I saw on the basis of my research, was we need to increase the number of black male teachers in the classroom, and we need to have more teachers that stay in the classroom. Attention is falling off because a lot of teachers are bogged down by a lot of the things that are going on in schools. You have school shootings, you have unfair disciplinary practices, you have lesson plans, you have all these different things that are on the teachers that make them quit.
Mahatma Gandhi said, "Be the change you wish to see in the world." What steps did you personally put into place to make changes to teacher retention and motivation?
I said I would like to write a book, I Used to Hate School, that would take and keep all our great teachers in the profession, and that's what I did. I wrote it as a manual to teach teachers on how to regroup themselves and reconnect with their love for education. And not only just their love for education but to be able to transfer that love for learning to their students. So, that's the general idea of the book, I Used to Hate School, and part of me working at Grambling State as well.
You're also doing a lot to support the positive behavior of African American young men. What methods are you using to do that?
When I was conducting my research for my doctorate, one of the things I wanted to do was to end the school-to-prison pipeline. The solutions for that were to implement positive behavior support within the school, and that's within every campus across the board. It must be in every school district and in every imaginable place where kids are being taught, because studies have shown that positive reinforcement works tremendously better than negative reinforcement. A lot of the things that people do in school for discipline is, they usually just kick the kids out and send them to ISS or send them off to an out-of-school suspension. The reason for this is because a lot of times the teachers just don't want to deal with them, or that there might be some other issue that the school might not be able to manage.
So instead of being able to kick those kids out immediately, there's a system that I've studied that you should be able to put in place called "Positive Behavior Support" that builds off positive reinforcement. At one of the high schools, I worked at, it was an alternative school, and there were some big issues between all the teachers and the students because the ones who were lost or misbehaved with the teacher, they would just suspend.
After implementing "Positive Behavior Support", the entire behavior of the campus changed. They stuck with that policy. I had kids coming in telling me at the end of the day, "Mr. Jones, Mr. Jones, I got a blue card today, so I get the pizza." Because they started to smell the pizza coming from the hallway. You know, Little Caesar's pizza filled up the whole building! You're taking them past the cafeteria, some kids are getting a peanut butter and jelly sandwich or something. I'm saying that the kids would smell that, and they wanted to do better, and it changed! I mean, we went from having fights every other day in the school to literally having six fights the entire year, and three of those fights were the same two kids. 
You're certainly an advocate of positivity. I saw a lot of your videos on Tik-tok and you're finding some awesomely creative ways to reach people. So, tell me about your inspiration?
Well, one thing that I love about Tik-tok is you can never run out of ideas. The best thing about Tik-tok are the trends and they allow you to communicate with everyone, because everyone wants to be able to follow the trends. Now, you can turn a trend based off what your niche is. So, my niche happens to be education and spirituality. And so, I just felt that whenever you could put things to music and make it relevant to anyone, you're going to be able to teach them. So as an educator, I just like to use my platform to teach as many people as possible because I think that's the best thing you can do as a human being. I had people to teach me, and it'd be ridiculous for myself to not honor my teachers by teaching others.
In your opinion, how can parents and educators give children more freedom to learn and participate in things that they are interested in? 
Well, we spend a lot of time telling kids what they can't do. I think that's what a lot of the wakening that's coming on is part of. We spend a tremendous amount of time telling our kids for the first few years of their life, "This is what you have to do in order to fit into society and be successful." And we need to flip that. We need to get our astute kids to understand who they are first, and then we let them understand their gift, and then we make sure that they go in the right path. I think we need to find ways to reach our kids in the very beginning, and that comes from mindfulness and just the sharing like you were talking about. Those positive affirmations and getting kids what it takes to realize who they truly are and what they're truly capable of is everything. Anything is possible. 
Are you working on any other material now that's going to be coming out soon? What can we look forward to?
Well, I'm currently working on a leadership book called Laws of Limitless Leadership. It's an integration of leadership skills and spirituality that are absolute to take that team to the championship, that organization to the top in every facet. So, I'm definitely in the end process of completing that book and I will look forward to that coming out very, very soon.
I know words are important to you, especially as an educator. Do you have any favorite quotes that you like to use throughout your life, or words of wisdom about your whole philosophy of education?
Well, I always use this one by Nelson Mandela, "Education is the most powerful weapon that we can use to change the world." And I envision myself as a superhero and I definitely have superpowers, and the best way that I can reach the entire planet is by moving in the now and understanding the impact that every choice I make can change the world. That's one of the things I took from Nelson Mandela, who was a wise man beyond his years.
Learn more about Dr. Harrison Jones IV by following him on,
Instagram, TikTok and visiting his website.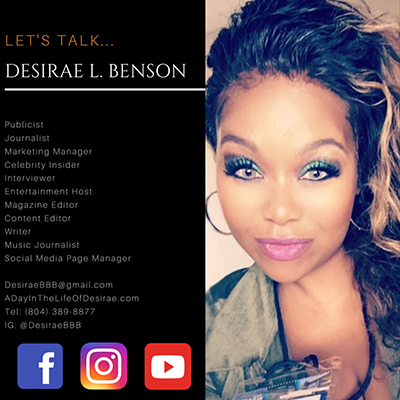 Desirae L. Benson is an entertainment publicist, journalist, content editor, and entertainment media host, residing on the west coast. She hosts her own show featuring four different segments with celebrities, musicians, and people of prominence. To find out more, visit her page on Facebook and Instagram, by using @DesiraeBBB or the hashtags:  #DesiraeBBB • #DesiraeLBensonPR #MovedByTheMusic •#AdayInTheLifeOfDesirae• For media inquiries, Email:DesiraeBBB@gmail.com 
Featured Image by @thetraveltaurus