Breakfast is our fuel for the day. It also sets the tone for our daily routines. Why not start it off with a Black-Owned pancake mix that reminds us of good family memories? If that's your goal, you must try Vicky Cakes Pancake Mix!
Known as "The Pancake Lady", Christian Sargent decided to share her mother's family recipe with the world. Their products are single-handedly bringing families back to the kitchen table one bite at a time. Using natural and organic products, their mixes are also vegan friendly. Here's what Christian shared about her legacy, product line, community and more.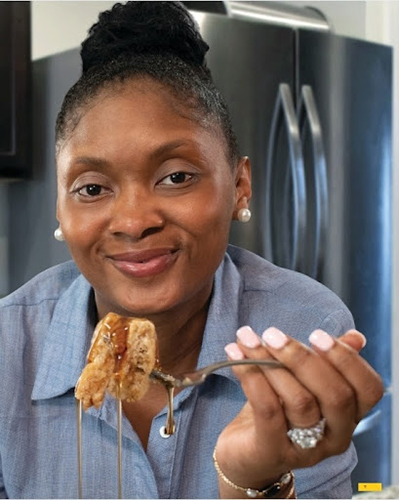 What inspired you to share your family recipe with the world?
It was my husband's idea 7 years ago and I finally decided that I wanted to honor my mother, Vicky. She had amazing cooking skills and sacrificed a lot as a single mom of 4. I ultimately wanted the world to experience the goodness that my siblings and I have been enjoying all of our lives.  I wanted to give the world a real authentic Black Owned Pancake Mix that is better for you and inclusive of multiple dietary lifestyles.
How do your products differ from other brands?
We aren't an "add water" only mix. This is a real recipe that renders a homemade taste. Our products do not contain powdered milk or eggs. Our products do not contain any GMOs, artificial flavors, colors, preservatives or additives. Our products are loved by the vegan community because they can use their own non-dairy alternatives to enjoy the same pancake perfection as our non-vegan customers.  We also use REAL high quality premium ingredients like blueberries, pecans and milk chocolate chips in our flavored mixes unlike the competitors.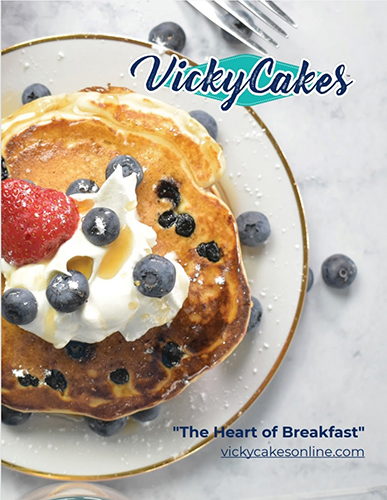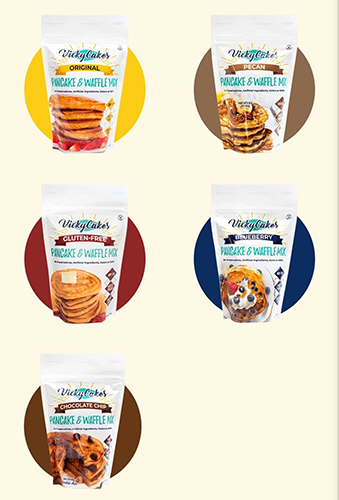 What are some summer pancake trends to enjoy?
1. Pancakes with fresh fruit in the batter as well as on top is a favorite for sure!

Breakfast for dinner. It's the ultimate adult joy and parenting win!

Pancakes and sausage on a stick for quick grab and go meals. 

Pancake muffins. They are simple to make and can be filled with veggies or sausage and cheese.

Anything with fruit flavored syrup is winning right now. Our customers love to add the syrup to their batter for extra flavor!"
How is your brand impacting other families, the culture and the food industry as we know it?
Vicky Cakes is so proud that our mission to bring families back to the table has been so impactful. Prior to the pandemic a lot of families weren't engaging much at the table but since then we are seeing so many families spending time together and creating traditions of having Vicky Cakes every weekend with their family, or their parents. We have also noticed just how committed and intentional consumers are with their dollars and supporting brands who represent what they believe in and those who are authentic. Breaking into the food and beverages industry as a minority owned business isn't easy but we've been vigilant from day one to be the leading Pancake Mix brand and we have accomplished being the First Black Owned Pancake Mix in major retail in less than 2 years in business which is very impressive all things considered. We are breaking the glass ceiling!
Vicky Cakes Pancake Mix is truly a trendsetter in the kitchen. Their love for family and authentic goodness shows with the use of their brand products. From Pancake mix to syrups; they are yummy Black-Owned alternatives for your kitchen delights. Support their brand today and beyond; and especially for National Black Business Month. Follow the brand on Instagram.  Visit their website to learn more and to shop their products. 
Writer, C. Scott, is a mompreneur, social worker, educator and lover of all things literary related.  Follow her online as @curls_coils.  
All images courtesy of Vicky Cakes Pancake Mix