Celebrity stylist/ Designer Sir Joe Exclusive kicked off LA Fashion Week this past Saturday at St John's Cathedral with his second collection of Luxury Loungewear "The Sir Joe Exclusive Collection."
Love and Hip Hop star Princess Love was in attendance as well as Los Angeles Chargers wide receiver Jason Moore as models.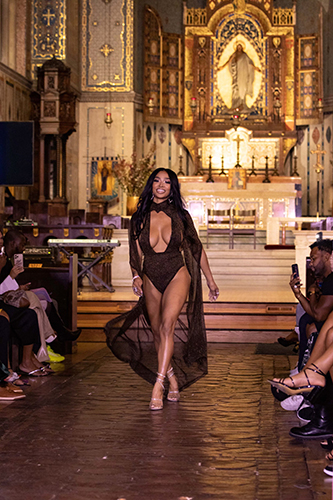 This collection is titled "Rich $ex" Joe was inspired by Future's song "Rich Sex." This collection includes all black Unisex Loungewear sets and he added some sexy pieces as well Mr. Exclusive told us he literally created this new collection in 10 days. That's impressive because designers usually take 4 to 6 months to create a collection.
Joe said he is not into fast fashion for himself, as he has always been into high-end designer. So with this collection he chose the best fabrics and literally uses the same silk piping that Monique lhuillier uses for her wedding gowns. Joe says he is in this for the long run and hopes to one day own Boutiques on Rodeo Dr., Madison Avenue and more like his idol Gianni Versace.
And for the record Joe has not given up on wardrobe styling he is still consistently styling daily and by the way, October 4th was the two-year anniversary of Summer Walker iconic "Over It" album cover release in which Joe styled the cover.
Please follow Sir Joe Exclusive on Instagram.
Follow The Sir Joe Exclusive Collection today.
Click here to visit Destination 1610.
For more on Sir Joe Exclusive, click here.