When you think of the Huxtable's, the Lewis family might come to mind. This dynamic family has set the tone when it comes to hard work. Check our this powerful interview with the Lewis family….
How did you all get your start in the food industry?
Clint and I got our start in the food industry in 2006, prior to opening our first Wingstop, Clint was in real estate, insurance and investment, I was a Social Worker for LA County. The real estate and insurance business was booming and we wanted to invest in a business we could do together and possibly set us up for retirement. DeAnna was born and raised in Bakersfield,CA and we spent a lot of time visiting family and was always disappointed at the limited food establishments there, we were already searching franchise concepts and decided food would be a perfect fit especially in Bakersfield.
What are some of the struggles that you both faced while building your businesses, and how did you overcome those challenges?
DeAnna and I faced many challenges in the beginning partly because the food industry was totally new business for either of us. One of the major challenges was bringing a unknown brand to a new market and facing the recession within the first year of opening, sales were down and the creditors were calling. Consistency and commitment to the business was key, DeAnna had resigned from LA County and decided to be reinstated to bring in steady pay and medical coverage for our family and I continued to work in my financial services business while working in the restaurant as well. We were all in as a couple determined to keep our business together.
How did you decide on what businesses to franchise?
Clint and I decided on Wingstop because we were customers first, we loved the product and the menu was simple, which was a major determining factor for entering the food industry, neither one of us are chefs most restaurant experience we had was working in fast food as teenagers. We were also fans of Fatburger dating back to our college years, even when you have a Fatburger to this day the flavor is the same taste we remember from 30 years ago, recipe hasn't changed.
Give our readers your top 5 tips on what they should know about the franchise business
1.
Choose a concept that you are passionate about, in order to be
successful
you will have to be owner and operator initially so you want to know more about your business than anyone who works for you.
2.
Know your numbers
. fixed cost, labor cost, cost of goods and potential profit.
3.
Capitalization- Cash or Finance
4.
Location, Location, Location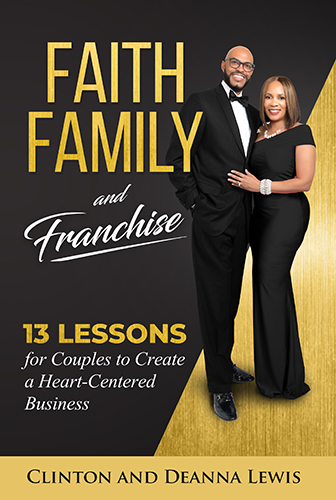 Faith Family & Franchise…tell our readers about your book and why they should read it? And how can our readers purchase the book.
Our book will give you the step by step business plan for starting not only a franchise but any business you desire. Many books tell you the success side of building a business our book takes you on the journey to success. Faith Family & Franchise book is available on our website and Christian Living Books also available on Ebooks, Amazon and Barnes & Nobles
What's next for the Lewis family?
Clint and I are always in search of new concepts and adventures. We are excited to see our son and daughter graduate from college. Next move is a worldwide book tour and speaking engagements.
What is a quote that you all live by?
Clint and I favorite scripture that we live by for our family is James 2:26 Kjv For as the body without the spirit is dead, so faith without works is dead also.
All images by Gervel Sampson