Learn about the art of mixology with master mixologist, Melanie Bullock!
In honor of Women's History Month, cocktail curator Melanie Bullock stopped by to give us a lesson in cocktails and to teach us how to make one of her delicious Culture Cocktails inspired by a musical legend. After spending years as a high-powered executive for major companies, Bullock has gone from building billion-dollar brands to building her own empire in the beverage space. Bullock tells us how she decided to take a leap into this industry after spending twenty years working in corporate America. It was during the year 2020, a time of reinvention for many of us, that she decided to follow a passion that she had discovered by taking a bartending class a few years back. She began doing Zoom calls with her friends to show them how to craft their own cocktails and from her passion and creative outlet, MB Craft Cocktails was born and those Zoom calls with her friends grew into hosting major virtual cocktail classes and demos with hundreds of women for companies like Bedroom Kandi!
As one of few women of color in her industry, Bullock has been dubbed the Martha Stewart of Cocktails. With her sights set on developing a full line to include cocktail glassware and tasty cocktail syrups, Bullock has also taken the time to become highly educated on the history of the beverage industry.  She became obsessed with learning everything she could about cocktails and how they were developed and in doing so, found that African Americans played a huge role in the development of cocktail culture. It was this revelation that inspired her drink series entitled "Culture Cocktails".
Inspired by the legendary songstress, check out the Cocktail Curator's recipe for the Billie Holiday Martini!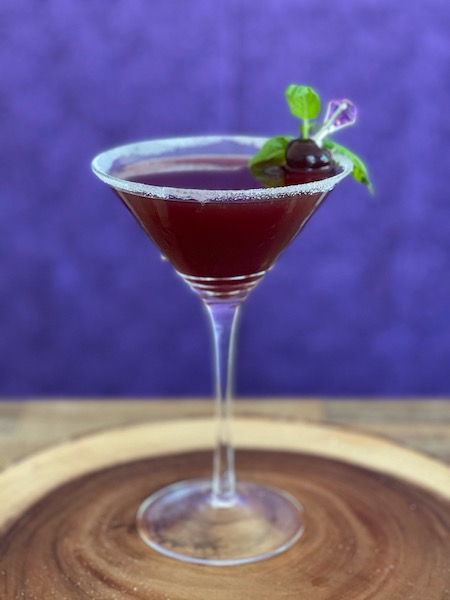 Ingredients
2 oz Whiskey (1884 Uncle Nearest)
2.5 oz. POM Pomegranate Juice
2 oz Ginger Beer
1 oz Fresh Lime Juice
0.25-1.5 oz Grenadine
Ice
Sugar(Optional)
Garnish: Cherries, Mint Sprig
Glass: Martini
Tools Needed: Shaker, Jigger, Spoon, Plate, Cocktail Stick; You will all need a knife and hand juicer if juicing fresh limes.
Directions
First: If desired, place a small amount of sugar (enough to coat the rim of your glass) on a plate. Set aside. Wet the rim of your martini glass. Dip the cocktail glass in the plate of sugar until the rim is coated. Add the grenadine to the bottle of the glass. Set aside.
Second: In the shaker, combine ice, whiskey, pomegranate juice, Fresh Lime Juice, and ginger beer. Stir. Do NOT shake due to the carbonation of the ginger beer. Strain into a martini glass. Garnish with cherries on a cocktail stick and mint sprigs. Cheers!
Stay tuned for Bullock's new book filled with tips and cocktail recipes. In the meantime, follow her on Instagram for more tasty new mixes!
Images provided Kita Williams