We're obsessed with Andrea Renee and if you haven't familiarized yourself with her, allow us the chance to introduce her to you. This young, aspiring beauty graces our screens with her vlogs, beauty-related videos, and much more. We had the chance to get to know her past the glitz and glam of YouTube to find out just how this aspiring young star got her start and much more!
What made you want to enter the Youtube space and create content?
I wanted to share my love for makeup and all things beauty with people who understood, who could relate. For the longest time there wasn't anyone I could really connect with as an enthusiast, outside of the beauty space, without feeling embarrassed or just… "weird". For that reason starting a channel for people like me was always in the back of my mind. Eventually I had the space and equipment to do it.
Do you mind sharing your holy grail beauty products?
I have A LOT but a ​few​ are…
–  Sephora Microsmooth Powder Foundation
–  Covergirl Brow Pencil
–  Anastasia Beverly Hills x Jackie Aina Eyeshadow Palette
–  elf Cosmetics Always Spicy Primer Infused Blush and Clear Lip Lacquer
–  Chanel Natural Finish Loose Setting Powder
–  NYX Born To Glow Foundation
What is something most subscribers don't know about you?
My food preferences are not your average. I believe that pineapple ​belongs​ on pizza and cheddar cheese is disgusting. Cheese burgers, nachos, macaroni and cheese? Yuck!
How do you juggle your everyday life as an influencer and make time for YouTube?
I plan out my schedule. Before my following grew, I was never a planner. Working for a large company outside of YouTube, I would only film and edit on the weekends. Working 7-days a week became overwhelming and too stressful. Now I've disciplined myself to uploading videos on Sundays, Wednesdays and Fridays. I'm usually filming mornings or evenings throughout the week so I can take weekends off. Having time off is important to my mindset so I'm content with being all work and no play M-F.
Where do you hope to see yourself in years to come?
Success for me is growing my platform and the relationship with subscribers. I hope to have the opportunity in the near future of meeting my subscribers and giving them a hug, because they helped to get me here.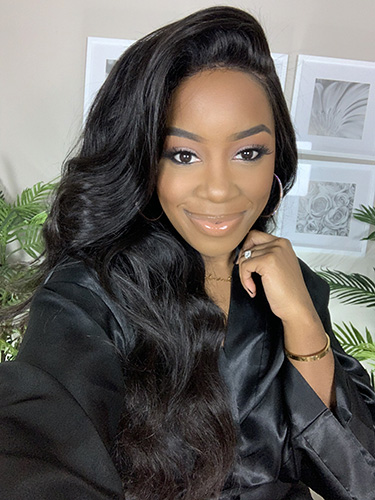 For more on Andrea Renee, follow her on Instagram, Twitter, & YouTube.
All images courtesy of Andrea Renee