Currently, Lady Patterson owns Eyetopia spa, which is a full-service spa- specializing in services for millennials, as well as mature men and women. With services including facials, micro-blading, spray tans, volume lash extensions & waxing. In addition to services, Eyetopia Spa offers a variety of dermatologist formulated products in their Ta'ori Skincare line and CBD products.  Recently partnering with Dr. Kelly McCants to provide a full-service medical spa and medical services, Eyetopia Med Spa now offers Botox & Fillers; IPL (Intense Pulse Light) treatments for skin tightening, sun damage, hyperpigmentation & varicose veins; body contouring & sculpting that reduces the appearance of fat and cellulite; and laser hair removal.
For those who aren't familiar, can you tell us a little bit about yourself? 
I'm Lady Patterson, the CEO, and founder of Eyetopia Med Spa and Ta'ori Skincare located in Sandy Springs, GA. I am a licensed professional esthetician with over 25 years of medical experience. I am a lifelong entrepreneur who has always had other businesses, such as obtaining government and commercial contracts, selling jewelry, candles, network marketing and ultimately lash extensions.  Lady Patterson has been an entrepreneur since youth, as a child, she learned very quickly how to buy low and to sell high.  Lady Patterson would invest $20 every day buying juice hugs from the local store at 5/$1.00 and then freeze them overnight. She would then sell the frozen juice the next day during class to her fellow classmates. She learned the principals of supply and demand; buying low and selling high. Thus, an Entrepreneur was born.  
What motivated you to open Eyetopia Spa? 
I was raised in an entrepreneurial family, but I've always had something on the side (to support a better lifestyle). In the height of my beginning stages, I often worked 15-16 hours days. I sacrificed so much time into building my business because I wanted to oversee my own destiny. I wanted to determine my OWN WORTH. I am a mother of 3 children, and I wanted to create freedom and a legacy for them to pursue their passion and purpose. After years of receiving many compliments about my make-up and eyelash extensions, I saw an opportunity to jump in front of a trend by providing high-end services that had previously been reserved for the elite (average $300/lashes) and make it more available for the masses.  I took my hobby and turned it into a profession and ran with it and never looked back.  
What sets you apart from other businesses like yours? 
Our passion and customer service. Having the passion to serve others and make others look good, feel good and while helping them to have higher self-esteem brings great satisfaction to know we made a difference in bringing the inner beauty out someone's life. Because we care about what we do, we find that clients tend to want to stay with you because you have developed a real relationship with them.
What is the importance of making Eyetopia Spa a family business?
In addition to my children degrees and the skill set, I want them to have other opportunities that will create residual income outside of our family business. Whatever their passion is, I want them to be able to travel and have the things that my husband and I struggled with at an early age. As they travel through their journey in life, they can explore their passion and free up their thinking without worrying about what their income will be. Our daughters Oriana, 27 and Aaliyah 25, along with our son Tahj 21 are free to pursue their passions and find their purpose.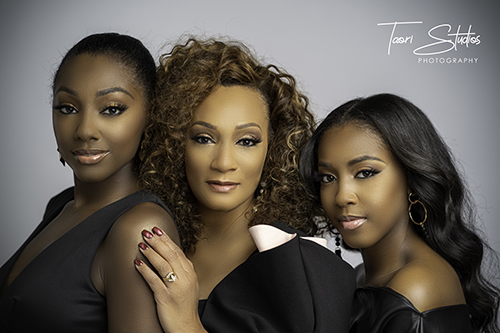 What's next for your Eyetopia Spa and your family's entrepreneurial journey?  
Next up, opening a chain of Eyetopia Medical Spa's across the nation. Taking TA'ORI skincare and have it to become a household name while purchasing our products in major department stores. Employ other med spa professionals. A great start in a professional luxury environment to contribute back to society with our services.  Empower small salons and boutiques with the amazing exclusive Ta'ori line of cosmetic and skincare products allowing them to increase their revenue and dream powering potential. 
More personal development (while often referred to as 'therapy sessions', the spa time gives us an opportunity to not only empower people by making them look good and thus feel good, but we help encourage our clients with positive thinking and action.) This often gives them the extra push they need to do something different like seek a new relationship, start a new career or business, even stand before their peers in a boardroom. We also want to give them time for positive reflection. We want to know how to encourage them more and help them to have a more positive and healing outlook on whatever is going on in their lives. Eyetopia will be a FULL-SERVICE MED SPA exceeding expectations in every area imaginable. Helping them to feel beautiful inside and out.   
Where can everyone continue to follow you?
You can find us on Facebook, Instagram, and Twitter. Also, be sure to visit our official website.
What advice would you give to anyone wanting to explore their dreams?
Do it! Don't let fear stop you. If you are afraid of what happens if you fail, well… that's where you are right now before you try. Don't be afraid. I've had many ventures; some were successful some were not. You can't be afraid to TRY! 
All images by courtesy of Lady Patterson