"Thank you, for sitting with me and making me feel better… and beautiful." Who is the person responsible for evoking these words you ask? His name is Lashelle; a trailblazer that is reshaping the beauty industry, one brow at a time. I sat down with Lashelle to talk about his journey; he was lively yet calming, humble yet assertive, and most of all he was open, natural qualities he displays with little to no effort. We talked about beauty, his upbringing, and his purpose. I knew I was in for a great conversation; within the first couple of minutes of us talking he said to me, "I specialize in the power of healing through beauty." Now that's powerful! Any type of healing is great, especially through personal touch, considering the impersonal digital era we live in. Lashelle has a simple thought behind his healing process, "When you look good, you feel good." Not only does he shape brows, he is well versed in make-up and skincare. He knew this was his calling, confirmed when he was living in New York during 9-11. He could feel the city was injected with fear and hopelessness as he returned to work for New York salon, Bobbi Brown. A woman came in to purchase products and Lashelle led her to a seat, and gave her an experience that would become the "The Lashelle Effect." What should have taken 20 minutes took an hour. The conversation and application of the make-up went so well as they connected, that she said, "Thank you for sitting with me and making me feel better… and beautiful." He said, "after that experience, I felt this thing inside me; this is what we do, this is beauty therapy- it's more than a superficial service." His calling of Beauty Therapy led him to L.A., where he would be taken under the wing of Damone Roberts and become a brow specialist, having the pleasure of making over some of his most interesting customers.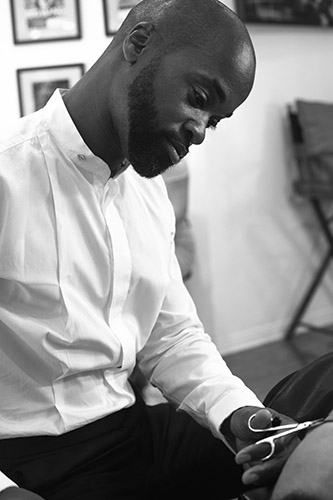 Lashelle speaks like he always knew what he would do with his life, so I asked what gave him that type of certainty. The roots of what led him into the world of beauty run deep. He grew up in Patterson, New Jersey in a working class family. He joked about his father being so stylish that even taking out the trash was a style moment. His grandmother also provided such an aesthetic for Lashelle and his brother growing up, that he engulfed himself into fantasy and all things beautiful. Lashelle describes his style as sophisticated elegance with a European flare. He believes style is an opportunity to express self each day. "When I was young my grandmother would dress us up and parade us around the projects for all to see. She did our tailoring and kept an extremely beautiful home. Where I come from made me believe that I was going to be a fashion designer, however I believe being in the beauty industry was the next step."
Lashelle is using his gift in beauty to teach self-respect through self-care. While working at 5-Star Salon Damone Roberts, he started going to a local barbershop 2-3 nights a week to talk about self-care, which can be taboo for many men who often neglect themselves. Although the barbershop is traditionally a place where men feel they can have candid male discussions, they address toxic masculinity and even make it a safe space for women. To open them up to conversations about grooming, he said, "I started with something that I knew most men would be familiar with, razor bumps; it only made sense to teach men about skin care." He talked about meeting men where they are, because men are known to ignore self-care when it comes to their health; this is a good way to make them take notice of all the ways self-care is possible, besides just clothing and a haircut.
Lashelle is comfortable in any environment, as he has worked in the beauty industry as a young black gay man, spanning 2 decades. He knew his identity would draw attention, and has used it to his advantage. He talked about his upbringing of self-respect and the importance of education instilled by his family, as a reason he has never feared working on any level or with anyone. Lashelle, unsurprisingly stood out at Damone Roberts and Damone took him under his wing. Lashelle credits the salon as his clarity for the business and a huge inspiration to remain clean and sober. I could tell from the gravitation of Lashelle's personality that anyone, including celebrities would love to work with him and appreciate his talent. He made it very clear to me that he enjoys working with celebrities, but as a young black gay man living with HIV there is more work to be done, for an even bigger purpose. He feels that his real service is giving back by taking time and working with people like himself that are beating addiction. Through his license in oncology, he provides services for cancer patients at Magnolia House Tower Cancer Research Foundation in Beverly Hills and The Cancer Support Community Center in Santa Monica. He feels his purpose is more clearly defined by working with people that are facing life-threatening issues. I learned so much about what makes Lashelle so good at what he does! He said, working with people in recovery and those battling terminal illness is so rewarding, because he's able to use his special skill set to heal people through beauty. He used the word heal several times throughout our conversation, and I thought to myself, here is someone that could be dedicated to himself by highlighting the gift itself, but Lashelle makes it known that he wants to highlight the power of what the gift is doing for those he encounters.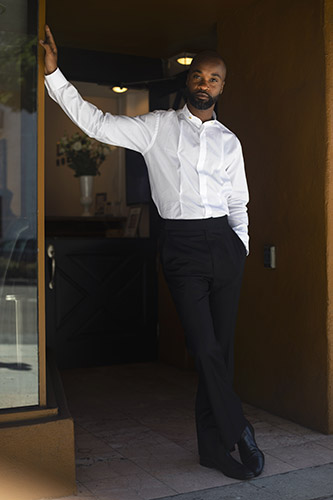 I enjoyed my time speaking with Lashelle, and I look forward to visiting him for some skin care the next time I visit LA. The Lashelle Effect Atelier is located in Beverly Hills at Salon 90210, 338 N Canon Drive, Second Floor Suite #1. You can schedule your appointment on the Lashelle Ullie website, on Instagram, or call (323) 571-3749.
This feature was submitted by The Stylish Writer, Gedidiah Starks
Gedidiah Starks, The Stylish Writer is the creative pen behind the thewriteup.net, a blog where he expresses his experiences and perspective on life and style.  He is also a collaborative writer for GEOFF DURAN Menswear, Heart & Soles Non-Profit, and Classic Chic Couture Womenswear. Through poetry, quotes, articles, and more, The Stylish Writer's mission is to provide a creative experience that entertains, enriches, and inspires the world by simply touching the individuals in it.
All images by Christiana Valenzuela