All American's Jalyn Hall is poised for opportunity, learning, and excellence. And at 15 years old, Hall has embarked on acting opportunities, that will be fermented in history. Specifically, his upcoming staring role in, Chinonye Chukwu 's film, TILL. It stars Jalyn as Emmett Till, Danielle Deadwyler, Whoopi Goldberg, who also produces the film, Frankie Faison, and Haley Bennett. The film tells the real-life story of Mamie Till-Mobley (Deadwyler), an American educator and activist who pursues justice after the 1955 lynching of her 14-year-old son Emmett Till (Hall). The film is set to release on October 7, 2022.
I sat down with Jalyn Hall to discuss his experiences on the film and his social responsibilities.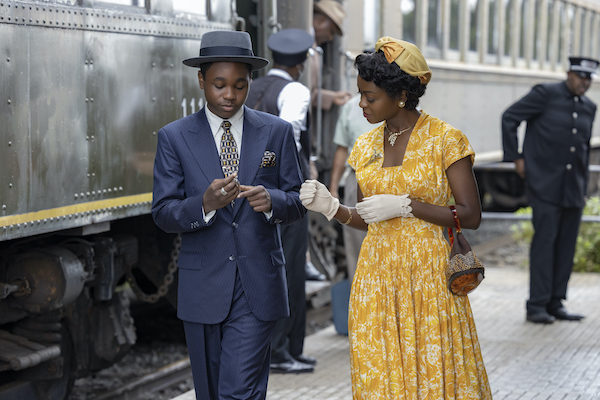 This film has a pretty cool cast and director, what was it like working with them?
Chinonye Chukwu is a monumental director. She also wrote the film as well. She sent me a lot of historical information on Emmett (pre-production) and helped me gather information, although I already knew some things about him, she gave me information to help me understand him as a person. She's just great.
How about EGOT Producer Whoopi Goldberg, what was it like working with her?
Well, she was everything I imagined, funny, genuine, and the nicest person to be around.
Earlier, you mentioned the things you learned about Emmett Till before working on the film, did you feel any pressure on portraying him?
It was an honor to be able to do it. Because it's so crucial. And it's such a fact that hasn't been shown in all of its truth, you know, I feel like, it wasn't a lot of pressure. For me. I feel like a lot of people around me were like, 'Jalyn, this is big.' But I knew that. I feel like if I let the pressure and the heaviness and all that stuff get to me that I wouldn't be able to show his truth to the best of my ability. So I focused on studying who he was, as a person as a human. And let all of that come out on screen.
Kind of a heavy switch, I'm gonna be real with you. There are a lot of people in the African American community, that just don't want to see this movie because they're not interested in watching the pain of the historical event and they just don't want to feel sad. What would you tell them that would make this film really important for them to see?
I feel like that's more of like turning away from or turning a blind eye. As a community, we owe it to each other – to our grandmothers, our grandfathers, and their parents before them to support it. If you cry, that's a feeling that you're entitled to feel. That's the feeling that you should feel because knowing that this is not something that a writer just came up with at 3 am and was like, "let's make a movie," this is something that actually happened and is still happening. So to be able for this to be able to be shown on a big screen for the entire world to see is groundbreaking in our community so much so, that people should go.
So they should go maybe not with the intention to enjoy it for some, but at least learn something. There's a lot of evolution coming after this because there have been news reports, articles, and documentaries, YouTube videos about what is going on. But when something is a movie, a literal movie with all the information, all the details, proofread, and made sure that it's authentic, then that's when you know that you can relate to it on a different level. So we kinda owe it to ourselves to see it.
For more information on Jalyn Hall: