Detroit native, Jazzie Belle was born with entertainment embedded on her heart. She started her career off as a glamour model, and today she is a woman that carries many different roles in the entertainment space. She created the highly popular podcast, Women in Hip Hop, is the author of an upcoming book titled, 48 Bars of Power, and has continuously created spaces for people to share their inspirational stories in hopes of inspiring someone. We recently sat down with the media sensation to discuss everything from her book to how the pandemic has affected her as a creative in this space.
Tell us what made you want to step into the world of entertainment.
Well, I guess it's going to sound cliché, but it was my love for the culture (laughs). I grew up watching entertainment so much. I'm from Detroit, Michigan and my parents together have ten children. I am one of ten. They wanted to keep us in line and that included television, music, the radio, and things like that that kept us out of trouble and together as a family structure. My dad was a saxophone player for The Dramatics, he used to be on tour. It's so much embedded in me. With that being said, once I moved to New York, it was just a no brainer. IT was such a smooth transition for me to get into entertainment. I saw and felt the type of effect that it had on me; I just knew that I wanted to be a part of it.
Can you tell us about your upcoming book, 48 Bars of Power?
48 Bars of Power is my book that will be coming out very soon. My motivation behind it was to inspire Black women, especially young Black women in the world that may be dealing with low self-esteem, confidence, love and relationship, and faith of spirituality. It's broken up into three categories. It gives 48 of my favorite bars from my favorite rappers that helped me in dealing with those issues. If you're dealing with domestic violence [I grew up seeing it and I was a victim of it myself], but listening to Eve's "Love Is Blind," is a song that helped me get out of a toxic relationship. Not only do I give 48 bars from my favorite rappers, but I personally share experience on how these lyrics got me out of it. It's kind of a memoir, or autobiography [I don't like to call it that]; but I look at it as a self-help book. It gives readers an example of how I dealt with something, how I got out of it, and how hip-hop got me through it.
What inspired the Women in Hip Hop Podcast?
My inception into the media world was radio. I was co-hosting at the time at Eminem's Shade45 on SiriusXM and hip-hop was everything to me. Like I mentioned earlier, I witnessed women dominate a male-dominated field, win, prosper, and be queens in the music game. Growing up, I looked to those women and tried to be that woman in my household (laughs). When we interviewed guests, oftentimes, they would say their favorite rapper was Nas, Jay-Z, so on and so on. You would never hear a female rapper. It was so crazy. For me, I had a great mix of females. I knew that I wanted to create a platform that spoke strictly to the influence and the impact that women have within hip-hop.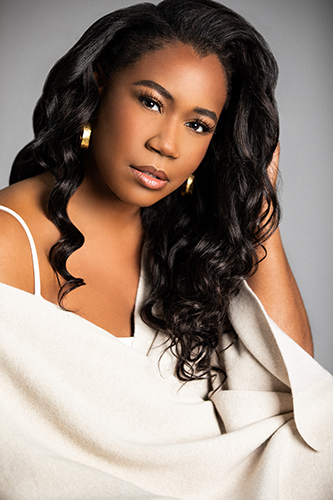 What has it been like being a creative during the ongoing pandemic?
To be honest with you, it has its own silver lining. For me, I was able to center myself. I was able to go inward and go deep. I had to ask myself how I could make it work not only for me but work for the people that follow me and inspire other people. I'm in the field of inspiring other people, truthfully speaking. I remember feeling like 'You're not going to get the best of me, pandemic.' I wanted to get the best out of the pandemic. I really feel like as creatives, we have to do this. A motto I live by is 'Create, don't wait.' They told us to go in lock down and wait in the house. I said no (laughs). I created Inside Hollywood and gave others a platform to share their hardships in hopes that people will look at this pandemic as 'This too shall pass.' There are so many stories out there, and the people need to hear it. I am not letting the pandemic get the best of me, I prosper through it because I have to, but I have shifted my mindset to believe that I can. We really just have to look at the pandemic as if we can get through anything, and we can continue to create through it and inspire others to do the same.
What are you currently working on and what can we expect to see from you in 2021?
I am still doing the Women in Hip Hop Podcast. I'm also working on revamping the website, that is very exciting to me. Inside Hollywood features the movers and shakers in Hollywood so they can share their journeys and inspire people to keep fighting the good fight. 48 Bars of Power is coming soon!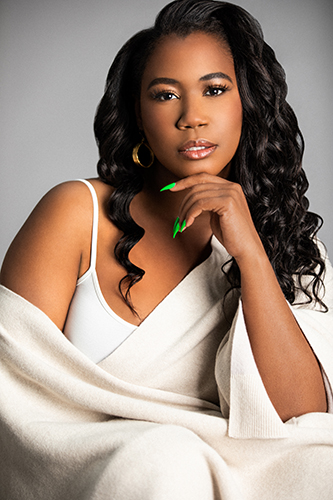 For more on Jazzie Belle, click here.
Follow her on Facebook, Instagram, & Twitter.
All images by Vince Truspin