Multi-creative, Kevin Ross has just released a brand new single! The new single titled, "Looking For Love," is part of his highly anticipated album called, Drive 2. Ahead of the album's release, we wanted a chance to sit down with Ross to discuss everything from his transition to becoming an independent artist, his new single, and what we can expect from his NEW album!
Tell us about your new single, "Looking For Love."
Yes! I am super proud of it. It is produced by me, written of course by me and Chase Farley. It's a contemporary love story. It's kind of my point on how I feel about this generation. I feel like we've been repressed, in a sense that looking for love is a lot harder because of the actions we have. I play a character within this song, where I am ready for love and to settle down. I like this woman that I am with but she's not ready. I'm trying to tell her that it's okay. Whenever she is ready, I'll be waiting or whatever you're looking for, you know where to find me.
Can you tell us about your new album, Drive 2?
Drive 2! Yes, I'm super excited about this. With Drive 1, there was a small pocket of people that understand drive is more so, a concept where its groove based. It's fluidity based as well. The flow of drive and the cohesiveness of it renders to a great listening experience. Not only did we do that but when we did Drive 1, I rented an old school car. When you rent old school cars [it was a 1965], it comes with instructions. You can't just take the keys, turn it over, and be on your way. You have to get into your car, pump the gas to make sure that its primed, wait a few minutes, and then actually turn it over. What I've learned from that experience is that just like a relationship, it takes maintenance, patience, and time in order for it to go and work the way that you want it to. In Drive 2, I wanted to focus on motorcycles. I hadn't necessarily rode on a motorcycle before, but I wanted to go in-depth and learn the things about it. I learned that there is a freedom when you're riding alone, but when someone is put on the back of your motorcycle, that's the ultimate symbol of trust. It's the fact that someone's life is in your hands. I related that to my audience. The fact that I'm taking them on this journey and really offering myself so that they can eventually trust me to deliver music year after year to them. I want to depict our generation in a way that makes us happy, brings us memories, and creates nostalgia for the future.
How was your transition from Motown Records to an independent artist?
It was a journey, for sure. It had its ups and downs. I wouldn't trade it for anything. I was released in 2019, so it has been a year and some change in order for that to take place. In the midst of it, I was able to get my company up and running and I was able to find a great team of people that believed in what I was doing to work with so that there was a foundation laid. By the time that my first single from Audacity was released, I felt a little more confident than I did after my release. Like I said, ups and downs but I'm glad I made that transition because now I finally know what I'm worth.
What are you currently working on and what can we expect to see from you in the rest of 2021?
"Looking For Love" was just released [July 23rd, 2021]. I'll be out in different cities and finishing up Drive 2. We have some features on the way for that and we're making sure that it's the best, up to date representation of who I am. Of course, I'll be writing and producing for other people as well. I've had the chance to really work some up-and-coming young acts. I'm excited to see what they do and how my music can influence the younger generation. I'm excited to see what the wave does!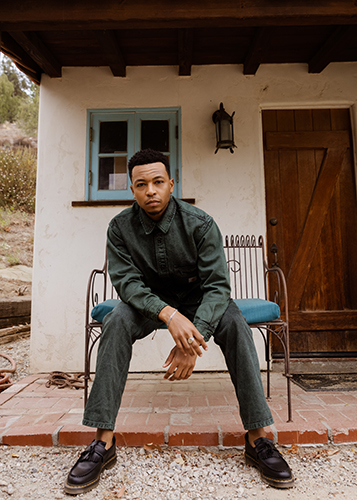 For more on Kevin Ross, click here.
Stay connected with him by following him on Facebook, Instagram, & Twitter.