Gifted with the talent to move the crowd and to set historic international trends, rapper turned multi-platinum producer Kwamé Holland, is bridging the gap for Hip-Hop music lovers worldwide through the power of social media. On Saturday, March 28th, he is inviting the whole world over to help him celebrate his 46th birthday by putting on a classic old school day party on Instagram. He is calling on each Hip Hop legend from around the nation and from coast to coast to blaze social media with one of their classic hits in order to create a firestorm of hot music during his live party.
 As a creative person by nature, Kwamé understands the importance of keeping people connected through the commonality of music and memories. In addition to producing all of his own albums, he has sold millions of records and has worked with the likes of Mary J. Blige, Missy Elliott, Christina Aguilera, LL Cool J and many others. Back in 2016, Holland was featured on an episode of Unsung, where he scored his own music for the show. His production expertise has also led him to create the scores for movies such as, Stomp the Yard, Coach Carter, Drumline, Fantastic Four, Step Up 1 & 2, Freedom Writers and so many more. Undoubtedly, Holland has proven to be an asset to the music and film industry and consistently brings his A-game to everything he chooses to be involved in.
With the skills and knowledge to inspire others through his gift of creativity, Holland continues to live up to the appropriate title of, genius—a name he received back when he first started at sixteen. All grown up now, he continues to lead by example, all while living his life from a place of true authenticity. We had a chance to talk about how his career pursuits sprouted into the area of production and the excitement surrounding the classic old school day party taking place this coming weekend. 
Your birthday is this Saturday on March 28th and you are about to light it up on the Gram with an old school, hip-hop, live party. Tell us all about that and how you came up with the idea to do this on your birthday. 
First of all, you know everything I do and everything I've done in my career, I've done as an experiment. Like, "What if I did this, what would happen?" My whole music career has been a social experiment. And so, when this weekend came to mind, one…it was because I usually tour and do shows every weekend. If it's not just me, I have a group called the Alumni, the group consists of myself, Chubb Rock, Special Ed, Dana Dane and Monie Love. If we aren't doing a show together, I have Vivian Green and she does shows, and I do some shows with her. With this virus taking place, all the venues are closed, and the entertainment industry is taking a very big hit, so that's why you see a lot of entertainers putting out their Cashapp names and this, that and the third, and yeah that's cool, we're taking a hit. But the people who are really taking a hit are the people who we entertain. Why not bring what we would have brought to you any other weekend to break up the monotony, why not try to bring that to you for free? Also, people who know me, know I'm a big kid. People always ask, "So why are you doing this on a Saturday morning?" Because when I was a kid, I would get up on Saturday, excited as hell. It was my time, that was my day and I started it off hyped. So, I wanted to bring that energy into the Instagram live feed and the big experiment is, can I get others like me to join in that energy.
Everyone across the world is feeling the impact of the Coronavirus—from the time you started in the industry, you've always been a trendsetter and highly creative. How has what's going on in the world changed your perspective on being creative if at all? 
Well, 99.999 percent of the creative people that I know, are cooped up in the house anyway. We coop-up, we self-quarantine, and when it's time to create, we are comfortable with that little space that we love to create in. Sometimes it takes days, sometimes it takes hours, but sometimes it takes weeks or months. Personally, for me, with this crisis that's happening, I understand that out of crisis comes great thoughts, inventions and products. It's happened throughout history…creatives always come with something to alleviate a crisis. So, with me, my first job is being a producer, so songs that I've been working on and writing to put together continue to flow. This shutdown has allowed me to do more of that. It's also allowed me to come up with this party thing on Saturday, because I would have probably never thought of that, if this wasn't happening. 
Do you think being creative is challenging for others now that we are enthralled with this pandemic? 
The Coronavirus has allowed 2020 to pretty much start over. We are resetting to a certain extent mentally, we can reset physically, and we can reset creatively in this down time, so when things open back up, we're ready to go. My thing is like this for the people who are going crazy, we as people have been programmed so much. The average person is programmed to do these things that they have to do all the time. Then people are programmed to spaz the hell out when the weekend comes. I don't have that program, I wake up when I want to, I go to bed when I need to, so being in the house for me is not a problem. Routines are conditioned for us as kids, so imagine being fifty or sixty trying to get away from your routine. We have to be able to have a choice to find ways to control our lives instead of allowing our lives to be controlled by things. 
You were only sixteen when your first album, "Kwamé The Boy Genius" came out. You've produced all your records, so shifting your role from an artist to producer seems like the perfect natural progression for your career path. What have you been able to take away from your work as an artist that gives you an advantage as a producer?
I think my advantage as a producer is, that when I work with an artist, I can talk to them from their perspective. For the most part, there hasn't been a facet of this industry that I haven't dealt with. So, when a new artist comes into the studio, sure, I can give them a good song, but they can also leave with some sort of knowledge based on my experience. Only if they want it, I don't want to be the know it all and tell people what to do, but it helps me as a producer to give them feedback. Also, the artists' that I work with may have liked some of the records I've done as an artist myself, so it's easier to relate to them and just go in there and create. That's one of the main factors for me, which is being eye-level with an artist.
Hip Hop is in a class all by itself—it has built the foundation for many of the acts we see today. How has being rooted in Hip-Hop shaped your perspective of some of the new artists that are in the industry now? 
A lot of times, people will start looking at me like a big brother and whether I work with them or not, there is a lot of advice and experience exchanged and genuine respect. If you do something long enough and if you do it well, they know that you respect the industry. And you get a certain level of respect that comes along with that. 
Tell us about your label, Make Noise Recordings via Capitol Records—who are you working with now and what can we expect in the future? 
So, Make Noise is my boutique shop for custom made records. We have Vivian Green, who is an R&B artist and her stuff is doing very well. I've been working with her for the past five years. We've had great success with radio and touring and the thing about Make Noise, it's like a platform. We can help with management, marketing and the overall brand of the artist. It's a stepping-stone in case the artist doesn't have something. We have a one stop shop. I have another Hip-Hop artist named Bobby J from Rockaway, Queens. He's straight traditional, underground Hip-Hop and it's pretty much like we're making the music that we like, instead of conforming to what the radio wants to hear. 
We touched on this earlier but being a native New Yorker—your home state has been heavily impacted by the Coronavirus. Do you have a message to share with people that can serve as encouragement during this extremely difficult time?
As a New Yorker and knowing the New York mentality of how no one can keep us back, can be dangerous. This mentality can backfire, especially to us black New Yorkers, because we have a special kind of resilience to ourselves and sometimes that resilience can overshadow the thought process when it comes to this virus. We are not invincible, though we may talk like it, walk like it, we are not. Even to the younger New Yorkers, this is not a game, because a lot of us New Yorkers live generationally. The grandmother lives with us, our aunts and uncles live with us and so on. So, it's not just about you when you can bring the virus back home to the people who love you. The good thing about New York is that you can walk everywhere. Don't get on the train, don't get on the bus, social distancing is important. Don't have that invincible mentality that this can't come to you. 
What's something that you can share with us that people may not know about you?
Um, I don't know, ah man, I've never stumped on a question and you've stumped me! I don't have a persona for the public. If anybody checks me out, they know I'm deep into my music. I'm into eclectic music, not just Hip-Hop, but all sorts of music. I am super into fashion. I collect toys, I read comic books, every Wednesday a new comic book comes out and I'm the first one in the store. The same things I did when I was twelve, I do now. I'm a huge kid in my mind and my spirit, running around in Queens like I did back then.
Music influences so many things. It's like the heartbeat of the world. It moves us into action, and it can conjure up a stream of memories and emotions. How are you personally moved by the music? 
I believe in the science of music. It sounds weird, but for me, I see music and hear it at the same time. So, the science to me is key. Tones, frequencies, notes and the vibes of a song, can all cause someone to react a certain way. No one can ever explain why a slow jam can put you in a certain mood, or someone's voice can make you feel a certain way, or a certain record makes you want to get up and smack someone in the head. The science of music is very fascinating to me. It's almost like food or different things you look at. For example, I was driving from Vegas to LA two weeks ago and I was listening to Sirius XM and I stopped on the Forties channel. So, for three in a half hours, I listened to just that. Some days, I only want to listen to jazz, or seventies music, or I only want to listen to Prince or Stevie Wonder. This is a Stevie Wonder household; we can listen to him twenty-four hours a day with no problem. My thing is, I am willing to check everything out and make my decision from there. 
To learn more about Kwamé and this epic event, visit him on Instagram. To listen to the full audio portion of this interview, subscribe to this YouTube channel and turn on notifications to be notified when it's available.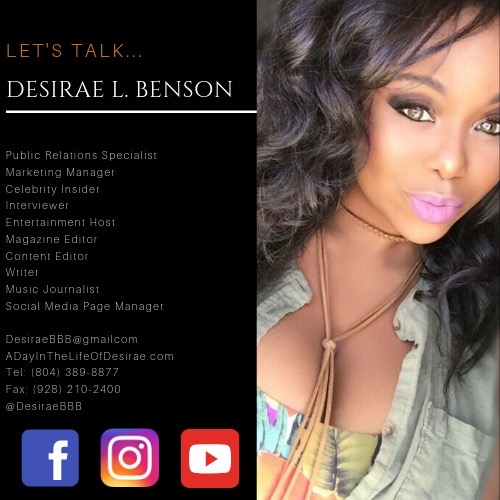 Desirae L. Benson is a writer, content editor, publicist and entertainment media host, residing on the west coast. She hosts her own show featuring four different segments with celebrities, musicians, and people of prominence. To find out more, visit her page on Facebook and IG by using @DesiraeBBB or the hashtags:  #DesiraeBBB • #MovedByTheMusic •#AdayInTheLifeOfDesirae• For media inquiries, Email:DesiraeBBB@gmail.com 
Featured Image by Ab Seasay