Sheen had the pleasure of sitting down with a young superstar on the rise, Gianna Harris and star of the Mighty Oak movie.
Born and raised in New Jersey, 15-year old Gianna "GiGi" Harris is best known as a multi-talented Broadway teen actor, singer, and dancer, who began her professional career in 2016 when she landed her first big role on Broadway in Andrew Lloyd Weber's School of Rock.
The versatile teen actor and singer is enjoying success with her most recent role as Emma Biggs in the movie, Mighty Oak, with Raven-Symoné and we were lucky to get some time to get to know her a little better. Here's what Gianna Harris had to say about what's keeping her busy lately.
Can you tell us a little bit about yourself?
Well…my favorite food is RICE – any kind, I love it all and my favorite flower and color is lavender. I'm a big advocate for mental health awareness and support, BLM, and LGBTQ+ Equality.
Who are your biggest influences?
I really love all of Gina Rodriguez's work, and I think I take a lot of inspiration from her. She is an incredible actress and she seems like a really cool person. I love how you can still feel her in the characters she plays, and I love how she is so free in how she presents herself. I hope that I can be like that.
Congratulations on being in Mighty Oak! What do you think makes it so successful? What type of person is going to love this character?
Thank you. I'm honored to have been cast in Mighty Oak. I think the story gives you hope, love, and passion all wrapped into one, and even though it deals with some pretty heavy material throughout, it wraps up leaving you fulfilled with where the characters end up. I think all types of people will love Emma and all the characters. We each bring something a little different, but that all can relate to.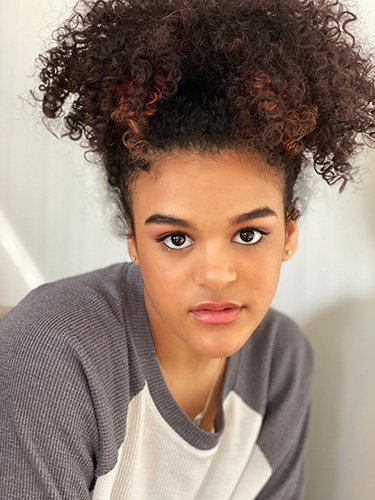 What was it like work with Raven-Symoné and the other cast members?
I didn't have any scenes with Raven-Symoné but I did get to meet her, which was really cool! She was super nice to me. The cast was amazing. They all were really down-to-earth, friendly, and funny. We all felt like family immediately.
What was your biggest challenge with taking on this role?
The biggest challenge was probably the surfing scenes. We don't really surf here in NJ, not like in CA anyway. I had never surfed, so I had to take a few days of training. It was a lot of hard work but so much fun…and can't wait to surf again.
What is one piece of advice you would give someone who wants to follow in your footsteps?
Advice I would give to someone going into the entertainment industry is to stay safe. There are a lot of people that want to take advantage of young performers, trying to make a name for themselves, and you just always be careful. Also, you have to have thick skin and you need to be prepared for people saying mean things to try to bring you down. Always keep your head up and don't be one of those mean people please…(laughs).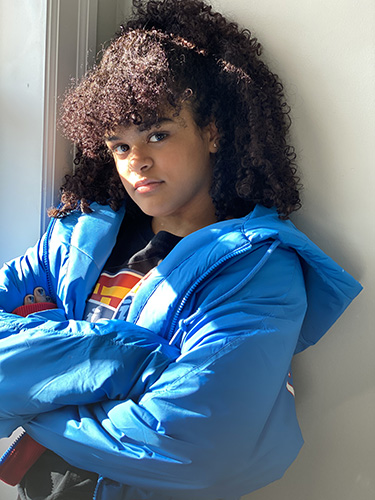 What's next for Gianna Harris? 
Right now, I'm currently in rehearsals for The Perfect Fit – A Socially Distanced Concert that will be held outside at the Sharon Playhouse in Connecticut. I'm also rehearsing with @enjoithejrny which is a girl (singing) group I'm in.
Where can your fans follow you to keep up with the latest news on GiGi Harris?
I am on Instagram and Facebook, and I invite you to visit my website for more information.
From New Jersey to the Big Screen – Gianna Harris is a Shining Star
Be sure to check out Gianna Harris in Mighty Oak and stay tuned for more great things to come from this talented teen actor and singer! From Broadway and feature movies to concerts and even helping with her favorite causes including mental health awareness and LGBTQ+ Equality – this motivated teen is a shining star shooting for her goals!
All images by ICT