People of all ethnicities and from different walks of life flock to New Orleans year-round. They sway and rock to the music of horns, accordions, and drums; the signature rhythms of bounce, zydeco, and jazz that make up The Crescent City's soundtrack.
But it's the vibrant greens, purples, and golds adorning creative and colossal parade floats that signal that Mardi Gras has arrived. Then, the coronavirus pandemic attempted to change the city's tune.
"This year, the transition was to porch floats and we didn't see that coming," Rene Pierre, artist and owner of Pierre Parade Productions and Crescent City Floats, said.
In years past, the faithful and debauchers alike have lined the streets of popular neighborhoods like the French Quarter as the larger-than-life floats pass by; krewes tossing beads and trinkets to the crowd as they pass by.
Such celebrations aren't feasible during the pandemic, and the elimination of parades—and, therefore, floats—threatened Pierre's business.
Two regular clients asked the artist to turn their front porches into Mardi Gras "floats." The photos posted online quickly went viral, and Pierre's work was, once again, in high demand. 
This year, it's the people who will move along parade routes instead of the floats. Socially distanced spectators can walk along the sidewalk to view the homes' decorations, while homeowner "krewes" toss trinkets and beads from their porch floats.
"No one is doing what we're doing," Pierre's wife, Inez, told Sheen. "[And] we're the only Black float business in Louisiana."
The couple credits the strength of their relationship with their businesses' accomplishments. He handles artistic direction, while she heads up the logistics and administrative side of things.
"It was a long, hard road," Inez said of their journey from artistry to entrepreneurship. "When you're married to an artist, you're married to two people. It takes a lot of communication, listening, and everybody being on the same page."
Pierre estimates that more than 80% of New Orleans' Mardi Gras floats are conceptualized and painted by Black artists, but that the companies that contract them are white-owned. Tackling the gigantic structures can be daunting for some artists, but Pierre says he's always wanted to paint floats.
"It takes special people to run that kind of industry," he told Sheen, noting that some of the most talented paint-and-canvas artists can find themselves intimidated by the structures he decorates.
According to Pierre, Black artists are the lifeblood of Louisiana's parade float industry.
So much so, that Pierre literally wrote the book on Black artists' contributions to Mardi Gras floats, publishing "Carnival Noir" through Pelican in early 2020.
"The development of that type of art was handed down through generations of artists to paint like that," Pierre said of Mardi Gras decorations' origins in early 20th century art.
"I just fell in love with floats in high school and always wanted to work for a float builder."
Despite Black artists historically being largely responsible for the design and decoration of the iconic structures, Rene and Inez are trailblazers in the industry. The couple has operated their businesses for the past three years, branching out from the typical contracted work of their past.
"She saw the light," he said, referring to his wife's insistence that they start their own business. 
"She saw I could make much more money with my talent than punching a clock for an hourly fee, and I listened to her," he said, laughing.
Pierre calls the industry "very unique and very lucrative," noting that contracted artists can make more than $500 for each float decorated. Inez said that the companies hiring artists often make more than three times that, per float.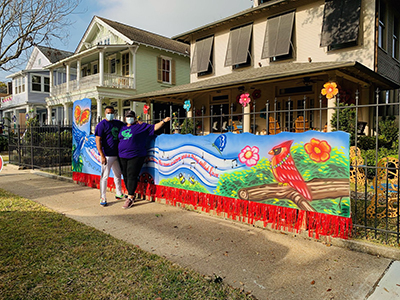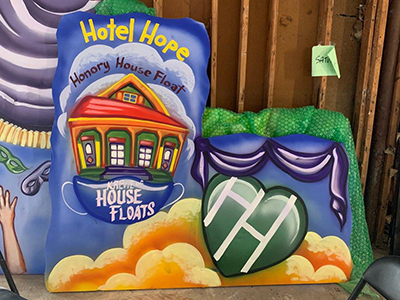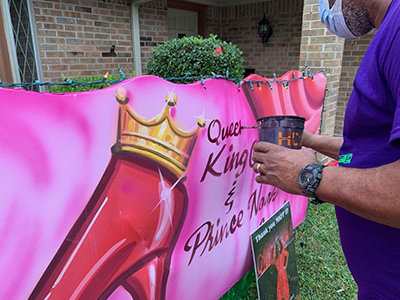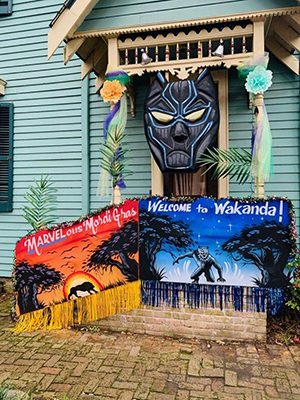 "My goal for [our] business, next year, is to paint 1,000 floats," she said.
According to her calculations, painting 1,000 floats could make for a six-figure year for the couple.
As the Pierres continue to grow their business, they tell Sheen that they hope to see Mardi Gras celebrations return to the Chantilly neighborhood where they grew up.
"When we were young, we didn't have to leave our neighborhood," Inez said. "Mardi Gras came to us."
The couple says it's taken responsibility and guts to branch out on their own, but it seems that their bond is the key to their success.
Mardi Gras 2021 began on Feb. 16th in New Orleans. 
This feature was submitted by Ellen Chamberlain
Ellen Chamberlain is an accomplished broadcaster and writer from metro Detroit. She attended FAMU, graduated from Wayne State University, and now calls Atlanta home. If you haven't seen her TEDx talk yet, you should get your life. Follow her on social media for snark, cynicism, and occasional doses of inspiration: @esaidshesaid
All images provided by Rene and Inez Pierre