Mane Hook-up is a platform to help find and book local afro hair stylists with ease. The company was founded by entrepreneur Jade Philips a few years ago, after her family members moved to Bath and struggled to find hair stylists that catered for their hair needs. 'There are so many talented stylists and salons out there and, in a digital age, we should be able to find online with ease. And that's what Mane Hook-Up does — it allows you to find and book appointments with the best afro hairstylists in your area'.  We speak with Jade to find out more…
How did you develop the idea for Mane Hook-Up, and what motivated you to start up your brand?
Mane Hook-Up was created to solve a combination of problems that I've experienced as a young black woman. After transitioning back to my natural hair four years ago, I found it painfully difficult to find an afro hairdresser beyond word of mouth. There was no way for me to find, filter through and compare any stylists (and Instagram wasn't cutting it). I also watched many of the women in my family struggle with the same issue – especially those who had moved out of London. Like my grandma, for example, moved to Bath in around 2010, but for years she traveled back to London to get her hair done. Spending as much money on the coach fare as she did on her hair appointment. 
I couldn't comprehend that we live in a world where we all have access to the internet 24/7, have phones (that are basically minicomputers) in the palms of our hands, and yet there was no online source where I could easily find and book appointments with hairdressers who actually understood how to manage afro hair. And, after speaking to a few hairdressers, I found that with such a hands-on job, the act of finding new clients wasn't easy either. There are a lot of stylists that don't know where to start when it came to marketing, and those who do often don't have time to follow it through. 
But instead of waiting for a solution to appear, I chose to create it.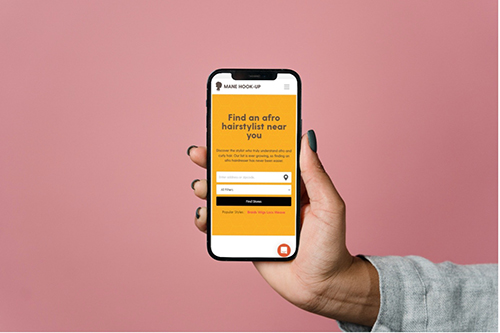 Explain to us how Mane Hook-Up works and what it does? 
Mane Hook-Up was created to help people on both sides of the chair. Anyone who wants to book an appointment has a chance to find local hairdressers who specialise in afro and curly hair. Instead of scrolling through Instagram, customers can enter their postcode, select a style, and get a list of local hairdressers to choose from. I've also partnered with sixteen black-owned hair and beauty businesses to create a member's area of the platform where they can get discounts on quality products.
Hairdressers can list their business on Mane Hook-Up and get exposure to people who are looking for their services, giving them a chance to find new clients with minimal work. Beyond that, they have access to our booking tool to manage and keep track of all the appointments coming through. 
Messaging and video chat have also been built into the platform. With last year's lockdowns having a huge impact on the hair and beauty industry, we built this functionality to allow hairdressers to run video consultations. That way, should we ever have to go back into lockdown, they will still have a means of making money. 
The objective is to create a platform that offers anything, and everything related to afro hair care. The right people, the right products, and quality information.
Can you tell us about your career background and how did it help you with creating the brand?
I've been working in marketing for about eight years and spent the majority of my career at technology companies. My background played a huge role in my understanding of how to research, position, and build a platform, like Mane Hook-Up, that has a lot of moving parts. 
My marketing career started at Nike, which was pretty eye-opening and helped me to understand how important it is to have a strong and compelling brand. That's why both the name and visual identity mean so much to me – I wanted it to make people feel at home and be reflective of our culture. Everything from the print to the colour palette, font, and logo were pulled together to create a feeling of belonging. Especially as there is still so much to do to create equality in the hair industry. Afro hair isn't celebrated or normalised and, in some instances, it isn't even tolerated. So, creating a brand that both looked and felt like home, was everything. 
Since Nike, I've worked for a range of technology companies (from established businesses to start-ups) and worked my way up to the leadership team. From business strategy to measuring and projecting growth, I've been both the person responsible for the execution and leading a portion of a business so setting myself the challenge of building the company from the ground up is exciting because it feels familiar in many ways. Building a brand is about more than having a great idea. There are plenty of people who have the same idea, and what sets them apart is the execution. I feel that every job has somehow set me up to succeed as a business owner, and while I accept that I have a lot to learn, I'm also confident that I can make build a platform that goes above and beyond what's currently on the market.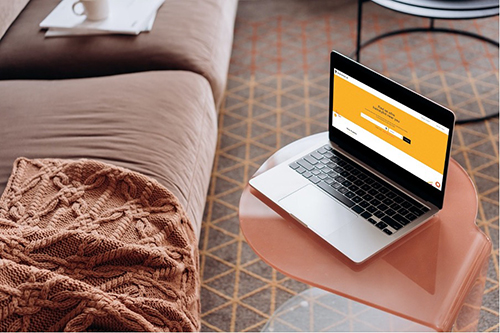 What makes Mane Hook-Up stand out from other hair platforms catered for black women?
There are platforms that serve black women and help them to find afro hairdressers, but Mane Hook-Up serves the women on both sides of the chair. Hairdressers are provided with a platform that allows them to manage their business and get exposure to the right kind of customers. And, unlike other platforms, we don't take a commission for any appointments. It's important to make sure we're contributing to the financial success of the many black women who are leading the way in the hair and beauty industry. So, making sure that they keep as much of their earnings as possible is key and this is a core part of who we are as a business.

What is your unique selling point?
We're more than a directory or a booking platform, we're here to redefine the experience of caring for afro hair. Mane Hook-Up provides people with everything that they need when it comes to afro and curly hair: the people, the products, and the information. 
What would you say to other hair entrepreneurs starting up a company or brand?
Speak to as many people as you can in the industry to learn from those who have been there and done it. Learn from other people's mistakes and use their successes as blueprints that you can test out for yourself. Establishing relationships with people is just as important as building your product or service. When your business starts to achieve big things, you want the right people to be there supporting you and spreading the word, so establishing those relationships is key. For any of my fellow introverts, you don't have to cast the net super wide, but you do have to speak to people! I understand that it can be overwhelming at times, so try to have laser focus and speak to the most relevant people (few people but speak to them often).
Don't be afraid to make mistakes – it is impossible to learn from success alone.  You have to make a mess to understand what doesn't work for your product, service, or business model. Instead of wasting time beating yourself up, use it as an opportunity to grow and better yourself. 
Finally, be patient. If it was easy to run a business everyone would do it. You will have roadblocks, you will be challenged and you will probably want to give up at some point. Imagine what the world would look like without your product and ask, 'do I prefer what this version of the world looks like?'. If the answer is no, keep going. 
How did you raise the funding for your company?
Mane Hook-Up is completely self-funded at the moment. Raising money is important and something that I will do and, as with all things, it's about finding the right people and the right method. The people behind the scenes have a huge impact on how likely a business is to succeed so I want to make sure that, regardless of how we get funding, the people that invest in us truly believe we can deliver and will support us every step of the way. 
So far, what obstacles have you encountered as a black woman in business and how did you overcome them?
One of the things I really want to do with Mane Hook-Up is making sure that it's created for black women and is predominantly run by black women. This plays a huge role in creating that authentic experience as the people behind the scenes are trying to solve problems that they've experienced. While I've found some amazing black women to help me with social media, content production, and PR, it's been a huge challenge to find black women in the technology space to develop and build the platform. My biggest challenge this year is to find a Technical Lead who can help pave the way with me and continue to turn Mane Hook-Up into an exceptional online platform. 
The technology industry is very white and male, which means that, while there are many black women in this space, they aren't elevated anywhere near as much as they should be. This lack of visibility makes it so difficult for black women to find opportunities in the tech space and it makes it troublesome for people (like me) to find talented people who genuinely understand the problem that we're solving. While I haven't quite overcome this yet (as I'm still looking for my Technical Lead!), I plan on changing this by supporting and uplifting black women at every opportunity. That way, I can be part of the solution by providing black women with the support and exposure that they deserve in the tech space. 
Where do you hope to see Mane Hook-Up in the next five years?
There are three things that I'd love Mane Hook-Up to achieve in the next five years: global expansion, funding round(s), and delivering on our mission. 
Global expansion: Mane Hook-Up will be a global platform that serves women in most countries and ultimately making sure that, wherever you are, you are all of a few clicks away from being able to book an appointment with a quality afro hairdresser. Europe, USA, and North America are definitely some on the cards, but I do believe we have to understand the UK market first. 
Funding: We will have done funding a round (or rounds) and make sure that's done in the best way for the business to grow while bringing in the right people to invest in us. 
Our mission: We want to create a world where natural afro and curly hair are celebrated not tolerated. Our brand will play a role in making that happen and I'd like to think that the wheels can start turning in the next five years.
You can find Mane Hook-Up here.
All images provided by Mane Hook-Up