Michelle Lyons discovered the value of education early in her childhood. The daughter of former Laker cheerleader Marilyn Cole and criminal defense lawyer Michael Lyons, Michelle attended prestigious New Roads High School owned by Crossroads in Santa Monica before graduating from Hamilton High School at the age of 16. She went onto the University of California at Berkley where she majored in International Studies, which swayed her to live abroad in Brazil, Italy, Barbados and London. 
"I loved living in Barbados where everyone is educated and there is no poverty, Barbados has 99% literacy rate and subsequently a lot less poverty than most countries in The World!" she told Sheen Magazine. 
Michelle, 38 years old, speaks four languages, learned from her vast travels throughout the world. By the time she was just 25- years old, Michelle landed what she considered her dream job at the Washington Times in D.C. as the youngest Director of Advocacy the newspaper has ever hired. It was while at the Washington Times the seed for public service was planted as she had the opportunity to work alongside the likes of Democratic power players Nancy Pelosi and Jim Clyburn to name a few. However, before she would take the full splash into the political arena. Lyons worked closely with politicians in 2008-2009 in Los Angeles, Washington DC, and New Orleans, LA before embarking on a new journey into the modeling industry.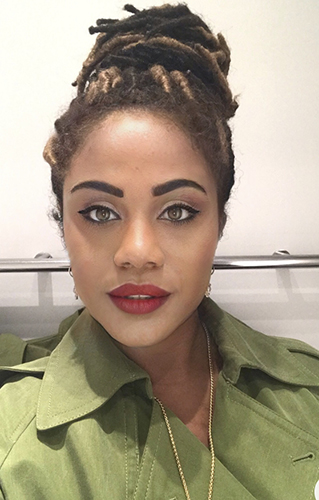 She was named the executive director of Barbizon Modeling and Acting School in 2009. Barbizon is an international modeling and acting school headquartered in Tampa, Florida that provides instructional courses in modeling, acting, and personal development including self-confidence development, proper posture, photo movement, voice diction, etiquette, job interviewing and makeup application. 
Seven years later in 2016, Michelle opened up her own began her own modeling school, specializing in building self-confidence and breaking down barriers in the modeling industry. Her motto was "Beauty Comes in All Shapes and Sizes," becoming one of the first people to bring plus size and kids models on some of the largest fashion weeks in the World. Her client list stretches over 10 countries, with 100 independent contractors under her umbrella, and a long list of high-profile celebrities ( Nick Cannon, Melissia Rene, Floyd Mayweather, Kimora Lee Simmons, Tammy Rivera, CeeLo Green to name a few) who and attend her sponsored events. 
 Throughout the past few years, she has had over 1,000 students at the Best Talent Group modeling school in West Los Angeles. However, she says that after the 2016 election that saw the country elect Donald Trump as president, she became energized to make a difference in American politics. Crediting the likes of former First Lady Michelle Obama and former Democratic presidential candidate Elizabeth Warren she believes the time is now for women leadership. "I am all for education and I believe that have some of the finest universities in the world that are flooded by international students because our children are not properly prepared to take advantage of the opportunity," Michelle stated. 
She points the blame at a faulty primary education system in America that does not adequately provide the students with the essential tools to qualify for major universities such as Harvard. "I am a believer in charter schools because I think they are doing their best to fill a critical educational gap." A co-parenting mother of two dotting children, Zion and Zaria Wesley, Michelle plans to launch her political aspirations in 2021. 
Having already assembled with the influential Black Women Democratic Caucus, she is aiming for a potential city council bid in an as yet to determine locale. 
"As someone who is grounded in faith, lived in 5 countries, speaks 4 languages, studied at the most prestigious schools in this country and aboard, owned 3 companies, and has endured the blows of hate. I am the perfect person to be at the forefront of this movement," she said. 
Michelle says her political values are more in line with Valerie Jarrett, who was a former businesswoman before becoming a senior advisor to President Barack Obama. Michelle Lyons is hoping that her transition into public service will provide her with the opportunity to have a meaningful and unifying impact on women and people of color.
"I have the strength, knowledge, and wisdom as far as what this country needs to reduce sexism, racism, and the "crabs in a barrel" mentality, which I believe hinders us as a Nation. When we reduce the "isms" that divide us, we will RISE as One Nation Under God."
All images courtesy of Michelle Lyons