The dynamic duo shows us why they are #bestiegoals.
 FOR IMMEDIATE RELEASE
In life, we put on so many hats, but do you ever feel lost under all of your titles/expectations others have for you? Well, SHEEN Magazine, the Ultimate in Beauty, has taken matters into our own hands, and decided to get naked. Yeah, you read that right – we're getting bare. In our Nearly Naked issue, we explore what it truly means to peel back the layers!
To kick off this issue is none other than social media brand strategist/influencer, Karen Civil and beauty mogul/influencer, Ming Lee. The #bestiegoals continue to slay their way through life with their hit podcast, "Girl, I Guess," marketing, and everything in between. We had a chance to catch up with the marketing geniuses to discuss everything from their dynamic friendship in business, to their undeniable power moves, and what's next.
 "It's amazing, it doesn't feel like work at all and with us living such busy lives, it [Girl, I Guess podcast] gives us time to reconnect, process, and have dialogue and conversation with other women and let them feel a part of our friendship." –Karen Civil & Ming Lee
 Our double cover features actress, Love & Hip Hop Atlanta's Bambi, whose mindset is all about love, marriage, and family. The glowing mother of two is ready to welcome baby number 3 with her husband, Scrappy, and life couldn't be better. The reality TV star and boss shimmers with her pregnancy glow as she dishes all things motherhood and business!
"I don't think they understand that reality only shows bits and pieces and never the full scope of our lives. At my core being a wife and mother means more to me than anything and it means so much to me. I want to be a positive example to my stepdaughter Emani, my daughter Xylo, my son Breyland and my nieces and nephews. I want to be someone that they can look up to. So, I try my best not to get caught up into the messiness that the show can bring." –BAMBI
Emmy Award-winning actress and writer, Vanessa Baden strips away the pressures of society, and bares it all in an exclusive Beauty Spotlight, while beauty professional, Jamie Lynn, shares how music can be the key ingredient to clear skin! Content creator, Maya Galore talks about all things natural beauty, starting with protecting the skin for the Foundation. Acclaimed hairstylist, Greg Gilmore explains the connection to your hair look is all about ultimately creating your own personal vibe. And we've got you covered if you want smooth, dewy skin! Say less, we're taking you along to explore the tools to creating a timeless look in our SHEEN Beauty Tour.
Our featured Stylist Spotlight, celebrity ttylist, The Real No IG Jeremy, shares how disconnecting from social media led him to further success, while fashion designer, Sai Sankoh, shows us how to sashay on our way to our destination in style, as she defines glamour of the Old Hollywood Era in living color! We also want fashion connoisseurs to embrace confidence in some seamless, flirty lingerie looks that we've selected that will take your fashion game to the next level.
Chicago community leader, Jeff Beckham Jr. expresses how storytelling through his art is activism in its own creative way in our Artist Spotlight, as Singer, Jourdin Pauline aka The Black Madonna, hones in on creating content that matches her fun and vibrant persona for the Music Spotlight. Inspirational Life coach/motivational speaker, Iyanla Vanzant, dishes on living her life out loud and shares the tribulations she endured along her path to success, while Pastor Chad Johnson brings hope thorough transparency by shedding light on how vulnerability allows us to find freedom in our lives. If you are looking to body-ody-ody your way into paradise, then look no farther than Mikkie Tiquir'a of DreamBody Studios Atlanta, and if you are looking to become a world traveler, Annette Richmond will show you how, as she is indeed travel goals.
SHEEN Magazine's May/June 2021 The Nearly Naked issue hits stands on Tuesday, April 27th.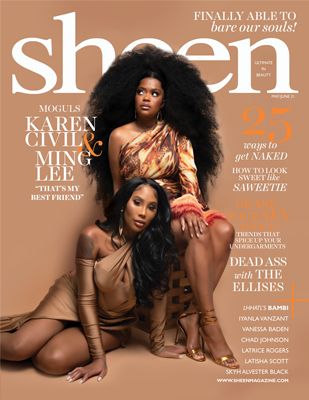 Photo by Will Kennedy 
About SHEEN Magazine
Sheen Magazine is The Ultimate Beauty Guide for the modern day woman. The lifestyle and beauty publication is the preeminent voice on new trends, techniques, and products. Sheen Magazine is a national and international distributed publication. Published bi-monthly, Sheen Magazine maintains its influence by always remaining current on the trends of beauty, fashion, hair, and entertainment. The publication seeks to cultivate, educate, and motivate, encouraging the full potential of their readers. The Ultimate Beauty Guide and can be purchased nationally at Target, Walmart, Walgreens, Books-A-Million, and Barnes & Noble. Visit us online at SheenMagazine.com and follow us on Facebook, Twitter, and Instagram @sheenmagazine.