If you don't know Ms. Bloom, then I may believe you have been living under a rock. The woman of many talents is not only the owner of one of the leading freight trucking businesses, but we've also seen her starring on WE TV's Beyond The Pole. In discovering Ms. Bloom's story, it's clear that she exemplifies strength and courage, and she's quickly dominated a male-driven industry on her own! In our exclusive interview, Ms. Bloom discussed her experience with reality television, becoming a teen mother and how it shaped her, and much more.
Tell us about your experience on WE TV's Beyond The Pole.
My experience on We TV had its pros and cons. The first season of Beyond the Pole was more fun and less drama. During the second season there was so much drama, mainly because I was from the first season and all the other ladies were new. They thought they were going to bully me and that just wasn't going to happen!
I am a businesswoman now, but please don't forget that I came from the streets— things can go left and it did.
I'm really a loner, so all of the jealousy and envy was normal for me because it's been like that my entire life, and I know how to handle it. Everyone has their breaking point and I exploded on the show to the point where it took two security guards to get me out the building and that right there let me know I could never return. I've been through too much in my life and there was no way I was about to let a bunch of females who have no life cost me everything. It was the devil, but I rebuked him so it's all good. 
You became a teen mom at 16 years old. Can you tell us how that has played a role in your success?
My daughter Justice has been my motivation since the day I found out I was pregnant. Everything I aimed for was done because I wanted her to have everything, and I had a point to prove to those people who talked down on me and said I was going to end up like a hood rat with a house full of kids! It's so funny now that those same people scream how proud of me, they are. I really want to tell them to kiss my ass, but I learned the best revenge is your success.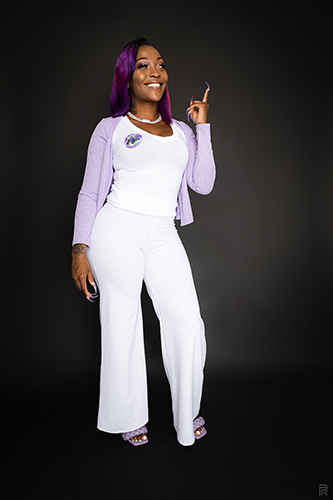 Tell us about Blooms Logistics Blooms Transportation and what inspired your businesses.
Blooms Logistics is my freight brokerage and Blooms Transportation is my trucking and dispatching company.
I was in corporate America and was laid off. I told myself I'll never work for anyone else again. I went to college and received my master's degree, and this is how I'm repaid? I was hurt. It was a big blow to my ego. Yes, everyone was getting laid off because of covid but, I was told hospital and government jobs were secure. This situation showed me that nothing is guaranteed and from there I decided to put my effort into my own business.
What made me choose trucking?
(Laughs) your guess is as good as mine. I just wanted to do something male-dominated and different. I jumped in headfirst and never looked back!
What are you currently working on and what can we expect to see from you in the future?
I am currently working on growing my business and perfecting my craft. There's so much to learn and do within the transportation industry. Right now, I'm working on a freight dispatch course. I teach freight dispatching where people can come out and learn the business. I also have an eBook on starting your own business. There's so much I want to do. I just have to make sure I keep praying and manifesting those ideas and bringing them to light.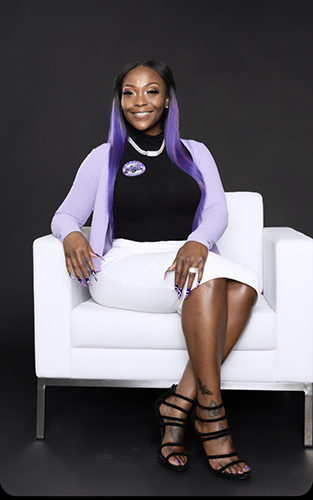 For more on Blooms Logistics Blooms Transportation, click here.
Follow Ms. Bloom on Instagram today!
All images by Steven Randall