Dayton-born, Atlanta-based rapper, YelloPain recently went viral for his hit single, "My Vote Don't Count." Ahead of the 2020 Election, YelloPain obtained over 1.7 million views for his single on YouTube. While educating others on the fact that their vote does indeed count, he's created quite the change for himself as an artist and listeners around the world. We caught up with him to discuss the inspiration behind the single, why it was so important to release, and more!
Tell us about your viral single, "My Vote Don't Count."
"My Vote Don't Count" is out right now! It started off as a conversation. My cousin suggested me releasing a single about voting because it's necessary and the people need it. I wasn't into politics, I said, "Cuz, I love you, but I don't want to make music about politics or get into that conversation." I don't have a political background, I simply told her my vote does not count. She asked me why I felt as if my vote did not count. I explained that I voted back in 2012, I was still struggling, and I didn't feel like anything changed. She further explained the many levels of government besides the President. It was a wakeup moment. I was so upset with the education system and myself for being an adult and not knowing how important it was. At that point, I started to make an obligation to myself and my community to ensure everyone had that same wakeup moment.
What was it like working with Sevyn Streeter for the remix of this project?
It was crazy! First off, Sevyn is an amazing vocalist and an even better person. From the short period of time that I got to work with Sevyn, she was just so cool, down to earth, so supportive, and all about the cause of the song. I loved that. Before the song came out, she was really active with the protests and Black Lives Matter. She always makes sure her voice is heard. It was a no brainer for her to be on the song. She was passionate about the same things and she has an amazing voice. She took the song to a whole new level.
Why do you believe it's so important to get the message out to vote?
I feel like it's extremely important for us to get the message out to vote because that is our only true choice as far as being able to have some say in what goes on in our world. From the court system to the laws that are made, laws don't fall out of the sky. They're created by people that we choose to vote for. If we want to change our community, families, and schools, we have to be a part of the conversation when it's happening. We can't be silent.
What are you currently working on during the global pandemic and what can we expect to see from you in the future?
Right now, during the pandemic, I'm working on a lot of new music. My biggest thing is to inspire and motivate people beyond the single, "My Vote Don't Count," My project is coming out real soon, it's called Yello Is The New Black. Anyone tuning in, be sure to be on the lookout. We're going to turn up, have fun, and stay motivated.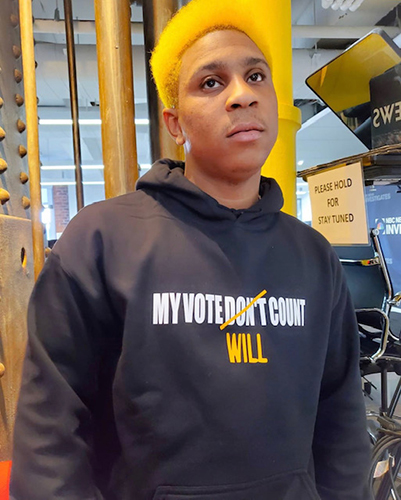 For more on YelloPain, be sure to follow him on Facebook, Instagram, & Twitter.
All images by ChaReese Robinson | website