His longevity and the way he timelessly reinvents himself is what makes him the Sammie we love!
SHEEN Magazine, the Ultimate Beauty Guide, is giving you everything that you need to know about men!
R&B hit maker, Sammie is givng us the feels and revitalizing the sounds of soul with his fifth album Such is Life! He reflects on life, love, and quarantine.
"As an artist, I don't have to rely on someone to deliver the message. I take my experiences or the experiences of others and create. I'm able to convey very thoroughly what it is trying to get across. And that helps me age too. I've never talked about things that I can't relate to and to me, makes it more organic." — Sammie
A vegan diet and a skin routine are the keys to Mic Ventress's everlasting fountain of youth as he shines as our Beauty Spotlight. Shake the Barber shares why his grooming services are top-notch and an unique experience in our Beauty Feature. Blayke Jacques nails it by enlightening our audience on the importance of male grooming in terms of manicures and pedicures.
Find the best hairstyle for you as Shake the Barber acclaims #hairgoals to spice up your look. Then upgrade your closet with these fall trends that will make your style decadent. Stay up-to-date on the latest loungewear to keep for any occasion indoor!
Guys, have women finally cracked the guy code? We surveyed men from all walks of life to find out! Norman Towns, Mike Hill, and Dondré Whitfield give their thoughts on what makes a cohesive relationship in all phases of life, while Sean Larry Stevens gives his testimony of why exactly he's On the Rise as a principal and public figure. Mental health is visited through the lens of a black millennial man as he advocates for mental health. Lastly, Black Lives Matter is more than a movement, it's a long awaited justice needing to be served. Will you be apart?
SHEEN Magazine's Men's Issue will be available on Wednesday, August 5th and available on issuu.com!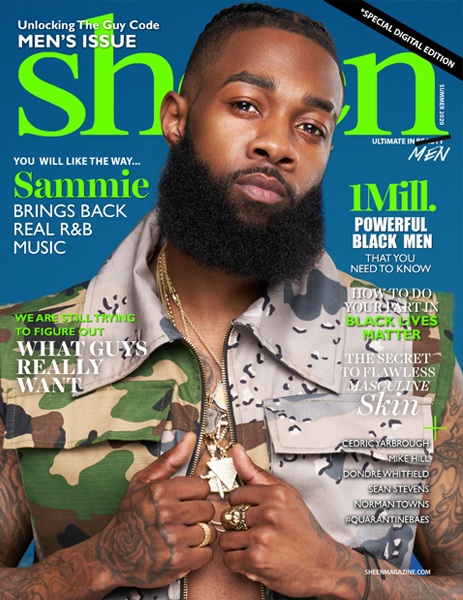 Photo by Demetrious Williams
About SHEEN Magazine
Sheen Magazine is The Ultimate Beauty Guide for the modern day woman. The lifestyle and beauty publication is the preeminent voice on new trends, techniques, and products. Sheen Magazine is a national and international distributed publication. Published bi-monthly, Sheen Magazine maintains its influence by always remaining current on the trends of beauty, fashion, hair, and entertainment. The publication seeks to cultivate, educate, and motivate, encouraging the full potential of their readers. The Ultimate Beauty Guide and can be purchased nationally at Target, Walmart, Walgreens, Books-A-Million, and Barnes & Noble. Visit us online at SheenMagazine.com and follow us on Facebook, Twitter, and Instagram @sheenmagazine.