A private screening of Aretha Franklin's biopic turned intimate interview with star Jennifer Hudson. 
There's something impeccable about watching a diva on the silver screen. But watching an iconic diva playing another?? That is about as likely as watching lightning strike twice in the same spot. The Aretha Franklin biopic "Respect" takes the viewer from Franklin's childhood home surrounded by our legends and her aunt's and uncles, to a jaw dropping journey of fame, fortune, and even heartbreak. The movie heavily emphasizes Aretha's need to be freed from the grasp of a male dominated home and industry, and shines a light on how her voice was the catalyst for her own freedom and redemption. And if the story couldn't already be told by itself, they had someone play her that is no stranger to the lifestyle or entertainment world; someone that can make you forget they are a star in their own right, to give respect where respect is due; the one and only Jennifer Hudson. I was able to not only attend a private screening of the film, but also an intimate roundtable discussion with Hudson about her role as Aretha.
On the 50th floor of this swanky Atlanta hotel, five journalists patiently awaited for the beauty to grace the room. We'd all attended Sunday's screening and the anxiety to dish was at an all-time HIGH. Then, from a side door all by herself, Hudson emerged smiling with a curly bob, a champagne colored bob with Aretha on it, a camel skirt and brown sneakers. She looked both excited and surprised at the table of black female journalists waiting to pick her brain, and sat down ready to dive in.  
In true female fashion, the first questions kicked off were about FASHION. When asked how to describe Aretha's fashion sense in three words, she quickly replied "Royal, quality, glamorous!" She went on to talk about how wardrobe, hair and makeup all play a part in character building. "It was like taking a journey through the costume alone. As far as the hair, it shapes the timeframe of which we're in! Hair, wardrobe, all of it plays a role; it's almost a character within itself. And for me as an actor, it's all key because it makes me FEEL like the character. Every department was in it out of love and respect for Ms.Franklin." 
As a true Jennifer Hudson fan I just HAD to get deep. My question stemmed from an interview done back in 2017 where Hudson compared her voice to 'a tree with many branches'. But due to the tree that is Aretha, I begged to challenge that narrative and referred to Hudson's voice as a forest with many trees. I went on to ask what fruit she received from the 'Aretha Tree' that she could only get from actually playing the role. "Wow I need to write that down! Well, one the piano. To me that was the most foreign thing. I knew outside of that if they called me tomorrow and said let's shoot this I'd be ready. But playing, I'd have to get started early. I peck, SHE plays. Also, learning of the era. I come from a completely different era, so to learn how women had to exist during those times, the circumstances were completely different. I'm a very outspoken person and I take up a lot of room; many of us do. We don't have to second guess what we can say and do, versus so many women during that time. So I have to translate that through expressions; that was very different. It was just so interesting to live in that era and find out what it was like to grow up in that time." 
Among the star studded cast is actor and comedian Marlon Wayans, who plays Aretha's husband Ted White. Ted was quite the narcissist and inevitable abuser, so it's a difficult adjustment to witness Marlon step so well into the character. But Wayans obviously went to an intense place to pull such realistic demeanor. Hudson says Marlon on set however, is one of the best costars she's had. She even said it's a hard choice between who's better on set, him or Jamie Foxx! "It's such a close call. Jamie would always be on the piano singing something, entertaining someone. But Marlon buys you gifts! He would buy me chocolates, tell someone 'she needs a massage', he wouldn't let anyone else bring me my food, he was a true work husband!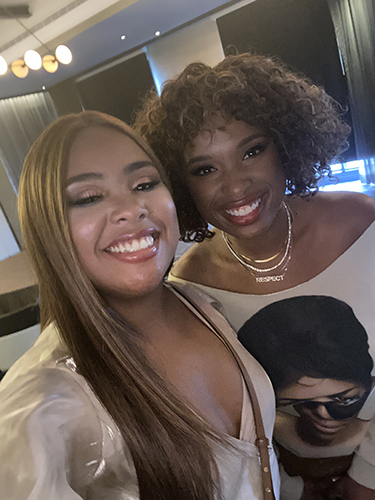 AIN'T NO WAY  we would've missed such an epic moment for Jennifer Hudson, or the late Aretha Franklin. Make sure you don't either! RESPECT releases in theatres August 13th!