Los Angeles-based DJ and model, DJ Millie may be the daughter of a legendary bassist but she's here to make it clear that she's creating her own path! Millie, a music-enthused creative has over 120K followers on social who adore her for connecting with them through music and her countless sets on social. We wanted to know just who this DJ everyone cannot raving over is! In our exclusive interview with DJ Millie, she opened up to us about her parents' influence on her, quarantine life as a DJ, and much more!
How did you get into the world of modeling and djing?
I was born into the world of music and played in the band througout middle and HS. It was only a matter of time before i found turn tables and fell in love with the craft. I did a little bit of modeling when i was 14/15 and took a long break. Wilhemina models reached out and signed me a year and a half into be djing and the rest was history.
Your father worked with Luther Vandross and Marvin Gaye. ​What influence has this had on your music taste? ​Would you say there has been an artist that has left a special mark on your career?
Both my parents had a big affect on my taste in music. They were both musicians my mom Being a singer and my father playing the bass. I was constantly surrounded by funk and soul. Luther being my Uncle had a big effect on how I listened to singers and writing as well. I love all music and I'm versatile in all aspects of music. Music is infinity and im constantly learning and finding new sounds I like.
How has quarantine life been as a DJ?
Before I started DJing on IG live I was really struggling with my anxiety. It started getting dark and seemed like there was no end to the pandemic i questioned myself a lot. I snapped out of that funk and started going on live. It truly changed my life. I was practicing everyday and just turned on the camera. I brought back #MillieMondays which was a party i started back in 2018 and turned it into my live. Live has kept me sane and so has my supporters. I've had Ne-Yo, Miguel, and 6lack on so far and have many more in the coming weeks!
What are you currently working on and what can we expect to see from you in the future?
Currently its #Milliemondays every Monday! I'm also very excited about my new campaign with Jordan! The women's holiday capsule. I'm a sneaker girl so working on that was really a dream!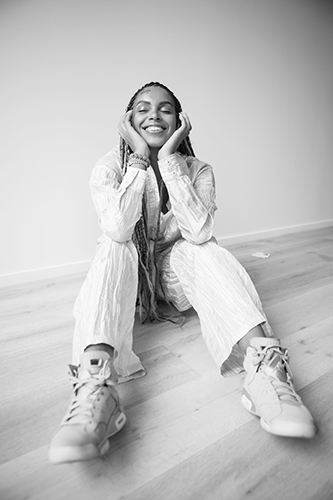 For more on DJ Millie, follow her on Facebook, Instagram, & Twitter.
All images by Graig Labranche