I know, time and time again I am dedicating another SHEEN Review to yet another skincare product but I promise you, this one is life-changing.
My skin has had a love/hate relationship with me all winter and to be quite frank, it is completely my fault. I am guilty to neglecting my body when it comes to keeping it moisturized, but why?
For me applying a body cream or butter after hopping out of the shower is just another task – on top of the million other things I'm doing.
Well, I recently stumbled upon one of Glow Recipe's newest launches and to say I am obsessed is an understatement.
Today's SHEEN Review is dedicated to Glow Recipe's Watermelon Glow Pink Dream Body Cream.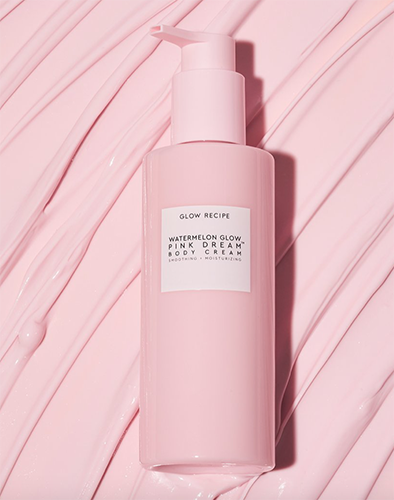 First off, can we take a moment to appreciate the packaging? I'm a sucker for cute packaging and this one immediately caught my eye with its sleek and girly appearance. This body cream is so hydrating, and it smells like absolute heaven. It reminds me so much of my younger days in the hot summer sun, snackin' on some watermelon. There is vitamin-rich watermelon seed butter, hibiscus, AHA, hyaluronic acid, and watermelon extract – the perfect cocktail for smooth, baby-soft skin. I also love testing out new products for you guys that is catered to all skin types. This one is also great for those with bumps, dry flakes, dullness, and dehydration. My skin loves this body cream so much, it literally drinks it right up. Creamy, comfortable on the skin, and gives a great amount of moisture to the body. If there's one product you try from our SHEEN Reviews, I really do hope this one is at the top of your list.
Have you tried products from Glow Recipe before? If so let, me know in the comments below.
For more on Glow Recipe, click here.
All images obtained from the official Glow Recipe website