In the wake of arguably one of the most unprecedented eras in modern history, there are some relentless people left on the planet that refuse to be shaken by dismal news reports and daunting negative-energy sources.
Undoubtedly, we stand at critical crossroads and so now the question becomes, whether we will succumb to the status quo or seize this moment in time to serve our generation like never before.
Well, Sunshine Smith-Williams is doing just that. As a successful serial entrepreneur, philanthropist and author with a lot on her plate, she continues to make a mark in the marketplace and most importantly in the lives of our communities and culture at large. With a huge heart for people—her natural proclivity of giving, being genuine, caring and compassionate is evident in the lives that she touches.
The empowerment of our youth is a major priority and mission for Sunshine. On the weekends, she teaches financial empowerment and literacy—to local, underprivileged youth in New York. "As a youth advocate, I'm in the schools once a week to teach lifestyle and financial curriculums to at risk youth." What a blessing to be exposed to and learn the right principles "early" in life and not fall victim to missed opportunities and limited options that often come with an absence of financial education. Just imagine if some of us had someone to show up in our lives during our pre-teen, teen and young adult years who was willing to educate and train us and show us a blueprint to understand money and generate wealth. Imagine, how much further ahead we would be as a culture in terms of closing the wealth gap. Imagine if someone would have told us about credit, investments, stocks, real estate and other financial instruments.
Also, what I find remarkable about Smith-Williams is her passion, tenacity and commitment to the causes that she believes in. Justifiably, anyone could find a warranted reason to take a hiatus during the pandemic, but she keeps right on giving her time, talent and treasure to be a change agent for the greater good because she recognizes that her life's purpose is much bigger than herself. In a westernized culture of self-absorbed ambition and self-aggrandizement, it's so refreshing and liberating to witness someone who understands the intrinsic value of investing into the next and now generation—our youth. In our communities, we need more models of leadership especially in the lives of black and brown people. Sunshine is preparing and positioning them on how to create their OWN tables, so that they will never feel rejected, over-looked or ostracized in case they don't get an invitation from anyone else.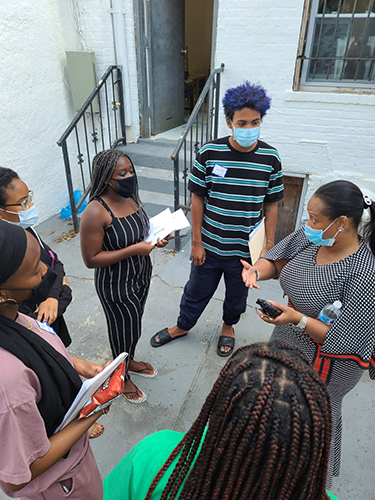 Sunshine's story continues to shine transparently as a beacon of light, hope and redemption! Raised in Jamaica Queens by a single mother who severely struggled to make ends meet living in multiple impoverished housing projects with what appeared to be a dismal future ahead. However, she utilized education as a weapon to overcome poverty and graduated from college majoring in legal studies with a minor in writing. Legal studies became a passion and she worked for several law offices as a paralegal while obtaining more degrees and certifications and climbing the corporate ladder of success.
After being laid off from her dream job in 2010, Smith-Williams gained the faith to start her own consultant firm "Sunny Legal Realty LLC". Consequently, she successfully opened several thriving businesses and mentored others in the process. When you're headed toward a bright future, sometimes there will adversity to arise and threaten your future. In 2013, she got caught up in the trappings of her past environment, appetites, and relationships. As a result, her poor decisions and lack of judgement led her down a dark path that landed her in federal prison. Although she was confined physically, she refused to be bound mentally. Although she was indicted, she was forever-ignited to live full-out with more purpose, more passion and more positivity. "Despite making poor choices, you can recover from it" and that's exactly what she did!
Today, Sunshine is also a youth mentor, public speaker, and film producer and CEO of "Shared Living Residential LLC" in partnership with her spouse. It's a chain of homeless facilities throughout New York City that help formerly incarcerated women and men with housing, re-entry into society, financial literacy, legal referrals, online schooling, and health care.  In 2015, her first self-help book was published (Sunny 101: The 10 commandments of a Boss Chick) and she became a bestselling author. Her minor in writing came into good use as it inspired her to produce films. In 2017, she launched "Sunny Side-Up Productions & Films" and continues to shatter glass ceilings and rewrite systemic narratives by generating and executing on innovative ideas and solutions to contribute to the greater good and betterment of community, culture and country.
Shine On.
Stay connected by visiting Sunshine Smith-Williams on Facebook, Instagram, & Twitter.
All images provided by Sunshine Smith-Williams