Las Vegas is often associated with leisure, laughing, luck, lots of and/or losing money. However, for twenty-two years, the limitless desert has been delving into literature, by way of The Las Vegas Book Festival.  
Downtown Las Vegas was the setting, and the Historic Fifth Street School was the venue for Las Vegas' beloved book festival, curated by the city of Las Vegas, Nevada Humanities and The Mayor's Fund for Las Vegas LIFE. The literary festivities consisted of demos and workshops, book readings and signings, various author and writers panels, and a plethora of books to choose from. The significance of food, drinks, and cocktails is understood for events and festivals and all those things were covered in the form of various food trucks and a flourishing wine garden.   
Writers are often read and rarely heard, and the Las Vegas Book Festival gave publication perusers' the opportunity to be in the same space as authors, poets, and journalists. Budding penwomen and men, self-published authors, and some of your favorite New York Times Bestsellers were in attendance. 
The iconic and legendary romance and drama novelist—Terry McMillan showed up, showing her crowd of fans why 72 is the new 52. Looking like a vibrant ting, Auntie Terry McMillan says it is due in large part to giving herself as much goodness as she can, exercising and eating healthy with no drinking or drugs. The Waiting to Exhale and How Stella Got Her Groove Back Author, explained that she stopped relying on another human being to fulfill her, when asked if she had exhaled yet, in which she also responded with, "I have given myself the chance to exhale several times." She even blessed her readers with an excerpt from Safety, the current novel she is penning. It's Not All Downhill From Here is Terry's latest, about Loretha in her late sixties, who is living life happily ever after, a few cycles into her Golden Years. Suddenly, a tragedy upends her experience, while exposing areas in her life that need tending to, no matter how exhaustive it can be to need help and to help your loved ones. 
Thriller newbie, Anna Ryes, discussed some of her writer's tenacity for her debut novel—House in the Pines, which was her thesis turned Reese Witherspoon Book Club pick. A woman, coping with addiction, after a friend of hers dropped dead years earlier simply after talking to a man, has memories flooding back to her after a YouTube video showing a person expiring in the exact same way surfaces. Maya must delve into her and her ancestors past to innerstand what is happening in her present. 
Fantasy, action, adventure, and romance author—Rebecca Yarros, had dozens upon dozens of fans waiting for her to delve into the concepts around her latest 2023 novels: The Fourth Wing, which was released in April, followed by another addition to her romance roots in, In The Likely Event, and the upcoming sequel to The Empyrean Series—The Iron Flame. The Empyrean Series delves into the life of protagonist, Violet Sorrengail and her deadly journey of becoming a dragon rider at Basgiath War College, in which the only way a candidate can leave is if they graduate or die.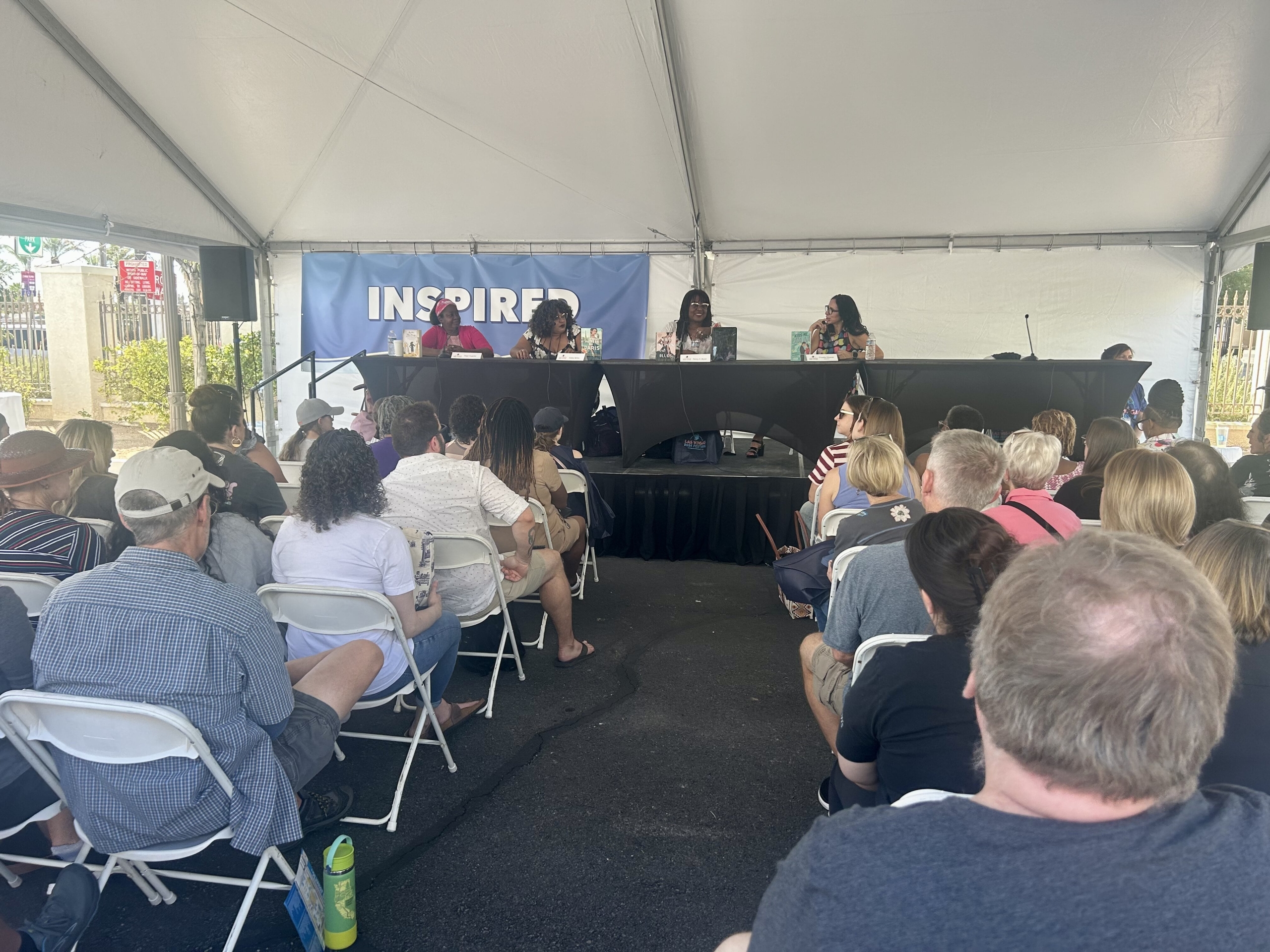 Malcolm Nance reminisced on his 34-years of expertise in combat, intelligence, and counter terrorism while serving in the United States Navy as a Senior Chief Petty Officer. They Want To Kill Americans: The Militias, Terrorists, and Deranged Ideology of the Trump Insurgency, is Malcolm's latest contribution to the political science, political intelligence, and terrorism genres. He explores the alleged radical Americans aka TITUS—the Trump Insurgency to the United States, he claims want to destroy democracy because of their loyalty to President Donald Trump 
Stay tapped in with these authors via their social media accounts and websites: @anareyeswriter, @therealterrymcmillan, @rebeccayarros, and @malcolmnance.tapstri and all books are available on Amazon, at Barnes and Noble and a bookstore near you. 
Tap the link, for more information on The Las Vegas Book Festival.