Joi Roberts is a creative and passionate baker that dares to go against the status quo of the cake industry. She is a native of Columbia, SC, the owner of Joi Filled Delights, and an entrepreneur who aspires to reach her goals. Also, she was a competitor of the Freak Show Cakes on the Cooking Channel and a first-place winner of the Columbia, SC, Cupcake and Cocktails. Read more about Joi Roberts in this feature article.
Share who you are to the readers. 
My name is Joi Roberts, I am 24-years-old and was born and raised in Columbia, SC. I am a self-taught pastry chef who went to culinary school for cooking but have a true passion for baking. I have my own business that I have been running since I ways 18-years-old. I have been a fulltime entrepreneur for the past two years. My business is called Joi Filled Delights. 
Tell us more about your business "Joi Filled Delights."
My business "Joi Filled Delights", specializes in custom cakes for weddings, parties, events, or just because. I also do deserts or special diets such as keto cinnamon rolls on my Etsy Shop, which is under my business name Joi Filled Delights".
Also, I was featured on the Cooking Channel and competed on a show called the Freak Show Cakes in October 2019. It was an awesome experience! In addition, I won first placed for a cupcake competition called Cupcake and Cocktails, here in Columbia, SC. So, I am super passionate about baking, sculpting and decorating cakes, even working on cakes that don't actually look like cakes.
What advice would you share with entrepreneurs managing and navigating during this time of COVID-19?
This is definitely an unexpected occurrence for the entire world. So, it's important to give yourself grace. I believe the majority of us never lived through a pandemic, expect for the Spanish flu pandemic, but a pandemic. Gain wisdom! I would recommend getting a mentor in your specific area as well as try to continue to keep the same routine you had before the pandemic. If your routine includes, waking up at a certain time, styling your hair, putting on makeup, working and taking off at a certain time, or dressing up as if going to work.
 Just have a schedule in place! I know it its harder working at home because you don't have somebody over you, but as entrepreneurs its truly important to have self-discipline. Keep those habits in place to just help motivate you! Also, implement self-care. It's truly important, especially for small businesses. Make sure you are resting and taking care of you.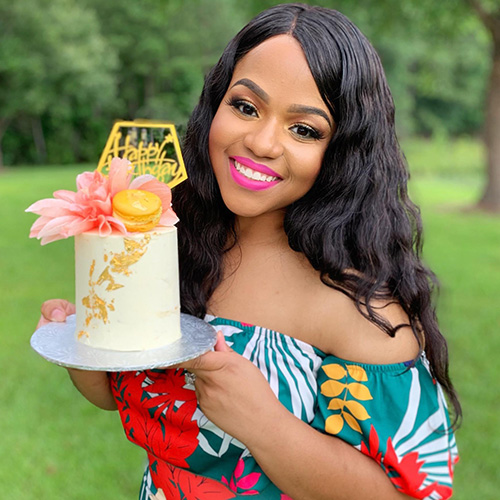 You're getting married in a couple of days! Tell us more about your Love Story. Any advice? 
My fiancé and I, actually been following each other on social media for a while and never interacted until we met in person at a church event where we got invited to be panel speakers. We met in person and was truly intrigued by what the other person was saying. Then he slid into my DM's and the rest was history. We began talking and were engaged. He is my number one fan and motivator! Also, he pushes me to be a better person. I truly believe that this is key in a relationship! I am so glad now that it never worked out with anybody else. So, the best advice I can give is to trust God's timing and perfect plan. Comparison is the thief of Joy! Please don't compare your life with anybody else's. Continue to grow, heal, and work on yourself, the season of singleness can be difficult. I am not going to lie to you an say it's amazing! But, continue to heal and work on you. Also, don't settle for less than yourself. I am so thankful that I did not settle. My fiancé is going to be the father of my kids one day and a great example for my future family.
How are you maintaining your beauty regimen and life during quarantine?
The reason I gave that answer setting a schedule in the previous question is because that was an area that I was struggling in. It's easy when you get into an unexpected space of "I don't have to go anywhere" or "No one is going to see me; I don't have to get dressed". But I realized that space was truly depressing my mood and taking away my motivation. So, I have recently been trying to be more consistent in making my face and truly getting dressed even if I am staying home, "When I look good, I feel good". It changes my mindset! If you are not comfortable going to the nail salon or getting your eyebrows done. Just teach yourself! I have been doing my own eyebrows because I am not comfortable going to a salon just yet. The time we have now, is the perfect time to learn new things as well as create new habits.
What can we expect from you in the future?
In the future, expect to see me on the TV screen in a city near you. I expect to be competing nationally and plan on doing some virtual classes for those interested in learning about baking and sculpting skills in the cake world. Also, doing some one on one classes, possibly private classes. All these things will be advertised on my social media pages. I plan to continue to perfect my craft, network, to grow my business.     
For more on Joi Filled Delights, click here.
Follow on Join's on Facebook, Instagram, Twitter, & YouTube.
All images courtesy of Joi Roberts