Meisha Amia is is one of the most influential nurse entrepreneurs of her generation. She is humbly committed to empowering nurses and rising entrepreneurs to brand their passions to create the life they love. She has a virtual community of more than 20,000 women called, Chicks with Cheques. She is the co-founder of The Nurse Power Network and newly launched Boss Friends Fashion. Formerly operating as MeMe House of PR in Atlanta allowed Meisha to help clients build exposure and be featured with reputable media outlets.
Please introduce yourself to our reading audience.
I'm Meisha Amia, award winning Registered Nurse and Digital Brand Coach. I go by "The Branding Nurse" because of my expertise in relationship building, networking, creative content and travel nursing. I build online communities, personal brands, and women's events. I teach women and nurses how to master their message to reach more people and make more money. I am the founder of Chicks with Cheques global network where we have over 20k women connected online & on location. I'm the co-founder of The Nurse Power Network and co-owner of Boss Friends Fashion.
What made you want to go in to business?
Prayer. Solo traveling. Self Discovery…. That's the shortest version but let me explain: Being fully aware of who I am without the influence of other people or materialistic things allowed me to execute in purpose. I prayed to God to get me out of a situation in 2012 and I have been soaring since. I was really on a mission to serve women and nurses who were lost without titles, degrees, and/ or husbands. Since 2012, I have lived in over 20 cities alone, pursuing my career as a Travel Registered Nurse. The business part, honestly came by default because I had built a network of over 20,000 women on a mission to serve and teach women and nurses how to master their message for the benefit of their business and network. Focusing on personal branding, traveling and building valuable relationships. 
You're not the only one doing what you do. Why should people work with you?
I  know it's a lot of online branding experts and content creators these days but what sets me apart is my affiliation in the healthcare industry. As a professional Registered Nurse, I am dominating in an untouched marketplace. My authentic network from city to city speaks volumes to my skills of engagement, visibility and resources.
What should people expect from you in the first quarter of 2020?
This first quarter is taking off fast because I'm going to be traveling to Atlanta with my millionaire nurse coach, Vee the NP on January 26th. She has taught me a lot in business and I couldn't keep it to myself. We will be hosting a 7 Figure workshop that teaches entrepreneurs and inspired entrepreneurs how to manage multiple businesses and build a 7 figure profit plan. Plus Chicks with Cheques VIP members will be publishing "Chicks with Cheques Top 100 Lessons of an Entrepreneur" on March 4th. All year long Chicks with Cheques is open for official membership if you are looking for online marketing, speaking opportunities, brand training, discounts and more ways to connect with the 20,000 women of our network.
What motto do you live by?
Your assignment on earth will be met when you are full from the service of others.
What is your favorite quote?
The key to winning is thinking like a winner and then showing up as her.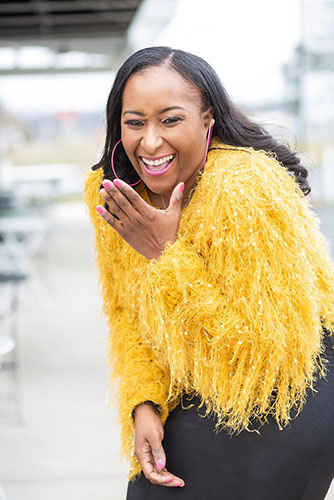 For more on Chicks with Cheques, click here!
Stay connected with Chicks with Cheques by following the brand on Facebook & Instagram.
Follow Meisha Asia on Instagram today!
All images by Shamya Lynne Studios