Founder of A Walk In My Stilettos, Makini Smith, is an award-winning entrepreneur. She has successfully crafted a business in personal development as a mindset coach helping women reach their goals, a certified Proctor Gallagher consultant for her mentor Bob Proctor, and 4-time published author. Her passion to improve the quality of peoples lives includes making an impact in which she contributes her time spreading awareness of mindset, providing expertise on media platforms globally. She's been seen on Huffington Post, xoNecole, BET, NBC, CBC, CTV and much more. Makini does more than talk the talk, she walks the walk by being an example of leadership serving in the community including her recent run for Member of Provincial Parliament in the 2018 Canadian Election.
Please introduce yourself to our reading audience.
My name is Makini Smith. I'm an award-winning author, podcaster and performance coach. As the founder of "A Walk In My Stilettos", a personal development brand, I help women to walk in their greatness by owning their stories and conquering their fears so they can reach their goals.
What made you want to go in to business?
Legacy! After my divorce and the passing of my sister, personal development and being of service helped me heal. It made me think about how I wanted to be remembered and what legacy I wanted to leave behind. I wanted every woman to discover the hidden potential within and became passionate about helping them walk in a manner worthy of their calling. Storytelling is a fundamental human experience that unites people and drives stronger deeper connections… Your story may be about you but it isn't only for you.
You're not the only one doing what you do. Why should people work with you?
I've been through the fire. I can relate to my client's heartache, frustration, and the quest for clarity. I coach from both wisdom of life experience and the knowledge of certification from Proctor Gallagher Institute. I'm a product of my product, teaching how to turn losses into lessons and live the life you desire.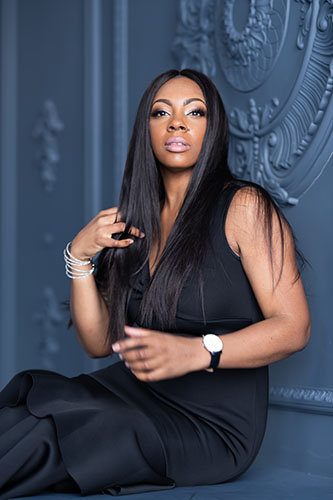 What should people expect from you in the first quarter of 2020?
I was off most of 2019 for health reasons. Now that I am healed and refreshed, I'm ready to serve with intention. Tomorrow isn't promised. I'm even more passionate about my purpose to heal through our stories. 2020 started off with a bang. I've been focused on partnerships and collaborations because we can be in business by ourselves but we can't do it alone.
What motto do you live by?
I have two strong ones…Live life ON purpose WITH purpose and Love HARD!
What is your favorite quote?
"The only limits in our life are those we impose on ourselves." – Bob Proctor
How can people connect with you?
By visiting the official A Walk In My Stilettos website. Follow me on Instagram and Twitter. Click here to tune into my podcast. You can check out my books here!
All images by Dee Fisher of BigFish Photography