Yoli Cox, CEO of The LET IT OUT Brands, LLC, strongly believes overall health and wellness is a conscious lifestyle choice necessary for longevity and happiness. She has over 15 years of cross-functional expertise in corporate coaching and development, leadership training, and sales consulting in the pharmaceutical and fitness industry.
What made you want to go in to business?
The struggle as a woman who wears many hats is always finding time to take care of herself.  I remember the doctor's visit that changed my life and ultimately changed the lives of thousands of others because of that visit. My physician looked me in the eyes and told me I was overweight, had high blood pressure, high cholesterol, and I would be taking medication for all of those things including diabetes. That was not in my plan. I started on a journey of healing myself from the inside out that same day. My follow up appointment showed a one hundred and eighty degree shift and I decided that my mission in life was to show others how to do the same. I bring the solution to, "Yoli I have no idea where to start or what to do to get my life together."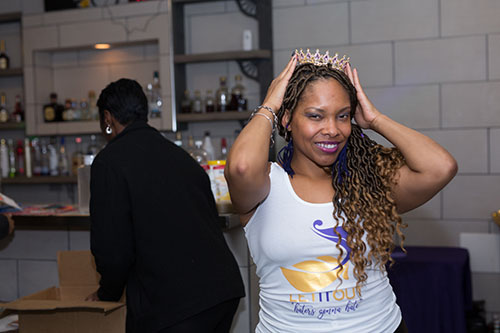 You're not the only one doing what you do. Why should people work with you?
I bring real life into the success plan. No gimmicks or quick fixes. It's not about why a person is out of shape or overweight. It's about why they choose high fat snacks at 12a when they are sad. It's about why they choose not to eat at all when stressed. I bring solutions that change lives
What should people expect from you in the first quarter of 2020?
Let it Out Brands, LLC is creating changes in the health and wellness industry by meeting people where they are physically, mentally, and emotionally. We are combining knowledge, technology, and field experts and serving our tribe through web based trainings and live events across the country. Q1 2020 is filled with health and wellness events as a speaker and an instructor. My story of overcoming the burden of stress, anxiety, being overweight, and depression is reaching women and men all over the world and they are making changes to their life because they are inspired to do it. My tribe finds me because I am going to tell it like it is and show them how to live healthy and free with "rinse and repeat" steps that get results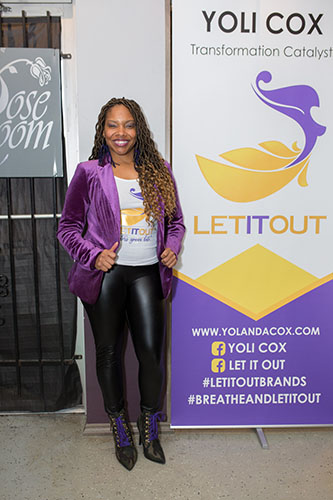 What motto do you live by?
It's okay to be scared to do hard things. Take a step back. Breathe. Then do it anyway
What is your favorite quote?
"Speak what you seek until you see what you've said"
How can people connect with you?
Facebook – Yoli Cox
Instagram – Yoli Cox
Twitter – Yoli_Cox
Email – Yolanda.cox@hotmail.com
Website – www.Yolandacox.com
All images by Cox Photography