Portia Hoover, CEO of Portia Hoover Inc., is a dynamic, high-energy entrepreneur that stirs up the gifts in others that  produces cash flow by using their creativity. With her online presence, she has helped thousands increase their income within days through her Level Up program and continues to create opportunities that's designed for everyone to win.
What does "power" mean to you?
I'm sure power means all types of things to others, but to me, its a gift. God gave us power! And our power is in the tongue.
We are so blessed to have power over the things we want, from just speaking it! I mean, just think about that, God said, you can speak blessings over yourself, so with my power, I choose to speak life, prosperity, love! I choose to lift others up, that don't understand that they too have been blessed to use it. Many things have come to past for me, because of my power, So power to me is just that!
Tell us about your business and how it was designed to make a positive impact:
My business is designed to help all walks of life, that has been told "No" & "You're not good enough" see, everything I create can be done online from a phone! I have been blessed to impact many of households in a positive way, by helping them gain income online, so many testimonials I receive, from others, that have been able to take their kids to Disneyworld, buy new cars, pay off depth, and even buy homes cash. I grew up without, so it's a blessing to see the positive change it has made in a lot of lives.
Can you share two pieces of business advice for emerging entrepreneurs.
Get moving, don't wait for things to be perfect, to start your business because anything that's perfect will self destruct.
Be bold, courageous, fearless and consistent. know, that God created you to be great & He did not give your those thoughts of starting your own business to leave you! Sowe your seeds and you will reap the harvest.
What is next for you and your brand?
I have a lot of things going on for me & You just never know with God! I stop trying to be to focus and headstrong about my direction because every time I do, God has something better, so I just move where God tells me too (laughs) But I can tell you, ears have not heard, and eyes have not seen the type of blessing, that God has for me I'm excited.
How can readers support your business and connect with you:
Sharing my lives and my daily post are always great! I keep it positive and uplifting.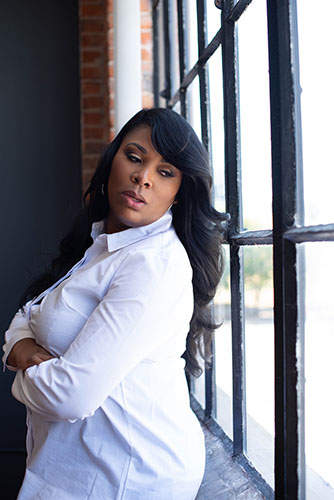 Connect with me on my Facebook pages Portia Hoover & Boss Of Vision.
Follow her on Instagram today!
Visit the official website of Portia Hoover today!
Click here to visit Portia Hoover's Linktree today.
All images by Hoover Photography