Brandé Elise and Danielle Gray are the founder of lifestyle brand, UNOIA – CBD Honey & Agave. The two took time out of their busy schedules to sit down with us for an exclusive interview to offer our readers a peace of mind during our pandemic. We discussed all their brand has to offer, their individual endeavors, and much more!
Tell us about your lifestyle CBD Honey & Agave brand, UNOIA.
Dani – Our company name UNOIA means beautiful thinking. It's a CBD lifestyle brand focused on mindfulness, mental health, and self-care. We've seen a lot of people in the CBD industry mainly focus on the medical benefits rather than the mindfulness it provides. Our main focus is to really focus on the mindfulness aspect and what it provides. You can't talk about it a lot because of regulations but you can say what we believe it can provide. Right now, we have CBD honey and CBD agave. We're also adding CBD muscle relief cream and thinking about putting out pet jerky as well. It's all CBD infused that focus on mindfulness and physical blockages that we deal with: anxiety and depression, especially right now with all the things going on. 
Brandé, you are a former tennis professional. Do you mind sharing with us how CBD helped you?
The two for me do not go hand in hand. I played tennis growing up and I taught it. When I moved, I taught at many tennis clubs. I have a client that loves their CBD for recovery after tennis. It's great for athletes because even at the beginning of a work out, it's nice when your muscles aren't as sore. CBD has helped my hands and joints. We'll be offering topical roll ons and many more products that we believe will be a great hit.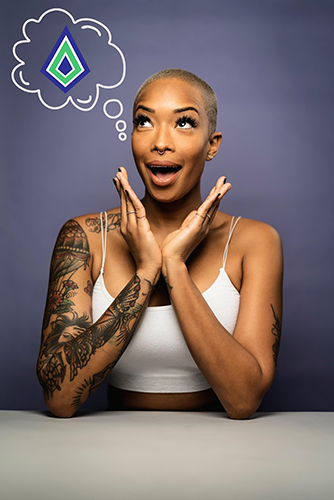 Dani, can you tell us about the inspiration to create your marketing firm, DG Marketing Co.
I did not plan on it, it came from a place where I needed to take care of my mother. My mom got sick, she's had a liver transplant so she is fine now but I did not work normal hours because I had to be a full-on care taker. I couldn't work a traditional 9-5. The job that I had initially asked if I could help them out, I did, and I realized other companies needed that same help. That's basically where I came from. My main focus is content marketing so I've basically been able to use insight and knowledge for speaking conferences and I help others make content and discuss social media. I've applied all that knowledge and put it into UNOIA, the brand we've created. Everything from the design to the messages. The inspiration is freedom and being able to have my own experience to provide services and solutions to others. It's my passion and love, there's nothing else I'd rather do than marketing.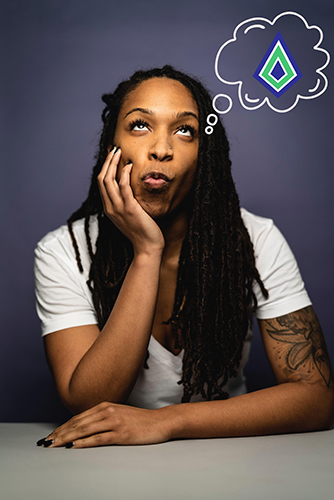 With our current pandemic, do you mind offering your best advice to our readers?
Dani – First, focus heavily on yourself. Do meditation, we have so much time I feel like a lot of people are meeting themselves. Figure out your passions, what're you interested in? We believe CBD helps you get to that place. The feeling that you have with meditation and after, it's a level of calm. We suggest give CBD a try. If you're having anxiety, feeling overwhelmed with all the things going on in the world right now, it is a way to focus back in on yourself and give yourself a little self-love as well.
Brandé – I would say this is the time for self. I don't know any other way to say it. For us, CBD has helped in that way but right now, work on your craft. If you don't have one, figure out what you're all about. When you come out of this pandemic, you should be a different person.
What are you currently working on? What can we expect to see from Brandé Elise and Danielle Gray in the future?
Dani – Together with UNOIA, we are really excited about what's to come. Our PR is really getting up, our new branding is out, so many events will happen when we're able to go out again. In the east coast and south, there's not really a brand that speaks to our culture. We're focused on being a national and global brand but bringing our culture that we have here in the south to this industry. As far as for myself, I am looking forward to more webinars and speaking engagements (that have been postponed). That's really where most of my focus will be: speaking about marketing but also doing more teaching on CBD. 
Brandé – Another thing that we're excited about is that we're going to be training beautiful thinkers. That's what we're calling our consultants, certified beautiful thinkers. We were thinking with the climate of the world, the best way to get in touch with people is through people, through their network, and on top of that it makes money which is great, especially now because many people have been affected during this pandemic. We're excited to educate others and put money into people's hands through CBD. For myself, I can't wait for you guys to see me on the big screen. I know that's where I'm headed, I don't know what route I'll take but with voice over and hosting, I will be able to host my own show one day. I just want to be on peoples televisions and inspire them to be their best selves.
For more on Brandé Elise, follow her on Instagram.
Stay connected with Dani Gray by following her on Instagram.
All images courtesy of Brandé Elise & Dani Gray