The #1 hit series "Double Cross" by "Dem Gibson's Films" on ALL Black TV Network is back! "Double Cross" written and created by Christel Gibson of "Dem Gibson's Films" has nailed another racy unpredictable, fiery story line for the anticipating viewers. "Dem Gibson's Films" formed by Christel and Howard Gibson from the Washington, DC metropolitan area, has continued to catch the eyes of Hollywood. With a metropolitan based crew this sibling's team has repeatedly reached record high numbers for four consecutive seasons on ALL BLK TV Network. Both Christel and Howard are no strangers to a camera since childhood. Christel at an early age jumped right into script writing while Howard developed an interest in steady cameras. Both who serve as executive producers and directors have found the secret to producing a blazing series that keeps viewers glued to the screen. With their continued success using the metropolitan based crew, they thought it necessary to premier this new season in the DMV area.
This season lacks no excitement or intrinsic twist with the plot and all-star cast. "Double Cross" which revolves around layers of a sex trafficking ring reveals the mastermind behind this heinous scandal in this new season. Taimak Guarriello also known as Leroy "Bruce" Green on the "Last Dragon" has joined the "Double Cross Family" as the tyrant having no mercy trafficking boys and girls. Eric and Erica Cross the leads played by Ashly A. Williams and Jeff Logan continue to annihilate those involved in this act and this season Tamaik is their target. They are joined by an all star cast such as Darrin D Henson, Judi Johnson, Redaric Williams, Candice Van Buren, Cameo Sherrell, Jasmine Brown, Shelley Robertson, Gabriella Smith and Faith Malonte. Rapper Yo Yo, Former NFL player Jerrell Pippins, Denise Boutte comedian Michael Coylar have also made appearances.
However, Howard and Christel felt it imperative to give metropolitan actors a chance to act on the big screen. Local actors gone global include Tremayne Norris, James Jamison Jr, Apostle Dr. Veryl Howard, Lisa Renee Marshall, Pam Bunn-Nelson and several background characters from the metropolitan area.
With this dynamic overall cast, producers, and crew "Double Cross" is again a season winner. Christel and Howard's winning team consist of Director Gil Nelson, Producer Shante Gabriel, Tasha Coates, Associate Producer Micah Tait, and Associate Producer Brian Burns. Their synergy manifested on screen is a must watch! The team would love for you to join us for the screening February 13th with a release on February 16th. Come ready to expect the unexpected!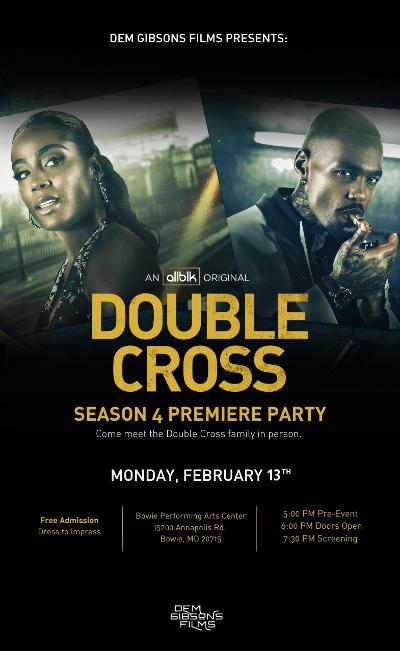 RSVP with Faith Management & Talent Casting, phone # 910-644-1824. Email HYPERLINK "mailto:VeryL920@aol.com" VeryL920@aol.com. Press is welcome.
Date: February 13th, 2023
Address: Bowie Performing Arts Center located at 15200 Annapolis Rd., Bowie, Md. 20715