Germaine Bolds-Leftridge, the trailblazing founder of IKNOW Skincare Treatment Solutions, is not your ordinary entrepreneur.
At an age when some may contemplate slowing down, she is a fabulous powerhouse over 50 who thrives on embracing life with unbridled enthusiasm. Her remarkable journey is a testament to the limitless possibilities that come with age, demonstrating that it's never too late to learn, grow, and make a difference.
Germaine Bolds-Leftridge's entrepreneurial spirit knows no bounds. As the visionary founder of IKNOW Skincare, she has left an indelible mark on the beauty industry, proving that age is merely a number when it comes to creating groundbreaking ventures.
IKNOW Skincare is more than just a skincare brand; it's a movement that celebrates diversity and self-confidence among women of all ages.
Under Germaine's visionary leadership, the brand has become a symbol of empowerment, with a particular focus on addressing the unique skincare needs of women over 50-plus in the Black and Brown beauty space.
But Germaine's zest for life doesn't stop at her professional accomplishments. She is a living testament to the idea that age is just a number, continually embracing new challenges and experiences.
At the age of 64, she took on the remarkable journey of learning to swim, demonstrating that it's never too late to conquer new horizons.
"Life is a gift, and I believe in savoring every moment," Germaine Bolds-Leftridge remarked. "Learning to swim at 64 was a reminder that there's always room to grow and explore new passions. It's about embracing life with open arms and a joyful spirit."
In addition to her remarkable achievements in the beauty industry, Germaine Bolds-Leftridge is a seasoned business leader. As the CEO of GBL Sales for over three decades, Germaine Bolds-Leftridge has demonstrated unparalleled expertise in guiding businesses to success.
Germaine is also the creative force behind The Ubiquitous Women's Expo, an annual event that has celebrated women and entrepreneurship for a decade, providing a platform for women from diverse backgrounds to showcase their talents and achievements.
Through her unwavering commitment to empowering women and fostering entrepreneurship, Germaine has made a lasting impact on countless lives.
The IKNOW Skincare collection, one of her latest endeavors, features a range of eight meticulously crafted products designed to address the unique skincare needs of women of color, solidifying her status as a visionary leader in the beauty industry.
"I want to inspire women, especially those over 50, to live their lives to the fullest," said Germaine. "It's about breaking free from societal norms and embracing the power of our own potential. Life is too short not to pursue our dreams with vigor."
Germaine Bolds-Leftridge's remarkable story is a testament to the remarkable potential that exists in each of us, regardless of age. Her work with IKNOW Skincare is not only reshaping the beauty industry but also challenging age-related stereotypes and inspiring others to seize life's opportunities.
To explore the innovative product line of IKNOW Skincare and learn more about Germaine's journey, visit iknowskincare.com.
To connect with Germaine Bolds-Leftridge and gain an intimate glimpse into her entrepreneurial journey and dedication to empowering others, follow her on Instagram @detroitgermaine.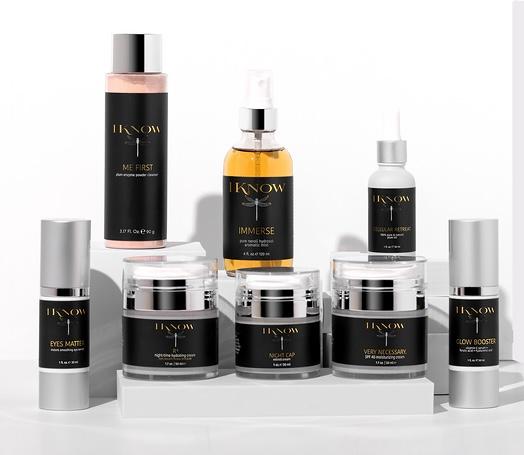 Photo Credits: Courtesy of Germaine Bolds-Leftridge