Social media influencer, Jasmine Luv has just released her latest project titled, The Waiting Room. The Waiting Room is a two-part series brought to us by BET HER. This special project is centered around Breast Cancer Awareness month, which is something Luv has always been something near and dear to her heart. We caught up with Jasmine Luv to discuss how this project sheds light on vital topics in today's black families from mental health to breast cancer and much more!
Tell us about the 2-part series, The Waiting Room.
The Waiting Room is a two-part series that was created to bring more awareness to Breast Cancer. I play a character named Raven – she is a vlogger that just got engaged to her fiancé. She is diagnosed with Breast Cancer. Through the series, she vlogs about her experience with Breast Cancer and basically the fight for her life. 
Why is Breast Cancer Awareness Month so important to you?
Breast Cancer Awareness Month is so important to me because I had an aunt that lost her life in 2012 to Breast Cancer. I was very close to her. I saw firsthand what Breast Cancer can do to a person. One month they're feeling fine, the next month they're gone. My grandmother is a also a survivor of Breast Cancer, so I've had a firsthand look at what it can do to the person but also my family. It affected us as a whole. In seeing what it can do, I've always been big on Breast Cancer whether it's participating in walks in October, donating, and overall bringing more awareness to it. It means so much to me.
How has quarantine life been for you?
Quarantine life has been a really great thing, actually. I've always been on the move. Quarantine life has allowed me to just sit around and chill. I've been able to get my thoughts together in regards to what it is I really want to do. I feel like when people are moving so much, it's like your brain is cluttered. When you sit down, it gives you a clear mindset. I think that's what quarantine has done for me. It has made me realize that there is a lot that I want to do in life. It's allowed me the time to sit down and make a new plan. It's been a really great thing for me (laughs).
What are you currently working on and what can we expect to see from you in the future?
I'm very big on skincare and hair care. I'm working on creating a product that I can put out for my supporters. I'm continuously auditioning for new roles. There are some things in the works including movies, television shows, and of course more writing. I want to create a web series so you can look forward to that. More content and of course, bigger and better things.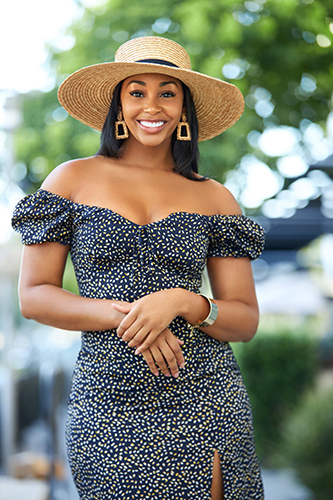 For more on Jasmine Luv, follow her on Facebook, Instagram, Twitter, & YouTube.