In the midst of Women's History Month and International Women's Day, Harlem rapper Saint Cassius is showing appreciation to the ladies especially our Black Queens with the release of his latest single, "Brown Skin Girls."
His latest video 'Brown Skin Girls' was made to combat the colorism brown skin women face within and out of the black community. The song was featured on Spotify's Black Lives Matter playlist for Black History Month Playlist. The playlist was curated by Keyon Harrold, Sr. who is the father of Keyon Harrold, Jr, the 14 year-old boy that went viral after being wrongfully accused of stealing Miya Ponsetto's cell phone in a New York Hotel. Keyon Harold Senior is a prominent Jazz player who appears in the Brown Skin Girls video as well. Saint Cassius released visuals on Tuesday for the video and the creativity is on another level. Being married to a black woman and becoming a recently
new dad to a beautiful melanin baby girl, it was only right he recognized his everyday inspirations through his music.
"May 21st, on Biggie's Bday I had my first born, a daughter. I reached out to Mrs. Wallace whom I continued a social media conversation with and shared the news. She was elated," said the hip-hop artist. "I thought about the contribution her son made with songs like "Juicy," and "Sky's The Limit," and the inspired legacy he left his children. I wanted to create something for my daughter. A capsule to let her know what I contributed to this era, where women of color are leading us."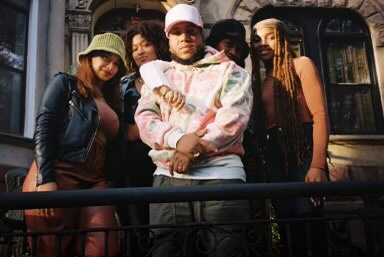 Saint Cassius has been featured in everything from Billboard to The Source Magazine. He's worked with major artists in the music industry and has contributed to over 20 million in singles. He got his biggest break for Bruno Mars' Grammy-Winning song Just the Way You Are in 2kk.010. In 2013, Saint Cassius launched Vinyl Crown, an independent record company. Vinyl Crown has worked with well-renowned artists including Bruno Mars, J. Cole, Lupe Fiasco, Keyon Harrold, Bryson Tiller, and Lil' Wayne.
Watch the video for Brown Skin Girls here. 
For more on Saint Cassius follow him on Instagram.
All images provided by Saint Cassius