Today, we're talking all things health and beauty as it relates to the hair and body! The Biosilk Heatlh + Beauty set is one that deserves to be on your radar. I couldn't think of a more perfect gift during this time of the holidays. Whether you're gifting your loved one or treating yourself, I have no doubt in my mind that you (or your loved one) will absolutely love the products included in this set.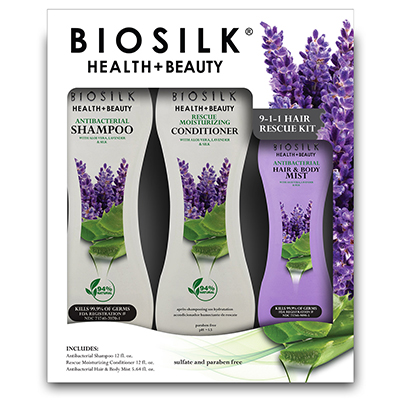 Biosilk Health + Beauty 9-1-1 Hair Rescue Kit, $39.99
This set includes the Antibacterial Shampoo, Rescue Moisturizing conditioner, and Antibacterial Hair and Body Mist. The shampoo is ultra cleansing and helps keep the hairy healthy while fighting against bacteria. I love the conditioner that is paired with the shampoo because it repairs and replishes moisture on the hair and skin. I've been spraying the Antibacterial Hair and Body mist everywhere just for the heck of it! I love it so much. It does a great job of offering moisture and keeping the germs away! There is lavendar essential oil and aloe vera formulated into this spray – which is all the right reasons to love this product.