Just recently, singer Keianna Nicole released a brand new single titled, "Where's Your Heart," and it has already reached the top 150 of DRT Radio Charts! The single was dropped as part of her upcoming EP titled, 'Best Regards.' We caught up with Keianna Nicole to discuss what we can expect to hear from the EP, how quarantine life is treating her, and much more.
Tell us about your single, "Where's Your Heart." Where did the inspiration come from?
"Where's Your Heart" is my hit single off my 7 song EP "Best Regards". What inspired me to write "Where's Your Heart" was my experience in a past relationship. I wanted to know where my partner's heart was. The inspiration also came from the 90's RnB group, Jodeci's hit song, "My Heart Belongs to U".  I wanted to allow my supporters to get to know me personally along with my sound so I decided to release a new song off my "Best Regards" project every (6) weeks until all songs have been released. I thought this was a great idea and my team was also on board. We will have (6) different cover art themes that will all be unique.
What can we expect from your EP, "Best Regards"?
Expect this project to bring a lot of HEAT!  This project speaks to the ups and downs of a relationship, falling down and getting back up after losing yourself and knowing one's worth.  I'm a 90's baby, I grew up on a lot of 90's music.  I wanted to bring that time period back with my sound.  I'm even incorporating the 90's attire in my music videos. Back then Artists had to "Sang" so I'm showing my supporters that I can, "SANG"! I even brought back that 90's feeling in one of my music videos; I will be singing in the "rain".
How has quarantine life been as an artist?
Being in quarantine has given me the opportunity to work on my craft. It's allowed me to get physically prepared for what awaits after the quarantine is over.  It has also given me the opportunity to connect more with my supporters, start a cooking show, Kooking with Keianna, and even incorporate my own Podcast, Kickin It with Keianna. So all in all, our new normal of quarantine life has not been that bad. In some ways it's been a blessing because it has allowed me to do some things that otherwise; I would have been too busy to do. This quarantine is preparing me for my new season.
What are you currently working on and what can we expect to see from you in the future?
I'm always working on new music.  Since the Industry is basically shut down with no tours right now and we're still somewhat in quarantine, I'm incorporating a cooking show weekly that takes place on Friday's called, "Kooking With Keianna". I will be starting a Weekly Podcast in the next few weeks along with getting my foundation off the ground called, " Le-Ru Wings", named after both of my grandmothers.  "Le-Ru Wings" is a No-Bullying foundation where I will use my platform to advocate against bullying.  When things open back up in the schools, I plan to travel to different states and schools to speak out against bullying as I was bullied in Middle School as well as High School. We must take a stand against bullying. In 2021, I also plan to launch a wig, lash, and merchandise line.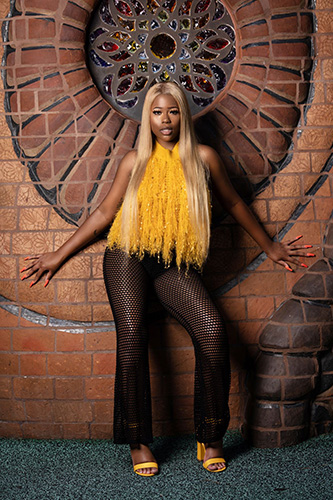 For more on Keianna Nicole, click here.
Stay connected with her by following her on Facebook, Instagram,
SoundCloud, YouTube, & TikTok @OfficialKeiannanicole.
All images by Kemi Griffin