Our current pandemic is impacting our lives in massive ways.  Families, businesses, the healthcare system and more have all been affected drastically.  As we are growing into the second wave of this vicious virus we are noticing how heavy the restaurant business has been affected.  Due to the aggressive second wave of COVID-19 infections, an estimated 40% of bars and restaurants across the nation are projected to close for good due to financial hardships.  However, the new Lavii Smart Locker technology is the long-awaited solution for many establishments to keep their doors open and their staff and customers safe. 
Founder and CEO, Rea Huntley, has successfully launched Lavii, Inc to single-handedly save the restaurant industry.  While raising a 3 year old son and maintaining 7 years of same-sex marital bliss, Rea is saving restaurants with her new patent pending smart locker technology.  This new technology is revolutionizing the online order process for restaurants everywhere.  Rea has surpassed a successful launch and pilot program.  
The initial pilot consisted of implementing the insulated lockers in multiple locations in the Washington, D.C. area.  Over 5,000 orders since June and Lavii, Inc has received amazing feedback. Third-party delivery drivers and consumers can now retrieve made-to-order meals safely, securely and easily to make fast food more rapidly while limiting human contact.  Here's what CEO, Rea Huntley, had to say about her brand building and new innovative technology:
What inspired you to create this brand?
One afternoon in Summer 2019, I placed an order at one of my favorite restaurants. Hoping to take a quick lunch break, I expected that my order would be at the register ready to go when I arrived. Instead, when I got there the line was 20 minutes long, so I waited. I had no idea my order was actually at the front.  At the time, a lot of restaurants were using an open shelving system for customers to pick up their orders and there was no system in place for them to communicate with customers automatically. I thought that there has to be a better way to make order pickup quicker and more convenient for the customer. And that's where the idea of the smart locker for made-to-order food pickup came to me.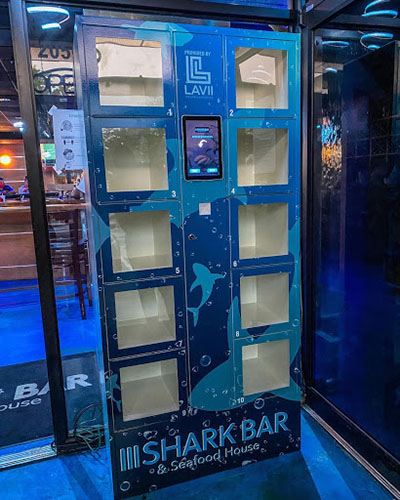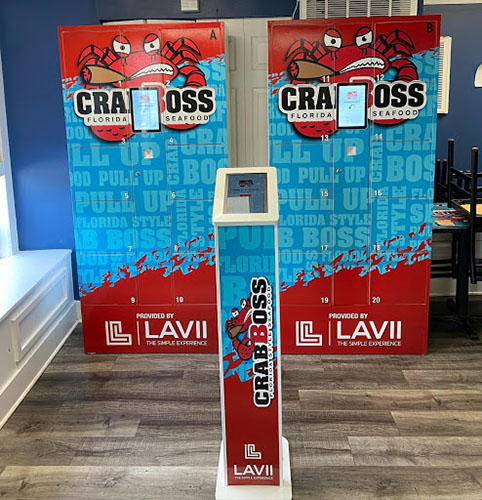 How do you balance business, motherhood and marriage?
It's a tricky juggling act but I've managed to make the most of quarantine. Working from home has allowed me to prioritize and multitask while spending extra time with my family. My three year old still attends day care so that allows me time to work on my 9 to 5 during the day.  In the evenings my wife is very supportive and helps with our son while I burn the midnight oil on Lavii. My teammates, James and Marcus, help me stay motivated by making similar sacrifices too. We're passionate about what we're building. Seeing our clients and their customers enjoying our lockers makes it all worthwhile.
What advice would you give to aspiring tech companies?
I would have to say believe in yourself. Stay dedicated and disciplined to pursue your dreams despite whatever obstacles may come your way.  Anything is possible. 
How do you maintain a working relationship with your co-founders?
We have a great working relationship. They're always supportive of my ideas and put in the work alongside me. We roll up our sleeves together and get it done.  We're committed to simplifying the dining experience with useful, smart technology and demonstrating to other young people who look like us that tech is a viable career field. Sharing common goals helps us stay on track and work well together. Those are my guys.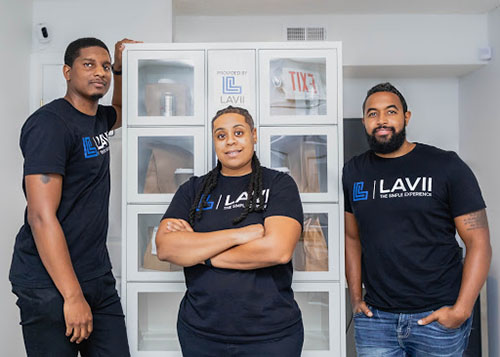 What are your upcoming restaurant partnerships, projects or events? 
Right now, we're happy to support local restaurants and small businesses. In early 2021, we are engaging potential investors through a crowdfunding campaign. We've bootstrapped until this point, investing in ourselves and now we'd like to extend the opportunity to show your support through a Kickstarer.
How is your brand impacting communities of color?
While 40% of restaurants are expected to close due to financial hardships, we're helping small businesses keep their doors open and serving their customers safely in an efficient way during these trying times. Many of our lockers have also been placed in black-owned restaurants.
It's safe to say that Rea Huntley's new technology is successfully helping the hospitality industry remain afloat during the pandemic.  Her innovative passion for technology has created Black History right before our eyes.  To inquire about services or to connect with the Lavii, Inc brand please visit her website and follow her on social media.  
Writer, C. Scott, is a mother of one; author, social worker, early literacy interventionist and entrepreneur. Follow her on Instagram as @curls_coils and @mysweettealife. 
All images courtesy of Lavii, Inc.