Coming out of obscurity, Pastor Chad Johnson candidly speaks on the seasons of life, renewed faith, love, and building again.
With a personality just as infectious as his smile, Pastor Chad Johnson speaks with powerful conviction and authority as a pastor would, but without the "non traditional" pastor-esque demeanor. Sans the high collar, yet unconventionally laced with tattoos, the former pro sports chaplain looks like he would unequivocally grace the cover of GQ, let alone the pulpit.
Yet despite his unorthodox appearance, and undeniable "swag," Pastor Chad has dedicated his entire life to serving others. While traveling the world ministering, leading devotionals and providing spiritual mentorship to pro athletes; Johnson has selflessly immersed his life into ministry and guiding others. In between his many travels, he also founded and operated his own ministry, Elevate International, a thriving non profit that hosted some of the most sought after spiritual retreats for urban youth and their families.
Then in 2018, the world got a deeper glimpse inside Johnson's world as a pastor, a leader, and as the fiance' to singer Michelle Williams of Destiny's Child in OWN's unscripted reality series, "Chad Loves Michelle." The world watched the newly engaged couple bare their heart and soul through a series of reflective marriage counseling sessions.
Despite the couple's good intentions to showcase their love story for all the world to see, the end result was a called off engagement/relationship, but also, as Pastor Chad puts it, the aftermath of doing the show presented things 'that were disheartening for the both of us.'
From navigating the storms of life, to maintaining during the pandemic–looking back, to looking forward, Johnson bares his soul in his most introspective interview yet. Exclusively with SHEEN, Pastor Chad Johnson talks about the seasons of life, and losing it all, only by faith, to gain it all back.
Get ready for the comeback.
Pastor Chad, walk us through your childhood, and your life growing up…
I grew up in a small, tiny mountain town in Colorado. I like to tell people I had a Mark Twain novel life…You know where the town had caves, rivers, mountain tops; everything a little boy can get into I got into. (Laughs) I had a phenomenal upbringing, a beautiful life, and a strong family structure. One thing we didn't have though was our faith. We did not practice any faith in Christ. We were cultural Christians, meaning we were American so we identify ourselves as Christians. We celebrated Christmas and Easter. That was pretty much all I knew about Jesus. It's not like we sat and talked about the meaning of things. Growing up, I had an amazing Dad who was my coach, my mentor, my everything. My mom was a fitness beauty queen–an amazing mom with all of these great attributes. I have an older brother, a younger sister and we are all 5 years apart. I am the middle child and I have that syndrome bad where I'm always trying to be the peacemaker that brings everyone together. I excelled a lot at sports, and received an opportunity to go to a fellowship. Sports is where my father approved of me the most. I loved sports, dancing, and music. Go figure, a white boy from the mountains breakdancing. (Laughs) We got cable when it came to our region in the 80's. One of the first movies that I ever recorded was Breakin 2: Electric Boogaloo. I had this huge appreciation for sports, dancing, and music; especially Michael Jackson and New Edition. I had this huge infinity for things that had some flavor to it. I grew up in a great home, a great family, and I honestly can't remember ever hearing my parents fight.
Wow, that is special. Many can't say that.
Yeah, but it wasn't until one day when my parents sat us down. I was 13 and they told us they were getting a divorce. I was completely shocked, it rocked my family to the core. You know when you don't have any foundation in your faith, life can take you anywhere. Pain has a way of coming out. My family and my father particularly, didn't deal with it well, including myself. My father turned to a life at the bar and alcohol. About six months later, he found himself in some legal trouble due to drugs.
I can only imagine how devastating that must have been, and for all of that to spiral so quickly…
For sure. Within a 6 month span my family went from this perfect family to a broken family. With all hell breaking loose, we wondered if my father would have to go to prison. Things flipped very quickly and very drastically. So being the peacemaker that I am, I was trying to bring peace, love, and unity to my home at 13. At that time, I didn't know the call of God on my life. I was always trying to bring collectiveness to my family. Then I moved in with my father in this tiny little one-bedroom apartment. Almost every night he was gone all night at the bar as I would wait up all night for him. I ended up developing ulcers and wound up in the hospital becoming so sick. I felt the obligation; I call it parental inversion, when the child becomes the parent. My parents were competent, they never stopped working, they never stopped loving us. They never stopped showing up and providing, but emotionally, the brokenness was so huge that I felt it was my responsibility to carry the family and my parents. So that is where a lot of trauma occurred in my life internally. There were things I have had to work through as a man. I went through a lot, trying to keep the family together, and trying to keep my father alive. He was a diabetic and suicidal. So from the ages of 13-16, I buried myself in sports because that was my only refuge because we didn't have a strong foundation in our faith.
That was a lot to bear at such a young age. What became your outlet?
By that time, my mom moved over 300 miles away. It was only myself, my grandparents and my father. Sports really became an art for me and it carried me over the flood of my life. God used it as a way to keep me protected and shielded. I was able to keep good grades, remain focused and went to college. It was interesting how God uses things. At age 17, sports was my refuge, ushering me into a faith walk with God. I got an opportunity to fellowship at a Christian athlete camp. I had never picked up a Bible, let alone, seen or touched a Bible, and never heard the Word presented clearly to me. My life was so broken, however I was an allstar athlete and excelled academically. No one would have thought that I was crying myself to sleep every night.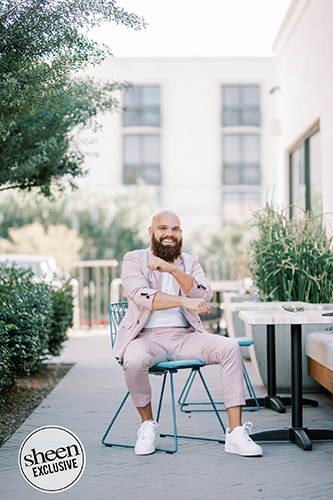 Describe your experience when you found Christ at 17 years old at a Christian sports camp?
When I went to the camp intending to play ball, but God had other plans. The Word was presented to me that it's all about having a relationship with God and we were created to have a relationship with Him. He will forgive your sins and give you eternal life; all while also leading you into your purpose. For me, that was an eye-opener. Life had been so chaotic that I began questioning whether my life had any meaning or purpose. When I heard that when you give your life over to God, He also ushers you into your creative purpose for life…Once I heard that I was like: 'sign me up!' I accepted Jesus into my heart at that camp. It was a very emotional and amazing encounter with God. That is why I know God is real, the Gospel is the truth and that He saves. I didn't have any background, any influence. I just had a broken life. The Lord came into my life and I began walking in faith alone. I started reading my Bible for 3 years; praying, studying and having encounters with God. Then I went to college and met this Bible study group of athletes. That is when the Lord launched me. Within a few years, I began pastoring at that same church I attended. I went to Arizona Christian University, studying and playing basketball there. I immediately dove into the inner city ministry at Pilgrim Rest Baptist Church in Phoenix. Here comes this white boy from a small town in Colorado who likes to breakdance and is now into church. (Laughs) God used sports to save me.
Your testimony is so needed, and is a reminder that God wastes nothing. I know you mentioned fighting the call of ministry. How did you know that you were called?
It was a gradual thing. As things began to shift and align, it was almost as if God was painting a picture with the white stripes on the road saying: 'This is the way! I never saw the destination, I just trusted God everyday. I learned to trust Him with leading my life. All through Bible College, people were sharing their plans. Some were saying they were going to go on and do missionary work in Africa, others were saying they were going to teach English. I really didn't have any idea what I was going to get into. By the time I was done with Bible College, I knew God told me to go. It was beyond a shadow of a doubt. After every semester, I was packing up getting ready to leave. As much as my flesh wanted to leave, my spirit reminded me that God called me here. We may not know what He's saying next. Most of the time the Lord doesn't give you the next step until the other steps are finished. It wasn't until I walked across that stage, turned my tassel after graduation, that God made everything clear. Every semester when I tried to leave, I would fast and pray searching for what is next. Every time I would do this, God kept reminding me: 'What did I say?' And so, as I crossed the stage, my Pastor told me: 'I have a job waiting on you,' and he asked me to be the youth pastor for the largest African American church in the city. Little did I know that the Lord was already preparing his heart; but God was waiting to release the next assignment which wouldn't be until the previous assignment was complete. 
What should we learn from the pandemic, and what has your experience been like during this unprecedented time?
Sometimes we can get discouraged during our dry or winter seasons, especially during the pandemic. Everything is shut down. But God isn't shut down. He's not wearing a mask, and that's not a political statement. He is speaking clearly for us to hear. I have minstried and travelled all around the world, and I think that a lot of what is going on in our lives, and in America, is because America is extremely blessed in terms of finances and provisions. But the quality of life, and the things that Jesus says are the true riches of life, we have gotten away from. The things that make your life rich is a quality relationship with Christ, and the quality of relationships we have with one another. During the pandemic, God has made us slow down and stop chasing money, and all this stuff, and get back to the basics. The reality is that people are so unhappy these days. This world has nothing to give us that God can't give us greater to fulfill us. During the pandemic, I lost my ministry, and we had to close Elevate International. During our 20 years of ministry, we were able to raise and invest millions of dollars back into the black community, and in our town. I've been serving the community long before TV. I'm in the waiting season again, looking to God for what's next. I know what God has done in the previous season, and I know He will do it again. He is the same God. There are days when I get anxious, because I am human. I am a man, and I am a go-getter, and there are days where I have to sit myself down and pray. (Laughs) And when you have worked so hard to build something your whole life, and then for it to end in a seemingly abrupt way, it can be difficult. On days like that, I have to remind myself that the ministry is the Lord's, it was never mine, and blessed be the name of the Lord.
During the pandemic, how have you maintained mind, body, and spirit?
I try to implement remaining active, whether it's going out outdoors, or going on a hike, or a bike ride. Getting up and getting fresh air is important for mental health. I have to do it every day because it feels like I'm losing my mind. (Laughs) During my outdoor adventures, I spend time meditating, worshiping, or listening to some sermons. During this time, I think it is very crucial to invest into our souls. Many people aren't able to go to church, and they're missing the connection with others. I am not traveling and speaking, and I am at home, so I try to do something that fills my soul, my body, and my spirit everyday. Everyday, I try to do something that is going to advance my mind, and my soul. I try to do something active with my hands–I love working out, and I love fashion, by the way. Sometimes, it's hard to love things like fashion being a pastor, because sometimes it can misconstrue people's viewpoints…but I just love fashion.
You definitely have lots of swag! (Laughs)
Thank you. (Laughs) I have always had a love for fashion since a young age. If you look at my first grade pictures, I was swaggin' back then with my herringbone chain.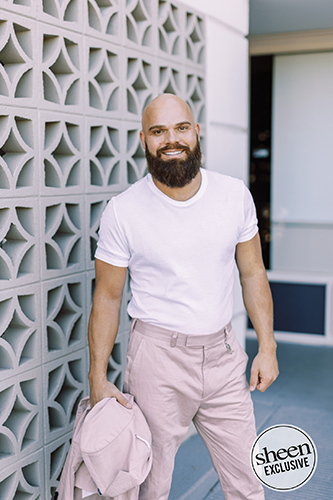 What are a few misconceptions, or things you wish people knew about you?
I would like for people to know that I am super simple, and very easy going. I love music and love to sit around and play music on my 1963 record player my granny got for me. (Laughs) I love to travel, and I love family, and creating deep connections with people. I love people and I love life. For me it's really about the simple things, and the simplicity of life. Life can become so complicated for the littlest of things. Let's get back to the basics, love God, and love people. God is in control. I think that's the biggest thing, 'I like to keep it simple,' and I love sharing the gospel because I know what it's done for me.
The greatest pulpit is your life. With having your past engagement/love story play out for the world to see through reality TV, can you say that it was helpful to those looking on, or did it hurt you more? If so, how did you recover and show the glory of God?
All of us have disappointments in life, and Michelle and my relationship fell apart like relationships do. Plenty of people have had disappointments in that regard. We are still friends, we are Christian friends, and we have love and respect for one another. But Michelle and I agreed to do the show because we prayed about it. We came to the conclusion that we can give people within our age group of 40 that haven't really settled down, but have not necessarily given up on love; a peek into our lives. It was our hope to bless, encourage, and strengthen homes because on the show we were doing therapy. We felt like if we can encourage couples to get therapy, even before getting married, that was a good thing. Our heart was in the space of doing the show to impact people. We didn't mind letting people in, especially because of our professions. The thing that was a bit different was that there were other people telling and sharing your narrative. It's not you solely telling your story. It was a little discouraging at times…because our intention was to make an impact, but then people would pull out the smallest little thing to make drama or make a story. There were so many lies told about me publicly, and that was a little bit disheartening. All people had to do was do some quick research on me, and see that those claims were a complete lie. But sadly, many won't formulate their own opinion, or take the time to do their own research. If they see something coming across their thread or their timeline, many people accept it as the gospel truth. There were definitely a lot of fun times with the show, and then there were other things that were disheartening for the both of us…And it was basically the narratives people were running with. But unfortunately, people love drama and negativity.
What has been the greatest, invaluable lesson that you learned from that experience?
I learned so much…My whole life, I have been gripped by the opinion of others. Yes, I want to live for Jesus and practice what I preach. Preachers are human. I need Jesus just as much as the person sitting in the front and back row of the church. (Laughs) When you already have that in your personality, and your creative makeup where you care what other people think, and then you become a pastor…It's like your life is a pillar of your ministry and how you live it…That became really hard for me. The show…and all the lies, and opinions, it was like God taking His hand inside my heart, and helping to uproot the depth of those pillars being driven into my heart…that cares about what people think. God helped me through that difficult time. The Lord uprooted something that was deeply affecting me in my life, and in ministry. You can't follow God and man.
At 43, do you still desire to get married and have a family?
There's the pandemic, and then there's the pandemic of being single. (Laughs) There are days when I am discouraged and I say: 'Lord it's just going to be me and you.' I think that's the hardest part of being a Chrsitian and single as it relates to the surrender: 'Lord, if you want me to be single, I'm OK with it being me and you.' There are days when I feel like I've reached that contentment; then the next day, I am on the other side of the spectrum. The ability to reach contentment in God as a single is meaning: 'I am good to serve you. I  am going to love life and love others around me, and appreciate life.' If I am honest with myself, yes I still desire marriage and a family. I didn't want to be a global evangelist, pro athlete, or pastor. All I ever really wanted in life was to be a dad, and a husband. This is one of my greatest things, and I can't wait for that to happen. When one of the greatest desires of your life has also been one of the biggest delays in your life, there's a great trust that comes with it…I thank God that I can still say: 'God, I will continue to serve you, and trust you.'
Our world is in such turmoil, such unrest. How do you see your impact with not only youth, and singles, but the nations in the times to come?
I'll be very honest with you. I don't believe that God makes us selfish. He makes us focus on the things that burden his heart–His people, and His world. We can't be a Christian and be self-absorbed. You can't walk with God and be all about yourself, they just don't go together. But there are seasons when God will call you away…There is a season of restoration, a season of investment, a season of wilderness. When Jesus was in the wilderness for 40 days, He wasn't around people, it was just Him and God. There are seasons, and those who are teachers of the Word, you become 'exhibit A.' (Laughs) You become the sermon people can see. For whatever reason, God takes us through the sermons that we preach. In this season, I don't have a lot of direction for the future, but what I do know is that I am in a holding season. I am in a wilderness season, a waiting, dry season personally; but it's also strengthening the depths of my faith. The Lord told me: 'This season is about you,' and I was like: 'Wait a minute, what?' I've always preached about focusing on others and life. However, I look at it like, I have lived my life so focused on others. There are so many things that I didn't focus on, because I was focused on serving other people. As I am in this wilderness season, this dry season, as God is digging the well deeper, the stuff that just starts to spring up as that well starts to flow, are the things we have to deal with. There were a lot of things in my life that I had to deal with; whether it be the hang up's or past hurts. There are things in my life that the Lord wants to handle this season. While the world is shut down in some ways, so am I. I am in a very quiet, humble season, with a lot of deep, internal work. I thank God for having a relationship with Him because I can step back and place myself in position to let God do his perfect work.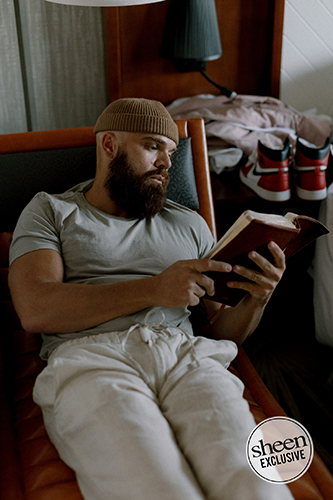 What gives your life meaning?
First God. My relationship with Him keeps me going every day. There are days when I want to give up, but God constantly reminds me that He is my exceeding and great reward. This life is a journey, not a destination. I remind myself that this is all a part of the scenery along the way. My family, and the people who are closest to me…My relationship with God and with others, gives me life.
Keep Up with Pastor Chad Johnson on Instagram today.
For more features Sheen Magazine has to offer, be sure to pick up your copy of Sheen Magazine's March/April 2021 issue available at Walmart, Target, Books-a-Million, and Barnes & Noble. You can also check out the link to purchase your copy of this issue and many more!
To subscribe to our newest feature, the digital issue of Sheen Magazine, click here!
All images by Ernesto Meza